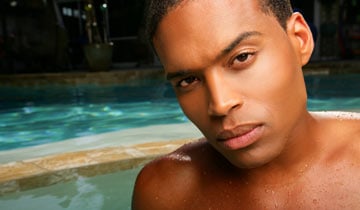 Marcus Forrester
Marcus Walton (adopted family name) Born July 9 (unknown year); given up for adoption at birth Executive at Forrester Creations
Former executive at Forrester International
Former head of shipping at Forrester Creations
Former shipping department employee at Forrester Creations An apartment in Los Angeles, CA
Formerly Paris
Formerly Texas Married to
Dayzee Leigh
[July 23, 2012] None (assumed)
Justin Barber
(father)
Donna Logan
(mother)
Brooke Logan
(aunt)
Storm Logan
(uncle; deceased)
Katie Logan
(aunt)
Stephen Logan
(grandfather)
Beth Logan
(grandmother; deceased)
Wesley Barber (grandfather)
Valerie Lowell (grandmother)
Walter Barber (great-uncle; presumed deceased)
Lillie Bell Barber (great-aunt; deceased)
Eric "Rick" Forrester, Jr.
(first cousin/adoptive brother)
Bridget Forrester
(first cousin/adoptive sister)
Hope Logan
(first cousin)
Ridge "R.J." Forrester, Jr. (first cousin)
Jack Marone (first cousin)
William Logan Spencer (first cousin)
Logan Knight (first cousin, once removed)
Olivia Barber
(first cousin, once removed)
Drucilla Barber Winters
(first cousin, once removed; presumed deceased)
Nathan Hastings, Jr. (first cousin, twice removed)
Lily Winters Ashby (first cousin, twice removed)

Devon Hamilton (first cousin, twice removed; adopted)
Charlie Ashby (first cousin, thrice removed)
Matilda Ashby (first cousin, thrice removed)
Mr. & Mrs. Walton (adoptive parents)
Carter Walton (adoptive brother)

Eric Forrester
(adoptive father)
John Forrester (adoptive uncle)
Thorne Forrester
(adoptive brother)
Kristen Forrester
(adoptive sister)
Felicia Forrester
(adoptive sister)
Zende Forrester Dominguez (adoptive nephew)
Alexandria Forrester (adoptive niece)
Dominick Damiano (adoptive nephew)
Jessica Forrester (adoptive cousin)

Ivy Forrester (adoptive cousin) Ambrosia "Rosie" Forrester (daughter, with Amber Moore)
Steffy Forrester
Unknown girlfriend [2010]
Ambrosia "Amber" Moore
Dayzee Leigh
Posed as catering staff for Storm Logan's memorial service so he could meet Donna Logan [2008]
Had Donna Logan delivered to the Forrester mansion in a crate [2008]
Kept quiet about Bill Spencer, Jr.'s plot to derail Hope Logan's wedding [2012]
Arrested for vehicular manslaughter as a result of texting while driving [2012]
Briefly hospitalized due to a venomous snakebite [2008]
Marcus Forrester was the biological son of Donna Logan and Justin Barber, as well as the adopted son the Waltons, and Eric Forrester. Donna had dated Justin in high school, and Justin was dumbfounded when Donna suddenly broke off their relationship and headed for Europe. Justin didn't know that Donna was pregnant, and that had she subsequently given her baby up for adoption. Marcus was raised by the Walton family in Texas.
After Marcus saw a newspaper photo of Donna and Eric, Marcus headed for Los Angeles and posed as a caterer to get into the memorial service for Donna's brother, Storm Logan. Donna was shocked when Marcus presented his birth certificate. Initially, Marcus was angry to have been given up for adoption, but soon Marcus and Donna began exploring their mother-son relationship. Donna was afraid to tell Eric about discovering Marcus, fearing a scandal at Forrester Creations, but Eric took the news in stride. Marcus began working in the Forrester shipping department, where he met Steffy Forrester. Marcus and Steffy began dating, although Steffy's family disapproved.
Owen Knight, the private investigator who found Donna for Marcus, arrived in Los Angeles and demanded $2,500 and a bonus for his services, which Marcus couldn't afford. Later, when Eric had a heart attack and fell into a coma, Marcus suggested that Eric had been poisoned, and accused Owen, who had a yen for Donna. But the culprit had been Pam Douglas, who had unintentionally poisoned Eric when she'd only meant to weaken him to make him sexually undesirable to Donna. Owen realized that Donna was Pam's target and saved Donna from a bear Pam had sicced on Donna at the Big Bear cabin, after which Owen and Marcus mended fences.
Marcus opened a crate meant for Donna and was bitten by a poisonous snake that Pam had packed inside. Marcus recovered, and he and Steffy drew closer. Marcus was thrilled when Rick Forrester offered him an opportunity at Forrester International, unaware that Rick was merely positioning Marcus overseas so that Rick could take a crack at Steffy. When Marcus returned to Los Angeles, he took Steffy to Big Bear and proposed, but, by this time, Steffy had developed feelings for Rick and turned Marcus down.
Eric decided he wanted to legally adopt Marcus just as Donna came into contact with Marcus' father, Justin. Donna introduced Marcus to Justin, not telling the men they were related. But soon Justin put the pieces together himself, and welcomed a chance to get to know his son. Despite having accepted Justin, Marcus still allowed Eric to adopt him and took the Forrester name.
Marcus attended the high school dance of his cousin, Hope Logan. Steffy showed a glimmer of interest in Marcus even as she chased Hope's boyfriend, Oliver Jones, but Marcus had brought his own hot date. Marcus and Oliver became friends, and, after Oliver and Hope had broken up, Marcus helped keep it a secret that Oliver had given Amber Moore a place to stay. Marcus got Amber an invitation to Liam Cooper's party at Spencer Publications, which Marcus attended with Justin and Donna as a family.
Amber had become pregnant after Marcus and Amber had become "friends with benefits", but Amber assured Marcus he wasn't the father. Marcus met Dayzee Leigh, but their budding romance was cut short when Marcus had to take an assignment in Paris. Before he left, Marcus attended Justin and Donna's wedding, where Justin asked Marcus to change his last name to Barber. Marcus said he would consider it, but the subject was never brought up again. Marcus got territorial when he returned from Paris and found Dayzee dating Thomas Forrester. But when Amber had her baby, which she tried to pin on Liam, the child was African-American, and Marcus happily took responsibility for baby Rosie. Months later, Justin and Donna announced their divorce, saying they had basically gotten married so that Marcus could have his parents together.
Marcus and Dayzee reconnected, although Amber pressured Marcus to raise Rosie together. Amber ultimately relented, and Marcus proposed to Dayzee in the company of family and friends. Meanwhile, when Justin accidentally "pocket dialed" Marcus on his cell phone, Marcus overheard Justin and his boss, Bill Spencer, Jr., discussing a plot to prevent Hope's wedding to Bill's son, Liam Spencer. Marcus confronted Justin, but Justin quickly shut Marcus down. Hope and Liam travelled to Italy for the ceremony, but Marcus, unsure what to do with the information, kept quiet, even as Bill's wife, Katie Logan, came to Marcus for answers.
Marcus developed cold feet as his wedding to Dayzee approached, but his friend Thomas Forrester eased his fears. Marcus had an obsession with texting; Marcus texted Dayzee while driving the night before the wedding and hit Dayzee's friend, Anthony, with his car. Marcus and Dayzee exchanged vows, but Lieutenant Baker and his son arrested Marcus soon after. With Marcus in jail, Thomas and his girlfriend, Caroline Spencer, investigated and discovered someone else had hit Anthony, while Marcus had only hit a pothole while texting. Marcus was released and settled in as Dayzee's husband.
Marcus was happy to see his adoptive brother, Carter Walton, and introduced him to Dayzee and the Forresters. But Marcus narrowly missed seeing Dayzee with Maya, a woman whose baby Dayzee arranged to have adopted. Maya wanted her baby back, and Dayzee kept Marcus in the dark about her problem with Maya until Marcus came across the adoption papers. When Dayzee admitted that she had let lawyers handle the adoption and was unsure if money changed hands, Marcus had Carter, also a lawyer, study the papers. Carter said Maya had the legal right to know who adopted her child, so Marcus helped Carter and Dayzee search for the girl, only to discover that Maya's baby and her adoptive family had all perished in a car crash.
Marcus encouraged Carter to stick around Los Angeles, convincing his cousin, Rick Forrester, that Carter's legal expertise would help with the problem of patents and counterfeits at Forrester. Later, Marcus strutted his stuff on the runway when Caroline asked him to model sleepwear in a fundraiser fashion show to benefit her cancer foundation. Marcus was shocked when he attended his aunt Brooke's birthday party: Brooke's nemesis, Taylor Hayes, exposed an affair Brooke had with Bill, as well as the baby Brooke had miscarried! Marcus wondered if Brooke's actions would result in her being asked to leave Forrester Creations. Later, Marcus spent an extended period in South Africa on Forrester business, keeping in touch with Dayzee by video chat. Eventually, Dayzee joined him in his travels.