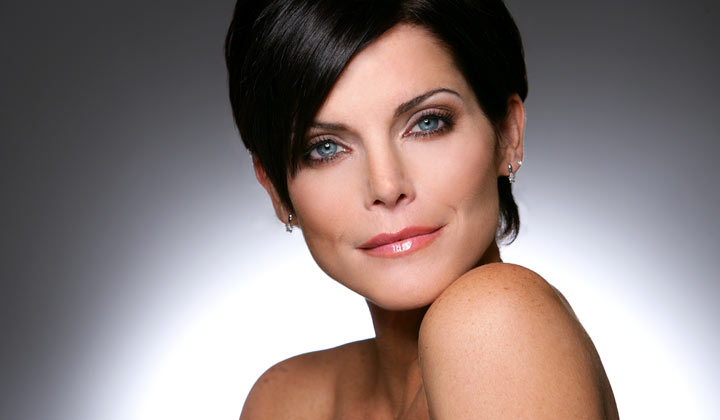 Felicia Forrester
January 1992 to December 1993 [contract]; 1997 [recurring]; Summer 2004 to Fall 2004 [contract]; Fall 2004 to
December 3, 2004
[recurring]
Executive at Forrester International, Paris
International relations for Spectra Couture
Former designer at Spectra Couture
Former designer at Forrester Creations
Former designer at Spectra Fashions Paris
The Forrester Mansion (369 Willow Hill Rd., Beverly Hills, CA, 90210)
Formerly somewhere in Paris
Formerly Los Angeles, London, New York and Italy Single None
Eric Forrester
(father)
Stephanie Douglas
(mother; deceased)
John Forrester (uncle)
Pamela Douglas
(aunt)
Thorne Forrester
(brother)
Marcus Walton Forrester (brother, via adoption)

Angela Forrester
(sister)
Kristen Forrester
(sister)
Jessica Forrester (cousin)
Ivy Forrester (cousin)

Alexandria Forrester
(niece; deceased)
Zende Forrester Dominguez
(nephew, via adoption)
Ambrosia "Rosie" Forrester (niece, via adoption)
Eric Forrester Jr.
(half-brother)
Bridget Forrester
(half-sister)
Ridge Forrester Sr.
(half-brother)
John Douglas (grandfather; deceased)
Ann Douglas
(grandmother)
Eric Forrester III (half-nephew; deceased)
Nicole Marone (half-niece; deceased)
Thomas Hamilton Forrester
(half-nephew)
Steffy Forrester
(half-niece)
Phoebe Forrester
(half-niece; deceased)
Ridge "R.J." Forrester Jr.
(half-nephew)
Dominick Damiano
(son; with Dante; born 2005) Jake MacClaine
Zach Hamilton
Dominick Marone
Dante Damiano
Constantine Parros (kissed)
None
Felicia, the youngest daughter of Eric and Stephanie Forrester, was a fashion designer like the rest of her family. Felicia was in London when the rest of her family was introduced, and was unable to make it back for Ridge and Caroline's wedding due to a ski trip. She finally returned home when her father impregnated Brooke Logan, and her mother refused to grant a divorce so that Eric could marry Brooke. Stephanie's tennis instructor Jake MacClaine soon caught her eye, and both she and Thorne were wondering about his interest in Stephanie. She tried to ply Margo Lynley for information, but while Margo would admit to knowing Jake, she asked Felicia not to tell him that they knew each other. Margo tried to warn Felicia numerous times not to get involved with Jake. While puzzling over her relationship with Jake, Felicia was also creating designs for Forrester, and was devastated when Eric didn't deem them good enough to present. She was shocked to learn that the reason Margo didn't want her and Jake together was because Margo and Jake were brother and sister, and Margo had never forgiven Jake for abruptly leaving home as a child and 'destroying' their family.
Felicia encouraged Jake to make up with his sister, but he said that he couldn't, because there was no way he could explain why he left home all those years ago. He refused to go into the reason with her, and when their relationship hit a stand-still because Jake refused to get intimate with her, Felicia started wondering what it was that she was doing wrong. Felicia asked her friend Heather to see what she can find out. Felicia went to New York for awhile to try to get over Jake, but returned to L.A., and admited to Ridge that she could not forget him. Finally, Felicia learned that the reason Jake was pulling away from her was that he was sexually molested as a child, and has never been able to get over it. Desperate to help Jake, she called Dr. Taylor Hayes, who suggested that they go to see Jake's parents to confront them. Shortly thereafter it was revealed that it was Jake's uncle Charlie, and not his father, who had molested Jake.
While still helping Jake deal with his problems, the two came close to the altar, but Jake admitted that he was just not ready for marriage with all his problems. With Forrester Creations not willing to give Felicia any room on their line-up, Felicia accepted a position from Sally to design for Spectra Fashions, also showing her support for Thorne and Macy's relationship at the same time. She signed the contract with them not realizing that Eric had just decided to give her more responsibility at Forrester. When the news of the contract she signed with Spectra was leaked to the press, Felicia wanted out, but the Spectra's lawyer, Storm Logan, confirmed that there was nothing that could be done because it was completely legal. Despite not wanting to be there, Felicia was forced to take the position at Spectra.
Although Jake confessed to Felicia that she was the first woman he'd ever had in his life, she soon began to believe that he was seeing another woman on the side. When she learned that Jake was actually cheating on her with her brother Thorne's wife (and her friend) Macy she was both devastated and horrified, and threatened to tell Thorne the truth unless Macy broke it off right away. Although Jake and Macy claimed they had, they were lying. When Felicia caught them together, Felicia told Thorne the truth. After being accused of stealing the BeLieF formula from Forrester (Eric refused to press charges out of deference for Margo), Jake and Margo both left town together.
Not long after Jake was out of her life, Felicia met Taylor's brother Zach. She was immediately drawn to the man who had been presumed dead, and spent a lot of time at the Bikini Bar where he worked. Zach finally confessed to her that, long ago, he had killed the man he deemed responsible for his mother's death, which was why he had taken off years earlier. Not only that, but he had been ordered to kill his own father to settle a gambling debt. Zach revealed to Felicia that his father's gambling had destroyed the family, and ultimately had caused his mother's death. After Felicia was nearly raped by Ganz, the man who had been pulling Zach's strings, Zach made an agreement that freed him from any obligation. Once Zach finally told Felicia that his father was Jack Hamilton (who had been dating Stephanie), Felicia told her mother the truth, and Stephanie walked away from Jack after what his actions had nearly cost Stephanie her daughter. After Stephanie tried to have Zach arrested for endangering Felicia's life, Felicia and Zach realized that their only chance together was if they left Los Angeles, and after saying goodbye to their families, they headed off.
After five years, Felicia returned after Ridge was arrested for shooting Grant (no word on what happened with Zach), convinced that there was no way her brother could have done such a thing. She was shocked to learn that Taylor was romantically involved with not one, but two of her brothers, and she was upset to learn that Stephanie and Eric were trying their relationship again. She soon became accustomed to it, but wondered if Eric's ex-flame Lauren was going to cause problems. Ridge and Felicia decided to work together to clear his name, convinced that Grant was setting him up. Despite her closeness to Thorne and knowing how much Thorne wanted Taylor, Felicia agreed to help Ridge see her by having him dress up in costume at Brooke and Grant's upcoming party. Felicia did her best to help in the case, even trying her best to see that private investigator Hunter Jones could clear Ridge's name. But once Ridge was convicted, Felicia left town again, returning briefly later that year when Eric and Stephanie planned to renew their marriage vows.
After Thorne's wedding to Darla, Felicia again returned to town, only this time she was hiding a secret. After Nick Marone had some pills analyzed that he found in her purse, Felicia could no longer hide the fact that she had colon cancer. When the doctor pronounced her 'cured', she and Nick celebrated by making love, then she told her mother the truth. At first Felicia argued with Stephanie about her commitment to any child not named 'Ridge', they were able to find a common ground and the two began patching up their broken relationship. Felicia also began working at Spectra Couture with her brother Thorne. Unfortunately, Felicia eventually realized that she and Nick were not meant to be, and told him that she had decided to move to Paris to further Spectra Couture in the international market. After a tender goodbye with Nick, Felicia left Los Angeles again.
Felicia came home a year later, bringing a beautiful baby boy with her. She was initially hoping to rekindle her relationship with Nick, but once she learned that he was married to Bridget and expecting a baby, she planned to leave Los Angeles again and return to Europe with her son, Dominick. Stephanie found out about the boy and made certain that Nick did as well, and Felicia ended up staying in town for a little longer. Any plans that Felicia had to return to Europe were put on hold indefinitely once she learned that her cancer had returned with a vengeance. Because she had ceased treatments to ensure that her baby was born healthy, there was nothing that the doctors could do for her. Looking to give her son a good life once she was gone, Felicia asked Bridget if she could love Dominick like her own, which after some hesitation, her sister agreed to do.
Felicia began preparing for the end, and as part of her preparations, asked her divorced parents for the ultimate gift -- she wanted to see them remarried before she died. Knowing she didn't have long, both Eric and Stephanie agreed, and Felicia was happy to see the two exchange vows, with all the adult Forrester children in attendance. Shortly after the wedding, Felicia was faced with an unpleasant visit from her former lover Dante when he demanded to know if Dominick was his son. Felicia was finally forced to admit the truth, and when Dante's relationship with Bridget fizzled, Felicia and Dante decided to get married. The ceremony, which was attended by Dominick's family from Italy, was halted when all parties realized that Dante wasn't over Bridget, or vice versa. Despite that, Bridget and Dante couldn't make a go of things, so Dante returned to Felicia. They were beginning to put their future together when Bridget announced that she was pregnant with her mother Brooke's husband Nick's baby. Felicia and Dante supported her, even when Bridget learned that Dante was actually the father, and both were there for her when she lost the baby.