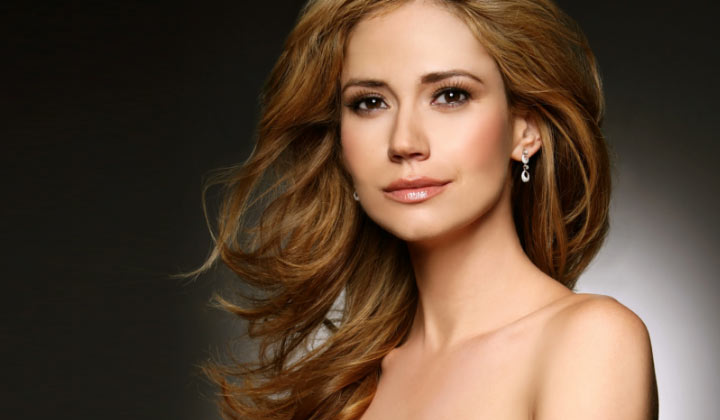 Bridget Forrester
Juliet and Trevor Johnson
December 31, 1992 to early 1993
Julian Snider (backup baby)
1993 never appeared on-screen)
Abigail and Danielle Burr
early 1993 to early 1994
Britany and Morgan Turner
early 1994 to early 1995
Caitlin Wachs
early 1995 to late 1995
Landry Albright
Agnes Bruckner
Born on-air on December 31, 1992 in the cabin in Big Bear
Turned 13 in 1998
Turned 18 in 2001 Doctor
Former fashion designer
Former doctor
Former waitress at Insomnia coffee house
Former model at Forrester Creations New York City
Formerly the Marone Mansion, 68210 Rose Briar Place, Los Angeles, California
Formerly in an apartment above Insomnia
Formerly a beach house owned by Taylor Hayes Single
Deacon Sharpe
[Married: 2001; divorced: 2002]
Nick Marone
[Married: 2005; divorced: 2006]
Nick Marone
[Married: 2008; divorced: 2008]
Nick Marone
[Married: 2009; divorced: 2010]
Eric Forrester Sr.
(father)
Brooke Logan
(mother)
Eric "Rick" Forrester Jr.
(brother)
Stephen Logan Sr.
(grandfather)
Beth Henderson Logan
(grandmother; deceased)
Helen Logan
(great-grandmother; deceased)
John Forrester (uncle)
Storm Logan Jr.
(uncle; deceased)
Donna Logan
(aunt)
Katie Logan
(aunt)
Jessica Forrester (cousin)
Ivy Forrester
(cousin)
Eric Forrester III (nephew; deceased)
Thorne Forrester
(half-brother)
Kristen Forrester
(half-sister)
Angela Forrester
(half-sister; deceased)
Felicia Forrester
(half-sister)
Hope Logan
(half-sister)
Ridge "R.J" Forrester Jr.
(half-brother)
Alexandria Forrester
(half-niece; deceased)
Zende Forrester Dominguez
(half-nephew via adoption)
Dominick Damiano
(half-nephew)
Marcus Walton Forrester
(cousin, via adoption)
Ambrosia "Rosie" Forrester (first cousin, once removed, via adoption) Nicole Marone (daughter; with Nick; stillborn)
unnamed child (miscarriage; with Dante)
Logan Knight (son, with Owen)
Clarke Garrison Jr.
(dated)
Mark MacClaine
(dated)
Ridge Forrester Sr.
(flirtation)
Oscar Marone
(engaged)
Johnny Berlanti (blind date)
Dominick Marone
Owen Knight
(one-night stand)
Committed adultery with Nick Marone
---
Brooke had slept with both Ridge and Eric around the time of Bridget's conception, so she did not know who the father was. She wanted the baby to be Ridge's, so she told him he was the father. After Brooke gave birth to Bridget in the Big Bear cabin (Ridge delivered the child), they had a paternity test confirmed Ridge as the father. Brooke named the baby "Bridget", a combination of Brooke and Ridge's names. Like her brother, Bridget had a tough childhood. As a baby she was shot by drive-by shooters while at the park with her babysitter. In 1996, a mysterious letter put into question Bridget's paternity. Bridget was then forced to try to understand how Eric not Ridge was her father. In 1998, Bridget ran away from home after Ridge told her he was leaving Brooke and going back to Taylor.
The year 2001 was a big one for Bridget. She celebrated her 18th birthday, got married and almost got divorced. A na�ve young girl craved for stability and affection, she was prey to the conniving manipulation of Deacon Sharpe who initially used Bridget as leverage against Eric, Brooke and Rick in order for them to surrender Little Eric and Amber. The Forresters allowed Rick and Amber to marry forcing Deacon to intensify his battle plan as he asked Bridget to wed him that same night. All the while everyone saw how in love Bridget was with Deacon and how Deacon himself did not feel the same way - as his heart was for Amber.
One night Bridget overheard Deacon and Amber talking about how Deacon used Bridget, fantasized about Amber when he made love to his wife and that there were never any genuine feelings from the time he proposed. A devastated Bridget confronted Deacon. Bridget ordered him to get out of the house and never come back. Deacon persisted in making her hear his side of the story. Bridget drove off in her car as Deacon pursued her. Bridget continued to accelerate as she saw Deacon in her rear-view mirror. She lost control of the car and was rushed to hospital by Deacon. Bridget's condition was critical. Deacon, phoned her family and asked them to come to the hospital.
After regaining consciousness, Deacon admitted to Bridget that what she overheard was true, but until the accident, he hadn't realized how important she was to him. Despite pressure from Eric, Brooke, Amber and Rick, Bridget opted to give Deacon another chance and leave the hospital with her husband. While Deacon continued to make an effort in making their marriage work, there were still unresolved feelings with he and Amber. Bridget continued to have faith in the man that she loves.
Bridget and Deacon continued to work on their marriage as Bridget's mother, Brooke, tried to convince Deacon to leave Bridget. Eventually Brooke and Deacon started their own affair! Brooke became pregnant with Deacon's child, but passed the child of as Whip Jones' so her affair with Deacon wouldn't come out and hurt Bridget. Bridget took a job modeling Amber's clothes at Forrester and had no knowledge of Deacon and Brooke's affair or love child. After throwing her mother a baby shower, Bridget heard Deacon and her mother talking about their affair on a baby monitor. Bridget was so distraught she ran to Stephanie for support. She later went to the Big Bear cabin to confront her mother. After having a huge blow out with her mother, she told her she was no longer her daughter and would never forgive her.
Brooke then went into labor and Bridget and Stephanie had to help with the delivery. Bridget then went home and kicked Deacon out of her house and told him never to come back. She then went searching for a new job at Insomnia, where her old friend, CJ Garrison managed. CJ was bitter towards the Forresters and refuse to give her a job. He finally did let her work there and allowed her to live in an apartment above Insomnia, right next to his. Since CJ and Bridget now worked together and were neighbors, they saw a lot of each other and began having feelings for each other. During this time CJ supported Bridget when she decided to enter medical school. They began dating, but not seriously. Soon after, Bridget met Mark MacLaine, her med school mentor. They began working very closely with each other, and developed feelings for each other, too. Mark stopped being her mentor so he could date her. Bridget was dating both Mark and CJ when they all found out that Mark and C.J. were brothers! Bridget did not want to come between brothers, but continued to see both of them. Bridget had also briefly been involved with Ridge after they learned that Ridge was not Eric Forrester's biological child, but that relationship had not led anywhere.
Bridget eventually broke things off with both Mark and C.J. She was at the point where she was ready to give up on men entirely until a gun shot victim named Oscar Marone showed up at the hospital. After a whirlwind romance, Bridget and Ozzie were engaged to be married, and left for the Netherlands together. A few months later, Bridget came home alone. She had broken things off with Ozzie some time before, and confessed to Nick and Ridge that she had never been able to stop thinking about Ridge. Slowly her friendship with Nick became something more, and the two were engaged to be married. When Taylor's return interrupted her wedding to Nick and meant her mother and Ridge were not legally married, Bridget couldn't stop the old insecurities that made her wonder if Nick would choose her mother now that she was free.
After Bridget learned that she was pregnant, with the help of her friend Dante she decided to 'test' Nick and told him that she had an abortion. Her test worked, and sent Nick back to Brooke's arms, but Bridget never learned of that and soon told Nick she hadn't aborted the baby after all. After some near misses, Bridget and Nick finally walked down the aisle, although Bridget could never forget her suspicions that Nick was in love with Brooke. Just when Bridget was starting to feel secure in her marriage, her half-sister Felicia came back to town, dying of cancer, with Nick's son. Although Bridget initially had some trouble accepting baby Dominick, she soon promised Felicia that she would raise her son after her death. Both Nick and Bridget were devastated when Bridget went into labor early and delivered a stillborn daughter, whom they named Nicole.
Bridget tried to move on from her relationship with Nick, and she and Dante became devoted to raising Dante. But although she had feelings for Dante, who asked her more than once to marry him, she was not able to commit. She even tried to walk away from Dante, who had decided to marry Felicia and be a family with baby Dino. The wedding hadn't come off, and Bridget and Dante again grew close, but she couldn't commit to him. Dante and Bridget ended their relationship, and after a one-night stand with Nick, who believed that Brooke had chosen Ridge over him once again, Bridget found herself pregnant when she went for a check-up with Christian as she prepared to head overseas. She told Nick she was expecting his child, then was shocked to learn she was further along than she thought and the baby actually belonged to Dante. Her pregnancy ended Brooke and Nick's already tenuous marriage, but Dante and Felicia maintained their strong bond, vowing to support Bridget. A few weeks later, Bridget told a devastated Dante that she had lost the baby.