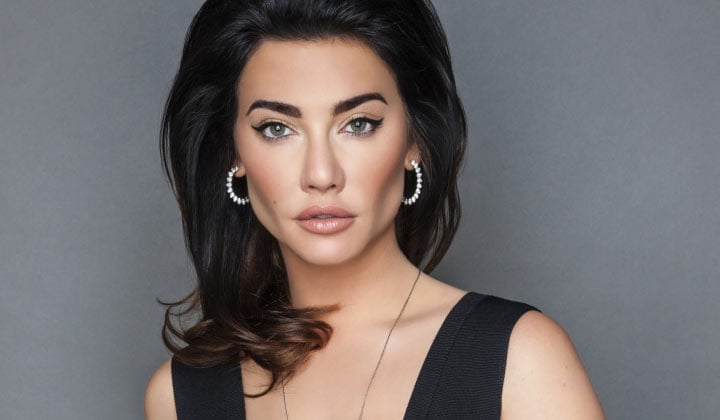 Stephanie "Steffy" Forrester
Jeffrey and Jacob Wold / William and Charlie Carter
Grace and Kelly deMontesquiou / Alexis and Allyson Collins
Alison and Brooke Johnston / Taylor and Brooke Toneman
Brooke and Madison Dinsmore
January 2001; (never appeared on-screen)
Sophia and Whitney Schuring
Cameryn McNabb
Jordan Mella
Kylie Tyndall
Alex Hoover
May 26, 2015
to present [contract]
Steffy (nickname) Born September 21, 1999
Stated to be 2 years old in March 2001
Stated to be 6 years old in January 2002
Believed to be a pre-teen in 2004 President of Forrester Creations
Former executive at Forrester International, Paris
Owns 25% of Forrester Creations
Former head of Public Relations, Forrester Creations
Created the Forrester Creations ski line
Has a seat on the board of Spencer Publications
Former spokesmodel for Forrester Creations' Intimates line (initially Brooke's Bedroom)
Former shipping department employee, Forrester Creations
Student (did not complete college)
Bill Spencer's beach house, Malibu, CA, once owned by Taylor Hayes
Formerly the Forrester Mansion (369 Willow Hill Rd., Beverly Hills, CA)
Formerly Bill Spencer's cliff house, Malibu, CA
Formerly Paris, France
Formerly a penthouse loft in Los Angeles, CA, once owned by Jackie Knight
Formerly Taylor's mansion, 3197 Holden Drive, Beverly Hills, CA
Formerly London, England Married to
Wyatt Fuller Spencer
as of
April 1, 2016
Liam Cooper Spencer
[Married: 2011; divorced: 2012]
Liam Cooper Spencer
[Married: 2013; annulled: 2013]
Ridge Forrester, Sr.
(father)
Taylor Hamilton Hayes
(mother)
Thomas Hamilton Forrester
(brother)
Phoebe Forrester
(twin sister; deceased)
Douglas Forrester (nephew)
Massimo Marone IV
(grandfather)
Stephanie Douglas
(grandmother; deceased)
Jack Hamilton (grandfather)
Sharon Hamilton (grandmother; deceased)
John Douglas (great-grandfather; deceased)
Ann Douglas
(great-grandmother; deceased)
Ridge "R.J." Forrester, Jr.
(half-brother)
Jack Hamilton Marone
(legal maternal half-brother / paternal half-cousin)
Pamela Douglas
(great-aunt)
Zach Hamilton (uncle)
Dominick Marone
(half-uncle)
Diana Carter
(half-aunt)
Angela Forrester
(half-aunt; deceased)
Thorne Forrester
(half-uncle)
Kristen Forrester
(half-aunt)
Felicia Forrester
(half-aunt)
Nicole Marone (half-cousin; deceased)
Zende Forrester Dominguez
(half-cousin; via adoption)
Alexandria Forrester
(half-cousin; deceased)
Oscar Marone
(first cousin, once removed) unnamed child (miscarriage; with Liam)
Marcus Walton Forrester
(dated)
Owen Knight (flirted)

Rick Forrester
(broken engagement)
Oliver Jones (kissed)
Bill Spencer, Jr.
(not consummated)
Liam Cooper Spencer
(broken engagement)
Faked text messages to keep Brooke Logan away from her father [2009]
Stole Katie Logan's engagement ring to blackmail Bill Spencer into returning Forrester Creations [2010]
Sabotaged Hope Logan's fashion show by making a sign read "HO for the Future" [2010]
Blackmailed Brooke Logan and Oliver Jones [2010]
Seduced Liam Spencer away from Hope Logan and manipulated him into marriage [2011]
Worked with brother Thomas Forrester to keep Liam from seeing Hope in Cabo San Lucas [2012]
Got into a chocolate fight with Hope Logan [2012]
Worked to seduce Liam Spencer away from Ivy Forrester [2015]
Nearly arrested for violating a restraining order filed by Ivy Forrester [2015]
Presumed dead after in a shark attack after being washed overboard a boat [2000]
Almost drowned after slipping in bathtub and hitting her head [2011]
Suffered a head injury after falling off ATV in Cabo San Lucas [2012]
Hurt knee when Hope Logan crashed into her on ski slope in Aspen [2012]
Fell off a cliff and plunged into the Adriatic Sea [2012]
Pushed (while pregnant) into a desk by Hope Logan [2013]
Fell from a motorcycle and miscarried her baby [2013]
Became infertile during a botched D&C procedure [2013]
Underwent a successful procedure to reverse her infertility [2013]
Suffered psychological memory lapses regarding her involvement in the death of Aly Forrester [2015]
Steffy Forrester is the daughter of Ridge Forrester and Taylor Hayes; Steffy and her twin sister, Phoebe Forrester, were born after Taylor suffered through tuberculosis during pregnancy. Steffy was named for her grandmother, Stephanie Forrester. During a boat trip in St. Thomas, two-year-old Steffy fell overboard and was presumed dead in a shark attack, but Morgan DeWitt, a deranged woman who once aborted Ridge's baby, had kidnapped Steffy and dyed her hair red to pass Steffy off as her daughter. Steffy was rescued by her parents.
Steffy was devastated when Taylor was killed in an altercation with the nefarious Sheila Carter; Steffy was partially raised by Brooke Logan, whom Ridge remarried. Steffy reunited with her parents when it was revealed that Taylor's "body" had been replaced with a dummy by Taylor's former husband, Prince Omar of Morocco, who was keeping Taylor at his palace. Steffy and Phoebe went to London to attend boarding school; while Phoebe returned to Los Angeles, Steffy stayed overseas.
Now said to be fraternal, not identical twins with Phoebe, Steffy came home from college and worked in the mail room of her family's design house, Forrester Creations, where Steffy met Marcus Walton. Steffy dated Marcus, but gently turned down his proposal after becoming interested in Rick Forrester, who had been involved with both Steffy's mother and sister. Though Steffy initially railed at Rick for his womanizing and blamed him for the car accident which claimed a confrontational Phoebe, Steffy bonded with Rick in her grief, raising the ire of her entire family.
After Steffy agreed to marry Rick, Ridge played her a recording in which Rick admitted he was only romancing Steffy to get back at longtime rival Ridge. Steffy forgave Rick but ultimately let him go because of the dissension their relationship caused within her family' Steffy later turned down Marcus' attempt at a reunion.
To ensure that Ridge and Taylor remarried, Steffy and her brother, Thomas Forrester, faked text messages from Brooke, who earned an enemy in Steffy when she exposed Steffy and stopped her parents' wedding. Steffy made moves on the married Owen Knight, then developed an attraction to the equally married Bill Spencer, Jr. Steffy kissed Bill before his wedding to Brooke's sister, Katie Logan, whom Bill made CEO of Forrester after he took over the company; Steffy attempted to seduce Bill and swiped Katie's engagement ring, saying she would go to Katie if Bill didn't sign Forrester over to her. On an anti-Logan crusade, Steffy edged them out by dividing the company's stock between her grandfather, Eric Forrester, Stephanie, Ridge, and Taylor.
Steffy worked against Hope Logan by trying to steal her boyfriend, Oliver Jones, and publicly embarrassing Hope by making her "Hope for the Future" sign read "HO for the Future" during a fashion show. Steffy didn't get the chance to publicize Oliver's footage of Bridget Forrester sleeping with the married Owen, but Steffy was able to strike out at Brooke when Brooke mistakenly cheated on Ridge with Oliver at Hope's costumed graduation party. Steffy's attempt to blackmail Brooke and Oliver was defused by Brooke, who confessed to Ridge, and Steffy was forced by Ridge to assemble a video tribute to Brooke. But computer tech Liam Cooper accidentally recorded Steffy talking about Brooke's betrayal; Steffy was blamed when her words were overdubbed onto her video by Bill's right-hand man Justin Barber and leaked online.
Angry with Ridge, Steffy contemplated selling Bill the 25% share of Forrester given to her by Taylor. Instead, after a failed attempt to entice Liam away from Hope, Steffy transferred to Forrester International. Coming home with Bill on her mind, Steffy saved Amber Moore when Bill plotted to kill Amber for trapping Liam with a pregnancy. Steffy begged Bill for help when Thomas was lost at sea; though Steffy and Bill became closer through the ordeal, Steffy was distraught that Bill wouldn't leave Katie.
Steffy sought comfort in Bill's arms when Ridge stayed with Brooke despite a plot that involved Thomas claiming he had sex with Brooke while marooned on an island with her. Steffy and Bill nearly made love, but Taylor caught them and told Katie; Steffy was heartbroken when Bill went back on his promise to leave Katie, slipping and nearly drowning in a bathtub until she was rescued by Liam. Steffy let Liam know she was sexually available, unlike Hope, who wanted to remain a virgin until her wedding night. Steffy was thrilled when Liam gave her the engagement ring Hope left behind after catching Steffy and Liam kissing; Steffy worked with Bill to keep Liam and Hope apart, spiriting Liam away to Aspen and marrying him while Hope was forced to watch their wedding from a gondola.
Steffy and Liam vacationed at the same resort as Thomas and Hope; Steffy tried to keep Liam from seeing Hope, which led to Steffy being thrown from an ATV. Steffy nearly lost Liam when she admitted her misdeeds in Aspen and Mexico, but Steffy was diagnosed with a blood clot in her brain that was said to be life-threatening under stress. After it was revealed that Bill faked Steffy's MRI to keep her and Liam together, Steffy held out for a proper divorce from Liam instead of granting him an annulment. Steffy created a ski line, presenting it in Aspen, where Hope, hopped up on antianxiety pills, crashed into Steffy on the slopes. When Liam stayed by Steffy's side in the hospital, Steffy signed Liam's annulment papers, which he tore up.
Steffy grudgingly travelled to Puglia, Italy, for Liam and Hope's wedding; when Hope was a no-show, Steffy welcomed Liam's surprise kiss, but was disappointed when Liam married Hope anyway. Steffy watched the wedding from a distance and fell into the Adriatic Sea. Steffy deleted a video of her and Liam kissing, which had been accidentally recorded by his iPad; Hope saw it and demanded a "do-over" wedding, so Steffy took Liam out partying the night before. After Hope dumped Liam for showing up to their wedding with dyed hair and a tattoo, Steffy informed Liam she would be there for him when he was ready to move on.
Steffy and Liam reunited and went parasailing in Aspen, but Steffy discovered Liam wasn't over Hope when she spied them kissing. Steffy had discovered she was pregnant but refused to tell Liam, despite Taylor's insistence; Steffy instead gave Liam time to decide between her and Hope. But when Steffy got wind of a surprise wedding Brooke was throwing for Hope and Liam, Steffy stopped it with news of her pregnancy. Steffy and Liam were happier than ever after a wedding which included Steffy riding up the aisle on a motorcycle; asked not to ride again until after the baby was born, Steffy did so once to beat traffic and took a spill that caused her to miscarry.
A despondent Steffy fainted in front of Katie and was forced to confide to her former rival that a botched D&C procedure had rendered her unable to have more children. Steffy moved to Paris and divorced Liam, insisting that Liam return to Hope. While overseas, Steffy underwent a procedure that restored her fertility, which she admitted to a persistent Quinn Fuller, whose son, Wyatt Fuller, was interested in Hope. At Quinn's urging, Steffy went to Liam on his wedding day to Hope and told him she could have children after all; Steffy went home after an understanding Liam said his heart was with Hope.
Steffy was surprised when Liam came to her with an idea to oust Rick, who had taken tyrannical control of Forrester as CEO. Steffy would only combine her 25% share of Forrester with Ridge, Thomas, and Bill to gain controlling interest if Liam would come back to Steffy and ditch his current girlfriend, Ivy Forrester. Steffy tried to sway Liam in a bikini but returned to Paris after Ivy shut her down. Later, Ridge summoned Steffy to L.A. to implement the takeover plan, telling Steffy not to make Liam's return a condition this time; Steffy agreed, and Rick was removed from the CEO chair by Ridge.
Steffy still had designs on Liam and was furious when Liam married the Australian Ivy to keep her in the country. However, when Liam's feelings for Steffy resurfaced and Ivy's immigration issues were sorted out, Steffy happily reunited with Liam, drawing the ire of young Aly Forrester, who had a history of mental illness stemming from the violent childhood death of her mother, Darla Einstein, at the inadvertent hands of Taylor. Steffy defended herself against Aly's accusations of promiscuity and implored Aly to accept Ridge's California Freedom line, which featured bikinis, lingerie, and transgender models.
After a successful showing, Steffy's car got a flat tire on the same stretch of highway where Darla died. Steffy narrowly escaped being run over by Aly and almost talked her down until Aly tried to hit Steffy with a tire iron, then a rock; Steffy grabbed the tire iron and swung at Aly, who hit her head on a rock and died. Steffy stashed the tire iron in the bushes and had no answers for Aly's inconsolable father, Thorne Forrester. Steffy was horrified when Ivy presented a video in which it looked like Steffy had hit Aly with the tire iron; Steffy had memory lapses of the confrontation and gave in when Ivy blackmailed her with the video, making Ivy the New Face of Forrester.
After Ivy's new boyfriend, Wyatt Fuller, talked Ivy into deleting the incriminating video, Steffy fired Ivy, ignoring her apologies. Honoring Eric's request to make peace, Steffy reinstated Ivy but forced the conservative girl to model lingerie; eventually, Liam brokered a truce between Steffy and her cousin. Steffy happily accepted Liam's proposal but stepped into Wyatt and Ivy's relationship when she learned Ivy had been kissing Thomas. Steffy pushed the jilted Ivy away during an argument, accidentally throwing Ivy into live wires and electrocuting her.
Steffy was nearly arrested when she violated Ivy's restraining order, and when Ivy decided to go back to Australia after a failed attempt to reunite with Liam, Steffy was blamed when Ivy fell down the stairs and suffered a concussion. Owing to a series of miscommunications when Liam escorted Ivy on the plane to Sydney, Steffy allowed herself to be comforted by Wyatt and fell asleep with him in bed. Steffy couldn't understand when Liam came home and broke their engagement; as Liam gave Steffy the silent treatment, Steffy spent time with Wyatt and kissed him on the beach. When Wyatt bought Steffy a motorcycle, Steffy happily rode for the first time since her miscarriage.
Steffy felt she couldn't move on with Wyatt until she made sense of things with Liam; when she received a dismissive voice mail from Liam, she made love to Wyatt. Steffy held back when Wyatt wanted to get serious, deciding instead to move out of Liam's house and into the Forrester mansion with her father. Steffy was surprised when she called the much-absent Quinn and got Quinn's new boyfriend, Adam. Steffy finally accepted Wyatt's proposal of marriage, but confronted a visiting Ivy and called Hope in Milan; neither of Liam's ex-wives had heard from him, either. Steffy married Wyatt on the beach, getting the shock of her life when Liam showed up soon after, having escaped from Quinn, to whom Liam had believed he was married while in an amnesiac state.
Steffy was forced to tell Liam about marrying Wyatt when Liam, who believed he was still engaged to Steffy, planned a wedding for her. Though Liam actively campaigned to win Steffy back, Steffy was inclined to honor her marriage to Wyatt. Steffy couldn't believe it when the fugitive Quinn showed up asking Steffy to speak to Liam on her behalf; Steffy secretly texted Wyatt to call the police and kept Quinn talking until the officers arrived. Steffy told Wyatt to keep Quinn away from her and kept thinking of Liam, especially when it briefly seemed that Steffy's marriage to Wyatt might be invalid. Steffy supported Liam's idea to create a charitable foundation at Spencer and complied with Wyatt's request to become the face of its social media.