Share this story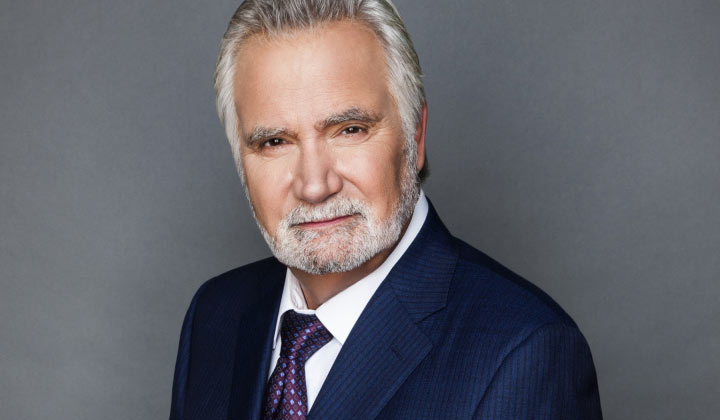 Eric Forrester, Sr.
March 23, 1987 to present
Owns 37.5% of Forrester Creations
CEO emeritus at Forrester Creations
Former CEO of Forrester Creations
Former designer at Forrester Creations
Former Head Designer at Forrester Creations
Former owner and Head Designer of Forrester Originals The Forrester Mansion Guest House (369 Willow Hill Rd., Beverly Hills, CA)
Formerly the Forrester Mansion (369 Willow Hill Rd., Beverly Hills, CA)
Formerly a Los Angeles house once owned by Harry Houdini (with then-wife Sheila Carter)
Formerly a Los Angeles condo (with then-wife Brooke Logan) Widower/Single
Stephanie Douglas
[Married: circa 1960; divorced: 1990; first time]
Brooke Logan
[Married: 1991; divorced: 1992; first time]
Sheila Carter
[Married: 1993; divorced: 1995]
Stephanie Douglas
[Married: 1999; divorced: 2005; second time]
Brooke Logan
[Married: 2005 ; divorced 2005; second time]
Stephanie Douglas
[Married: 2006; divorced: 2008; third time]
Donna Logan
[Married: 2008; divorced: 2010]
Stephanie Douglas
[Married: 2012; dissolved by her death: 2012; fourth time] John Forrester (brother)
Jessica Forrester (niece)
Ivy Forrester
(niece)
Zende Forrester Dominguez
(grandson; via adoption)
Eric Forrester III (grandson; deceased)
Alexandria Forrester
(granddaughter; deceased)
Dominick Damiano
(grandson)
Nicole Marone (granddaughter; deceased)
Logan Knight (grandson)
Elizabeth Forrester (granddaughter)
Thorne Forrester
(son; with Stephanie)
Kristen Forrester
(daughter; with Stephanie)
Felicia Forrester
(daughter; with Stephanie)
Angela Forrester
(daughter; with Stephanie; deceased)
Eric Forrester Jr.
(son; with Brooke)
Bridget Forrester
(daughter; with Brooke)
Marcus Walton Forrester
(son; via adoption)
Elizabeth Henderson Logan
Taylor Hamilton Hayes
(flirtation, 1995; dated, 2013)
Sally Spectra
(false engagement)
Lauren Fenmore
Jacqueline Payne
(engaged)
Quinn Fuller
(kissed)
Proposed to Sally Spectra so she'd admit to stealing his designs [1995]
Shot "Rush" Carrera with a crossbow in self-defense [1997]
Attempted to buy Little Eric from his father, Deacon Sharpe [2001]
Hit Deacon Sharpe with his car [2001]
Punched a gun-toting Sheila Carter [2002]
Accidentally shot Deacon Sharpe in a struggle with a gun [2003]
Concealed a trust which proved Forrester Creations was owned by Stephanie Forrester [2005]
Ultimately guilty of fraud, embezzlement and grand larceny connected to hiding the trust [2005]
Designed the ugly Dare line in order to sabotage a Spencer-owned Forrester Creations [2009]
Injured in a car accident [1991]
Temporarily blinded when a bookcase fell on him [1991]
Suffered a mild heart attack in hot tub [1993]
Had a vasectomy [1994]
Survived a plane crash and almost froze to death in Greenland [1997]
Kneed in the groin by Stephanie [2005]
Poisoned by Pam Douglas, causing a heart attack and coma [2008]
Eric Forrester is the patriarch of the Forrester fashion dynasty. He has four children with Stephanie Douglas (Thorne, Felicia, Kristen, and the deceased Angela), two with Brooke Logan (Rick and Bridget), and an adopted son in Marcus Walton, whose mother is Donna Logan. Eric also raised Ridge Forrester, finding out years later that Ridge was not his biological son, but Massimo Marone's. Eric co-founded Forrester Creations and was its head designer for decades.
Dissatisfied in his marriage to manipulative Stephanie, Eric turned to his college sweetheart, Beth Logan. Eric and Stephanie briefly bonded over discovering that their comatose daughter, Angela, had died and been replaced with an imposter, but Eric still wanted a divorce. Eric was hurt when Beth reunited with her estranged husband -- not knowing Stephanie was pulling the strings -- and compensated by pursuing their daughter, Brooke Logan. Eric and Brooke married and had a son, Eric Forrester, Jr. (Rick), though Brooke still pined for ex-boyfriend Ridge. Eric agreed to give Brooke a divorce after it was revealed she had slept with Ridge on Forrester's lab floor while celebrating her discovery of the wrinkle-free BeLieF formula, but the proceedings were delayed when Eric was temporarily blinded saving Rick from a toppling bookcase.
Eric moved on with nurse Sheila Carter, but Brooke was pregnant and didn't know whether Eric or Ridge was the father. After Ridge was revealed to be baby Bridget's father, Eric married Sheila in a ceremony where all the guests wore black. Eric had a stress-related heart attack after Brooke gained control of Forrester over the BeLieF patent and named Sheila her liaison. Eric was stunned to learn from family friend Lauren Fenmore that Sheila had tried to kill her in Genoa City after stealing her baby; along with his family, Eric stared down the barrel of Sheila's gun, then forgave Sheila as she attempted suicide. A disillusioned Eric served Sheila with divorce papers at the mental institution where she was incarcerated.
Eric briefly pursued Ridge's ex-wife, Taylor Hayes, and went so far as to propose to fashion competitor Sally Spectra to romance her into admitting she'd stolen Forrester designs. But when a letter surfaced suggesting Brooke had faked Bridget's paternity test (which no one knew had been tampered with by Sheila), Eric and Ridge submitted to a second test that named Eric as Bridget's father. Eric almost remarried Stephanie, but Sally stopped the ceremony by putting a naughty photo of Eric's encounter with Lauren in the minister's Bible. Eric and Lauren were in a plane crash on the way home from a fashion show in Italy and stranded in Greenland, where they were held captive by crazy Rush Carrera. Eric shot Rush with a crossbow and later fought Rush when he followed Lauren to Los Angeles. Eric and Lauren, who already had Sheila in common, further bonded over the ordeal, but it wasn't enough to solidify their romance, and Lauren returned to Genoa City.
Eric and Stephanie found their way back to each other over their mutual objection to Brooke's pursuit of Thorne, and gold-digger Amber Moore's pursuit of Rick. After Stephanie recovered from a stroke, Eric remarried her. Eric's daughter, Bridget, married bad boy Deacon Sharpe, who wanted Amber but used Bridget to goad the Forresters into relinquishing custody of "Little Eric", his son with Amber's cousin Becky Moore; Eric tried to run Deacon down with his car after Deacon broadcast Bridget's deflowering over a speakerphone. Eric was also concerned when his other daughter, Kristen, married the HIV-positive Tony Dominguez.
Eric was annoyed by the presence of Stephanie's former love, Massimo Marone, who arrived in Los Angeles to reclaim her. Eric couldn't believe it when it turned out Ridge was Massimo's son, and that a pregnant Stephanie had married Eric to keep him from Beth. Eric became the target of Sheila, who turned a gun on him after he refused a reunion; Eric and Brooke got the gun away from Sheila, but not before Taylor was fatally shot.
Eric entertained a relationship with Massimo's ex-wife, Jackie Payne, but ultimately renewed his vows with Stephanie. Later, when Deacon and Bridget revisited their relationship, Eric and Deacon struggled over a gun, causing Deacon to take a bullet.
Eric felt responsible for having played favorites with Ridge when Thorne, who now felt he was only true Forrester son, defected to Spectra Fashions. Eric was overjoyed when Taylor turned up alive, but furious when Stephanie faked a heart attack to manipulate Ridge into leaving Brooke for Taylor. Eric divorced Stephanie and explored things with Jackie, then briefly remarried Brooke to blunt her interest in Bridget's husband, Nick Marone. When an angry Stephanie discovered that Eric knew about a 40-year-old trust in which her father named her the sole owner of Forrester Creations, Eric found Stephanie's knee in his groin.
Though Eric wanted to marry Jackie, he reunited with Stephanie when their daughter, Felicia, almost died of cancer, and stood by Stephanie as she faced her childhood abuse at the hands of her father. Eric was forced to sell Forrester Creations to Jackie's son, Nick, after Jackie fell from a balcony in a tussle with Stephanie; Eric competed by starting up new design house Forrester Originals with his sons. But after Stephanie's vendetta against Brooke led to Brooke being raped, Eric agreed to divorce Stephanie, which was Nick's condition for returning Forrester Creations.
Eric began dating Brooke's sister, Donna Logan, whose brother, Storm Logan, shot Stephanie. Because Stephanie promised to let Storm go free if Donna stayed away, Eric and Donna pretended to break up, but Eric was forced to hide naked on a ledge outside Donna's window when Stephanie burst in, and Eric found his picture in the tabloids the next day. Though Stephanie relented, leaving Eric free to marry Donna, Stephanie's unstable sister, Pam Douglas, menaced Donna instead. Eric had a heart attack while in bed with Donna and lapsed into a coma; eventually it was revealed that Eric had been poisoned by Pam, who meant to weaken Eric sexually and make him undesirable to Donna so he would return to Stephanie. Later, Eric and Stephanie stopped Pam from killing Donna at the Big Bear cabin.
Eric adopted Donna's long-lost son, Marcus Walton. But Eric sensed Donna's attraction to her assistant, Owen Knight, and nearly divorced Donna when security footage showed her making love to Owen; "Donna" and "Owen" were really lookalikes Thorne had hired to get Donna away from his father. Later, Eric and the Logans took hits when Stephanie defected to rival fashion house Jackie M and bashed them online, and Eric lost Forrester when Bill Spencer, Jr., the son of Eric's late nemesis, Bill Spencer, Sr., took over the company and installed his wife, Katie Logan, as CEO.
Eric and his sons refused the power positions Katie offered them, and Eric objected to Donna's new gig as co-host of the Spencer-owned cable show The Catwalk. Eric tried and failed to sabotage Bill by creating the gaudy Dare line, but soon Eric's granddaughter, Steffy Forrester, swindled the company away from Bill in a seduction attempt and put 25% of its stock back in Eric's name.
Eric and Donna divorced when Beth, who had been afflicted with Alzheimer's, drowned after an altercation with Stephanie and Eric took Stephanie's side. Eric gave Donna half his Forrester shares in the settlement, which she sold to Bill. Thinking Stephanie had turned over a new leaf as she underwent treatment for Stage IV lung cancer, Eric was appalled when Stephanie convinced their grandson, Thomas Forrester, to lie that he'd had sex with Brooke to rid the family of Brooke once and for all. Eric forgave Stephanie, but was troubled when she chose not to be intimate with him. Eric turned to Jackie, stopping short of an affair out of respect for Stephanie. Eric spontaneously remarried Stephanie in time for their 50th anniversary when Sally's old friend Gladys Pope, a notary, showed up on the door.
When Stephanie's returning cancer was diagnosed as fatal, a devastated Eric threw a party celebrating Stephanie and her accomplishments. After Stephanie died in Brooke's arms, Eric learned that Stephanie had arranged for Eric to become Forrester's permanent CEO. Eric rode herd as Rick, Thomas, and Thorne all jockeyed for power at the company. Though Eric was able to grieve Stephanie with the help of Pam, Eric became romantically involved with Taylor and moved her into the mansion. Eric and Taylor were shocked when Pam burst in brandishing a "knife," which was really a spatula. Eric's relationship with Taylor drew fire from Brooke, who felt Taylor just wanted to cement her son Thomas' position at Forrester.
Visiting Genoa City, Eric designed a wedding dress for Nikki Reed Newman and caught up with Lauren, as well as Ridge's former fiancée, Ashley Abbott; at home, Eric designed a black pantsuit wedding ensemble for Steffy. But when Taylor suspected that Brooke was having an affair with the married Bill, Eric told Taylor to back off; separately, Eric listened as Brooke confessed she was pregnant by Bill, then lovingly refused Brooke's request to pose as her babydaddy after Brooke created a replica of the tent in which she and Eric spent their honeymoon. Eric was disillusioned when Taylor presented proof of Bill and Brooke's affair at Brooke's birthday party and walked out on Eric for defending Brooke.
Some months later, Eric was impressed with Quinn Fuller, a jewelry designer working with Forrester; Eric kissed Quinn, prompting Stephanie's portrait to fall off the wall, as it had during Eric's relationship with Taylor. It intrigued Eric when Donna suggested a reconciliation, but Eric didn't agree with Donna's contention that Quinn was unbalanced for confronting her and calling her a slut. Eric disapproved of Ridge getting involved with Brooke's sister, Katie Logan, so when Ridge wanted to be CEO, Eric made Ridge and Brooke co-vice presidents instead in an effort to push them back together.
Eric was pleased when his granddaughter, Aly Forrester, came home from college, but became concerned when Aly acted out against what she perceived as immorality at Forrester; Eric discussed Aly's mental problems caused by the traumatic loss of her mother, Darla Einstein, with Aly's father, Thorne, and the visiting Taylor. Then, Ridge, who had flown to the Middle East to stop Bill from marrying Brooke, fell out of a helicopter into the Persian Gulf and was presumed dead; Eric, Thorne, and Katie flew to Abu Dhabi to join in the search.
Eric's brother, John Forrester, had been living in Australia, where he had a daughter, jewelry designer Ivy Forrester; Eric brought Ivy to L.A. to replace the unscrupulous Quinn. When a lonely Eric saw how much fun John had traveling the world, Eric stepped down as CEO and offered the chair to Ridge, ultimately awarding it to Rick after it came out Ridge had kissed Rick's wife, Caroline Spencer. Although Eric felt betrayed when Rick tricked him into signing a document that kept Rick in power for a year, Eric left town to lecture at design schools and travel with John.
Eric continued to support Rick even though Rick threw his weight around at Forrester, tormenting employees and firing a gun at Ridge and Caroline. Yet it still knocked Eric for a loop when Ridge, Steffy, Thomas, and Bill, who together owned 62.5% stock in Forrester Creations, combined their shares, overthrowing Rick and installing Ridge as CEO. After Aly died in a violent confrontation with Steffy, Eric and Brooke offered the grieving Thorne their support.
Eric stood by Rick when it was revealed that his girlfriend, Maya Avant, was transgender. At Rick and Maya's wedding, Eric received an awkward overture of friendship from Maya's intolerant father, Julius Avant. Later, Eric refereed when Ivy, who had a video implicating Steffy in Aly's death, tried to blackmail Steffy.
Having never gotten over Brooke, Eric invited her to move into the mansion with him; though Brooke gently declined, Eric reminisced with Brooke about Stephanie and declared Brooke his best friend. Later, Eric and Bill worried for Brooke when Katie turned her back on Brooke for saying Bill was the love of Brooke's life.
Eric was pleased when Ridge came home from an extended business trip and threw a cocktail party at the mansion for longtime clients of Forrester, but predicted fireworks when Ridge took down Rick's beloved portrait of Maya and reinstalled Eric's portrait of Stephanie. Eric mediated as Rick and Ridge argued over the portraits but ultimately sided with Ridge, causing Rick to move out; Eric remained in the Forrester guest house while Ridge and Caroline took over the main house.
Eric further bonded with Brooke over the birth of baby Elizabeth, Rick's daughter with Maya, whose surrogate mother was Maya's sister, Nicole Avant. But Eric told Rick to stop obsessing over Ridge when Rick continued coveting Ridge's CEO position. Later, Eric was revealed to be the lover of Quinn, who had kidnapped an amnesiac Liam Spencer and invented a marriage for them; Eric insisted on secrecy with Quinn, as he knew that his family, especially his granddaughter, Steffy Forrester, who'd had a complicated relationship with Liam, would be furious if they found out Eric and Quinn were sleeping together.