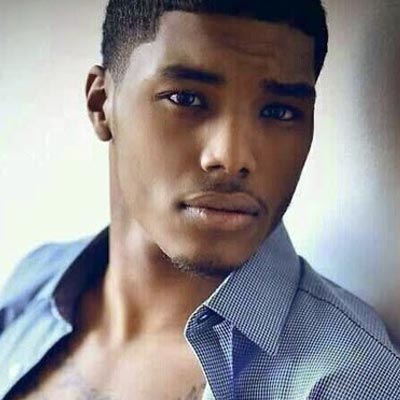 Zende Forrester Dominguez
August 2001 to 2002 [contract]; October 21, 2005 [guest]
Was said to be 10 years of age in March 2002 Intern and budding photographer at Forrester Creations The Forrester Mansion (369 Willow Hill Rd., Beverly Hills, CA)
Formerly Miami, Florida Single/Never Been Married None known unnamed man (father; deceased)
unnamed woman (mother; deceased)
unnamed boy (brother; deceased)
Antonio Dominguez
(father; via adoption)
Kristen Forrester
(mother; via adoption)
Eduardo Dominguez (grandfather; via adoption)
Liliana Dominguez (grandmother; via adoption)
Eric Forrester
(grandfather; via adoption)
Stephanie Douglas
(grandmother; via adoption; deceased)
John Douglas (great-grandfather; via adoption; deceased)
Ann Douglas
(great-grandmother; via adoption)
Thorne Forrester
(uncle; via adoption)
Angela Forrester
(aunt; via adoption; deceased)
Felicia Forrester
(aunt; via adoption)
Eric "Rick" Forrester Jr.
(half-uncle; via adoption)
Bridget Forrester
(half-aunt; via adoption)
Ridge Forrester Sr.
(half-uncle; via adoption)
Eric Forrester III (half-cousin; via adoption; deceased)
Alexandria Forrester
(cousin; via adoption; deceased)
Nicole Marone (half-cousin; via adoption; deceased)
Dominick Damiano
(cousin; via adoption)
Thomas Forrester
(half-cousin; via adoption)
Steffy Forrester
(half-cousin; via adoption)
Phoebe Forrester
(half-cousin; via adoption; deceased)
Ridge "R.J." Forrester Jr.
(half-cousin; via adoption)
Logan Knight (half-cousin; via adoption)
Elizabeth Forrester (half-cousin; via adoption) None known
Nicole Avant
(kissed)
Sasha Thompson
Stole Kristen and Antonio Dominguez's camera in Africa [2001]
Newlyweds Kristen Forrester and Tony Dominguez were honeymooning in Africa when their camera went missing. A young African boy had swiped it, but thought better of it and returned it to the couple: the boy was Zende, a charming lad who invited Kristen and Tony to visit him at the orphanage where he was living. Zende had lost both parents and a brother to the AIDS epidemic; he paid his way by caring for the younger orphans. Zende was surprised when Kristen and Tony, who didn't want to risk having a child because Tony was HIV-positive, returned to the orphanage and offered to take Zende back to Los Angeles and adopt him. Eventually, Kristen, Tony, and Zende left Los Angeles and moved to Miami, where Zende was raised.
In 2015, Zende returned to Los Angeles as an adult. Zende decided he wanted to start at the bottom at Forrester Creations depsite his family connections and applied to the company's internship program. Zende bonded with fellow intern Nicole Avant and developed a friendship with his half-cousin, Thomas Forrester. Zende became jealous when learning that Thomas had kissed Nicole, which finally prompted Zende to ask Nicole on a date. As Zende and Nicole began exploring a relationship, Zende grappled with the idea of Nicole becoming a surrogate to her transgender sister, Maya Avant, who couldn't give her husband, Rick Forrester, a baby the conventional way. Zende supported Nicole but worried that her pregnancy would interfere with their burgeoning romance.
Zende defended Nicole to her intolerant father, Julius Avant, who wanted Zende to talk Nicole out of being Maya's surrogate. When Nicole's fertilization took, Zende stood by her but became plagued with doubts. Zende couldn't make love to Nicole knowing she was carrying another man's baby, and couldn't help noticing Nicole's childhood friend Sasha Thompson. Zende accompanied Rick, Nicole, Maya, and their parents on a holiday trip to Hawaii.
After the position of Forrester Creations' house photographer became vacant, Zende wanted a shot at it but lamented his lackluster work; Sasha livened things up when the nauseous Nicole couldn't model for him. Zende's happiness over Rick offering Sasha a real modeling gig turned to confusion when Rick suddenly changed his mind; Zende was disillusioned when he found out Nicole put the kibosh on the offer because she was jealous. Zende forgave Nicole, who had Rick reinstate Sasha's offer, and Zende stayed true to Nicole when Sasha offered him a friends-with-benefits situation. However, after creating a romantic setting for Nicole, Zende gently broke up with her, admitting he loved her but could no longer handle his girlfriend carrying his uncle's baby.
Zende soon gave in to Sasha's seductive charms, though he felt bad for Nicole and promised they'd always be friends. When Nicole confronted Zende about Sasha's claim that he was in love with her, Zende assured Nicole that Sasha had misunderstood. After Zende snuck into Nicole's hospital room to witness the birth of her baby, he decided to leave Sasha and reunite with Nicole, but hit a roadblock when Sasha announced she was pregnant. Unsure he believed Sasha, Zende got Nicole to take him back, then had to relay the news of his potential fatherhood. Zende was relieved when Sasha admitted she'd faked her pregnancy test, and Zende forgave her.
Zende got an opportunity to photograph Sasha for Forrester's lingerie line, Intimates, but when Nicole opposed the idea, Zende gave up the plum gig.
SOAPULARITY: WHAT'S TRENDING