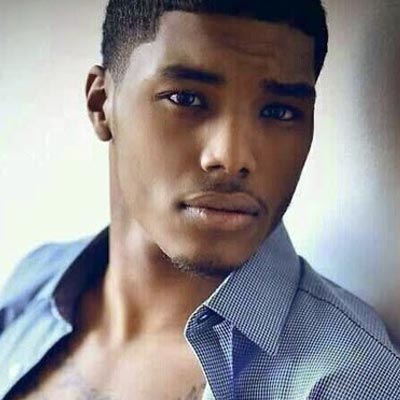 Zende Forrester Dominguez
August 2001 to 2002 [contract]; October 21, 2005 [guest]
Was said to be 10 years of age in March 2002 Intern at Forrester Creations Los Angeles
Formerly Miami, Florida Single/Never Been Married None known unnamed man (father; deceased)
unnamed woman (mother; deceased)
unnamed boy (brother; deceased)
Antonio Dominguez
(father; via adoption)
Kristen Forrester
(mother; via adoption)
Eduardo Dominguez (grandfather; via adoption)
Liliana Dominguez (grandmother; via adoption)
Eric Forrester
(grandfather; via adoption)
Stephanie Douglas
(grandmother; via adoption; deceased)
John Douglas (great-grandfather; via adoption; deceased)
Ann Douglas
(great-grandmother; via adoption)
Thorne Forrester
(uncle; via adoption)
Angela Forrester
(aunt; via adoption; deceased)
Felicia Forrester
(aunt; via adoption)
Eric Forrester Jr.
(half-uncle; via adoption)
Bridget Forrester
(half-aunt; via adoption)
Ridge Forrester Sr.
(half-uncle; via adoption)
Eric Forrester III (half-cousin; via adoption; deceased)
Alexandria Forrester
(cousin; via adoption; deceased)
Nicole Marone (half-cousin; via adoption; deceased)
Dominick Damiano
(cousin; via adoption)
Thomas Forrester
(half-cousin; via adoption)
Steffy Forrester
(half-cousin; via adoption)
Phoebe Forrester
(half-cousin; via adoption; deceased)
Ridge "R.J." Forrester Jr.
(half-cousin; via adoption)
Logan Knight (half-cousin; via adoption) None known
Nicole Avant
(kissed) Stole Kristen and Antonio's camera in Africa [2001]
Newlyweds Kristen Forrester and Tony Dominguez were honeymooning in Africa when their camera went missing. A young African boy had swiped it, but thought better of it and returned it to the couple: the boy was Zende, a charming lad who invited Kristen and Tony to visit him at the orphanage where he was living. Zende had lost both parents and a brother to the AIDS epidemic; he paid his way by caring for the younger orphans, but it bothered Kristen and Tony when they learned that Zende would likely end up on the street when he became too old to continue living at the orphanage. The Dominguezes returned to Los Angeles, but kept thinking about Zende; Tony was HIV-positive and didn't want to risk having a biological child with Kristen, so they travelled back to Africa to adopt Zende. Eventually, Kristen, Tony, and Zende left Los Angeles and moved to Miami, where Zende was raised.
In 2015, Zende returned to Los Angeles as an adult. Even though Zende could have risen through the ranks of Forrester Creations, the family's fashion business, on the merits of his family connections, Zende decided he wanted to start at the bottom and applied for the company's internship program, where he met Nicole Avant, a fellow applicant. After Zende and Nicole were hired, they began to bond as they worked together. When Kristen's niece, Aly Forrester, became emotionally unstable, Zende told the Forrester's younger generation how Aly had developed mental problems following the violent death of her mother, Darla Einstein, whom Zende had met as a child.
Zende developed a friendship with his half-cousin, Thomas Forrester, and continued spending time with Nicole, who shared her dreams with him; Forrester deejay Othello even lowered the lights and put on a slow jam so Zende and Nicole could dance on the runway. It threw Zende when he learned Thomas had kissed Nicole, but it finally prompted Zende to ask Nicole out on a proper date. Just as Zende and Nicole began exploring a relationship, Zende found out that Nicole was considering being a surrogate mother for his adoptive half-uncle, Rick Forrester, and Nicole's transgender sister, Maya Avant Forrester, as the newlyweds couldn't have a baby the conventional way. Zende understood Nicole's desire to help Maya, but reminded Nicole that taking time out to have Maya's baby would interfere with their burgeoning romance.
After Nicole ultimately decided to become Rick and Maya's surrogate, Zende vowed he'd stand by Nicole and admitted that he loved her. However, Zende and Nicole received a surprise when Nicole's parents, Julius and Vivienne Avant, arrived unexpectedly and announced they were leaving their Illinois hometown to move to Los Angeles. Julius, who had difficulty accepting his transgender daughter, approached Zende and tried to get him to talk Nicole out of carrying Maya's baby. Zende continued to support Nicole, but, once Nicole became pregnant through fertilization, Zende admitted struggling with his desire to have Nicole to himself.
Zende had a flirtatious encounter with a girl he thought was a Forrester model, not knowing at first that she was Sasha, Nicole's childhood friend visiting from Illinois. Despite planning a romantic evening for Nicole during which he planned to make love to her for the first time, Zende froze up because of her carrying another man's baby. After some tension, Zende and Nicole talked things out and decided to make their relationship a priority. Zende then joined Nicole, Maya, their parents, and Rick on a holiday trip to Hawaii.