General Hospital Two Scoops | 2013
General Hospital opinion columns from 2013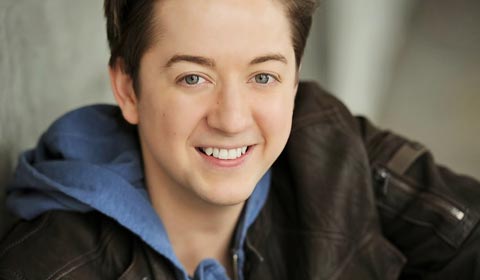 January 7, 2013
Spinelli and Maxie rang in the New Year in bed together. What did Olivia's dog visions of Maxie's fetus have to do with this coupling? Is there a baby on the way, or does Maxie just need to stock up on Puppy Chow? Two Scoops' Jennifer Biller gets to the bottom of this dog-gone mystery.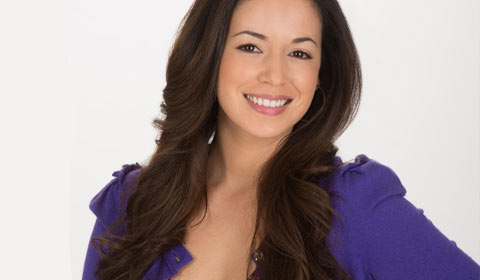 January 14, 2013
As General Hospital rolls out the Red Carpet to welcome back some of its most beloved characters, we're rolling out the Two Scoops carpet for the return of one of our (and your) favorite columnists, Tamilu. She's back with her opinions and observations of the latest GH action.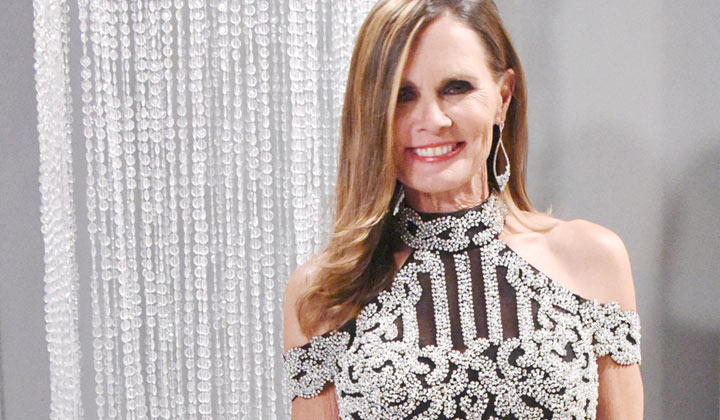 January 21, 2013
CoeCoe Goes Cuckoo! Lucy Coe believes that she's a vampire slayer. The cosmetics maven had a break from reality this week, or did she? The town thinks that Ms. Coe is cuckoo. But she could just be staying true to her character's history. Either way, Two Scoops Jennifer Biller prefers her vampires on primetime. Do you?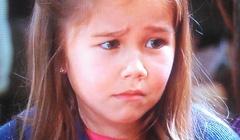 January 28, 2013
Where is Emma Drake, and who was supposed to watch her? The doctor we all love to hate, Britt Westbourne. She lathered Patrick up in the hospital shower, but he'll be foaming for an entirely different reason when he finds out his lover lost his daughter. We're sending out a search party in this week's Two Scoops.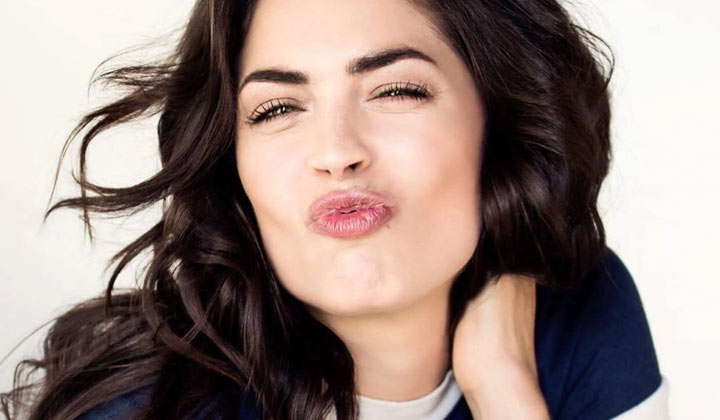 February 4, 2013
Britt showed Patrick her true colors. Kevin returned. Sonny got softer. A.J. had a panic attack after Tracy sabotaged ELQ. The nurses had a night out. Oh, and there may, or may not, be vampires running amok. So much happened on General Hospital this week that Two Scoops' Jennifer Biller can't wait to dish.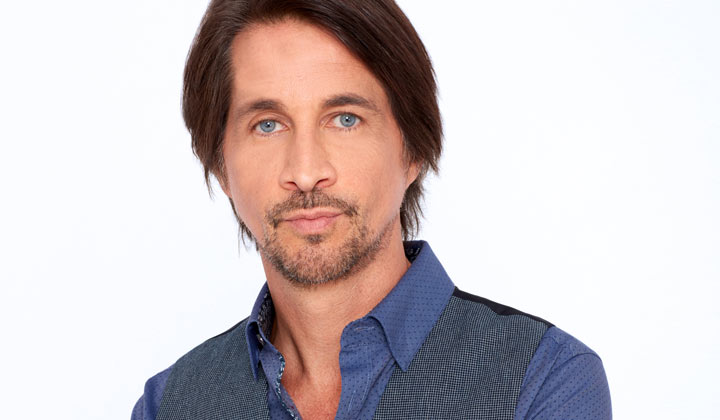 February 11, 2013
Why are there two McBains, and why is one of them a vampire? Have the GH writers gone mad, or is there genius in the otherworldly storylines? Take a peek behind the curtain in this week's Two Scoops.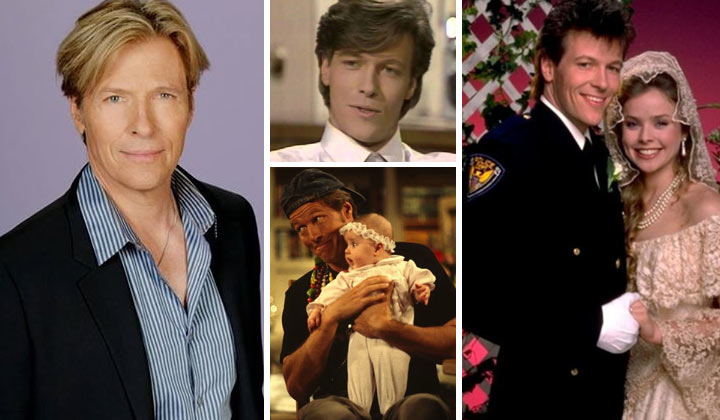 February 18, 2013
Why is it a good time to be a General Hospital fan? Because many old favorites have returned, and the show has an exhilarating new energy. Two Scoops' Jennifer Biller pens a love note, talks Frisco and Laura's return, and celebrates the one-liners of Todd Manning.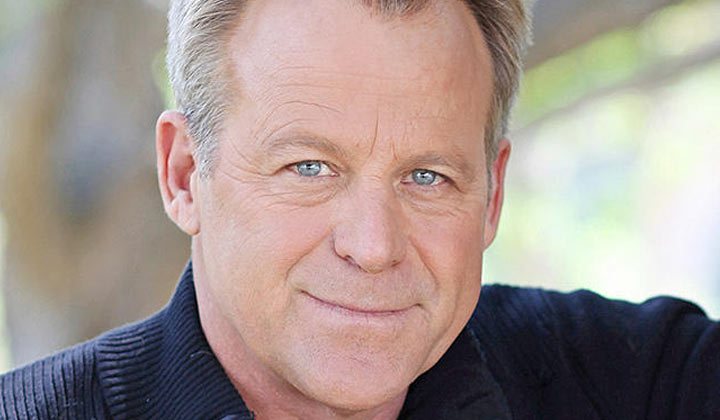 February 25, 2013
Laura and Scotty are back in Port Charles and engaged again, but will they tie the knot? Not if Luke can find a way to stop them. Do you remember how he did it before? We are talking GH history in this week's Two Scoops.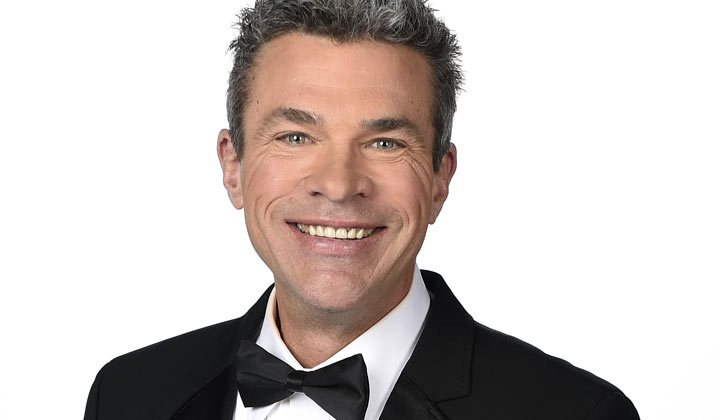 March 4, 2013
Love is a battlefield for Mac Scorpio. Just when he reunited with his beautiful ex-wife, Felicia, the love of her life came home. Frisco is making a play for Felicia, but will she fall for him again? Or will she choose Mac? Two Scoops' Jennifer Biller dissects this surprising love triangle and wants your vote on which couple you're rooting for.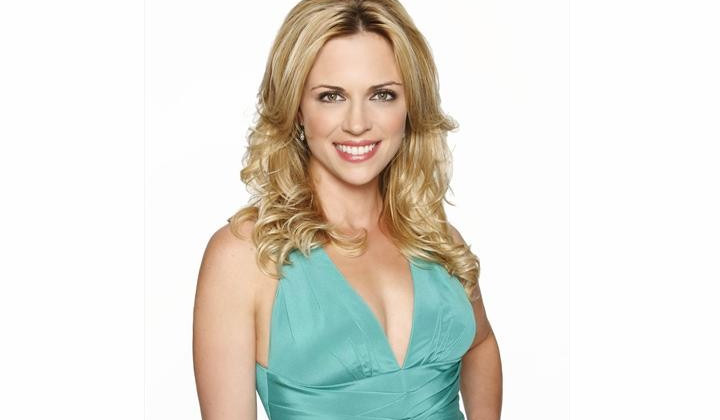 March 11, 2013
Mirror Mirror on the wall... Oh wait, the mirror isn't on the wall anymore since Kate and Connie had a fight with themselves and broke it. Whose reflection won -- and how do you want to see this storyline play out? We'll take a look in this week's Two Scoops.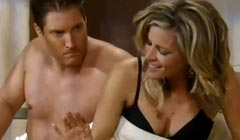 March 18, 2013
Mortal enemies Carly and A.J. are trying to pull one over on Todd Manning. They're trying to convince him that they are bed buddies again. Is this fake love connection a harbinger of things to come? Could A.J. really fall for Carly? Dive into Two Scoops to examine the possibilities.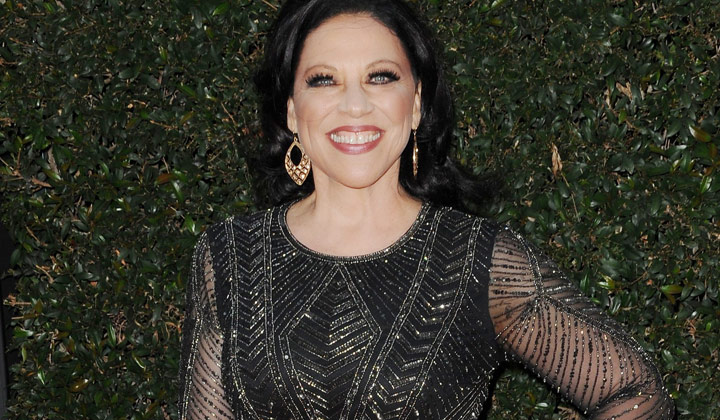 March 25, 2013
Did you see it coming? General Hospital shocked and delighted viewers with the revelation that the two evil doctors we love to hate are related! What else does GH have prescribed for fans? Find out in this week's Two Scoops -- it's just what the doctor (hopefully not an evil one) ordered.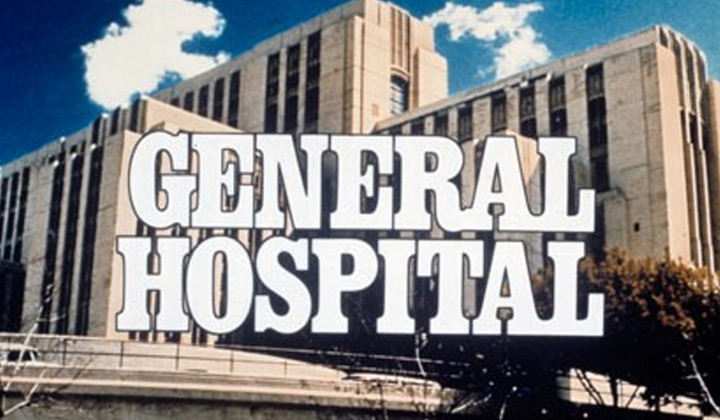 April 1, 2013
Don't call it a comeback. General Hospital has been here for 50 years, and it just keeps getting better. It's out with the old and in with the... old, as the Spencers and Cassadines feud and the Nurses Ball prepares to drop. Grab a party hat and get ready to celebrate in a special edition of Two Scoops.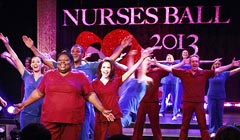 April 8, 2013
The ugly duckling becomes a swan, the wicked witch finally dies, and the Aztec princess has to choose between two handsome princes. The Nurses Ball is in full swing, and everyone you ever wanted to see was in attendance. (Well, almost.) Join us as we revel in a magnificent week of soap magic in this week's Two Scoops.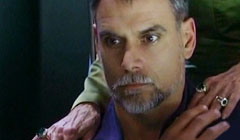 April 15, 2013
Stavros became the newest member of the Back-from-the-dead Club when it was revealed he kidnapped Lulu. Meanwhile, is Britt really pregnant with Patrick's baby? Plus, Michael and Brenda ended up in bed together, A.J. spoted Elizabeth and Nikolas in an embrace, and Scott leaned on Bobbie for support. Get ready to thaw out with this week's Two Scoops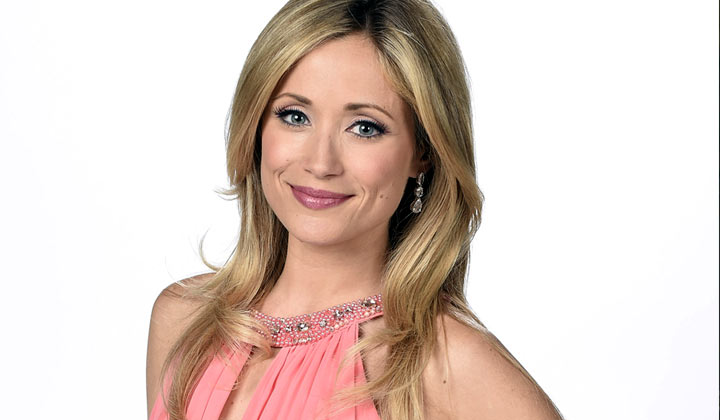 April 22, 2013
Thawed! Stavros' Ice Princess melted and was greeted by a doting family that she can't recall. Will the familiar sites of Port Charles cure her brain freeze? We'll weigh in on Emme Rylan's first days. Get ready for this week's Two Scoops -- it's a real Lulu.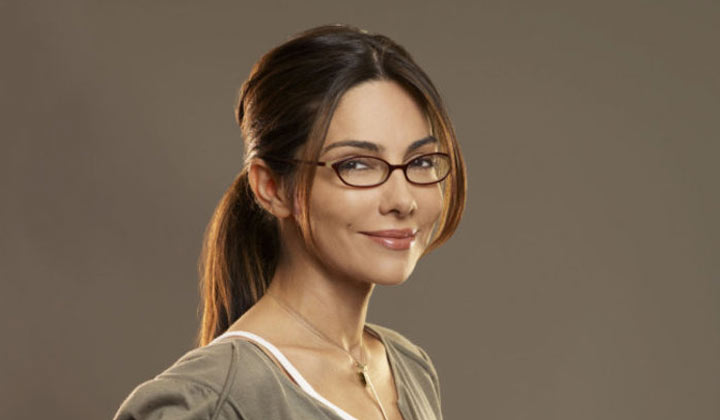 April 29, 2013
Brenda confessed that she lied about sleeping with Michael, but was it the truth? Britt claimed to want an abortion, yet her sights remained firmly set on Patrick. Liz confronted A.J., Lulu bolted, and Ellie snooped. It's time to weed through the lies and deceptions to get to the truth in this week's edition of Two Scoops.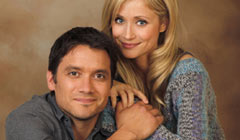 May 6, 2013
The residents of Port Charles can't seem to keep their lips to themselves, and there are all sorts of repercussions. This week's Two Scoops is a kiss and tell opinion column all about some of General Hospital's oddest couples.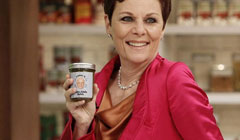 May 13, 2013
Timing may be everything in the revelation of Maxie's secret, while Patrick's dilemma could be the key to him moving forward. Elizabeth is determined to make it work with A.J., but would losing A.J. truly be that terrible with Nikolas waiting in the wings? It's time to look for the silver linings in this week's Two Scoops.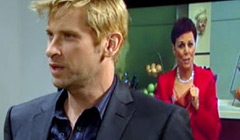 May 20, 2013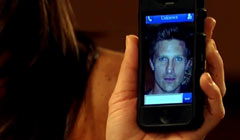 May 27, 2013
A mystery man skulks around town, gearing to make a shocking revelation to those near and dear to Jason. Elsewhere, Nikolas is chomping at the bit to share a juicy secret about A.J. and Carly, while Sabrina is basking in the joy of sweet victory after turning the tables on Britt. It's time to dive into this week's Two Scoops with Liz Masters.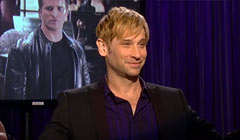 June 3, 2013
Can a serial killer just be misunderstood? General Hospital's writers want us to take a fresh look at Franco and see a totally new man. Is that possible? Explore the notion of redemption with Tamilu in this week's Two Scoops.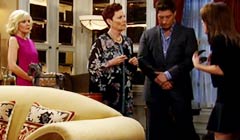 June 10, 2013
Felix danced to his blackmailing sister's tune, Sonny and Carly took drastic measures to safeguard their loved ones, Franco paid the Quartermaines a visit, Michael found himself attracted to his brother's girlfriend, and Sam reeled from the news that her son might have cancer. The focus is on the family in this week's Two Scoops.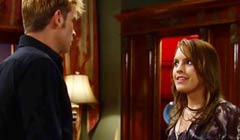 June 17, 2013
Will the residents of Port Charles be able to keep hating Franco if he can save a cherished life? Does one good deed erase a lifetime of less than honorable ones? It's time to find out in this week's Two Scoops.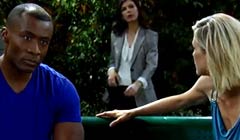 June 24, 2013
Dastardly deeds abounded in Port Charles as T.J. lost his virginity to Taylor, Patrick and Sabrina decided to run a secret paternity test, Carly desperately tried to stay out of jail, and Elizabeth heard A.J.'s shocking confession about sleeping with Carly. Liz Masters takes a look at the dark side of General Hospital in this week's Two Scoops.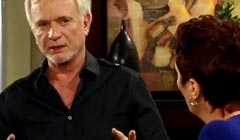 July 1, 2013
Poisoned Earring may sound like the name of a bad 80's band, but it is, in fact, the latest method Helena Cassadine has used in her lifelong goal to kill Luke Spencer. Do you think will she succeed? Read this week's jewel of a Two Scoops column to find out!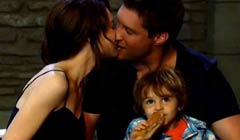 July 8, 2013
Fourth of July fireworks sparked a possible new romance for one couple, a breakup for another, and a chance encounter for a handsome prince. Liz Masters takes a look at all of the explosive twists and turns and sheds some light on a burning question in this week's Two Scoops.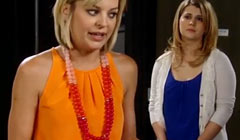 July 15, 2013
Will Maxie's ghostly visit from Georgie be enough to make her finally come clean about whose baby she is carrying? And will Franco's hospitalization offers clues to why he is the way he is? Find out more in this week's Two Scoops.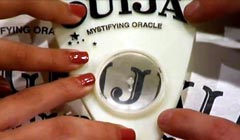 July 22, 2013
There's a whole lot of Papa-drama going on in Port Charles. Sam wanted to know about her father, Silas questioned if Kiki was his daughter, and Maxie attended birthing class with the oblivious father of her unborn child. Liz Masters deciphers the DNA in this week's Two Scoops.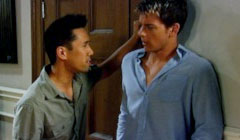 July 29, 2013
Does a little lying, lab result-switching, and blackmail make someone a terrible person? Just when you think you have someone figured out, you're reminded why you shouldn't judge a book by its cover. This week's Two Scoops looks at the evil and the merely misunderstood.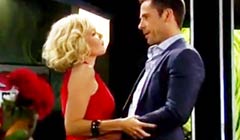 August 5, 2013
There was action, mystery, and intrigue afoot in Port Charles as Sam's father was revealed, Silas ran a paternity test, Michael accepted Morgan's offer, and Connie overheard a secret. It's like hitting the soap lottery. Check your tickets for the winning numbers in this week's Two Scoops.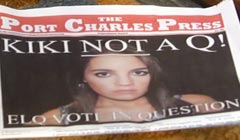 August 12, 2013
The Quartermaines had never heard of Kiki two moments ago, but she became part of everyone's plans for ELQ. Now that a headline has declared she isn't one of them, Port Charles is in for a wild ride! Extra, Extra! Read all about it... in this week's Two Scoops by Tamilu.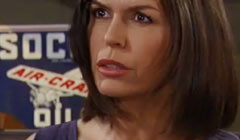 August 19, 2013
Just when you think you have everything figured out, someone throws a monkey wrench into the mix. In this case, it was a ghost town called Corinth. Liz Masters shines the spotlight on the past to shed some light on the present in this week's Two Scoops.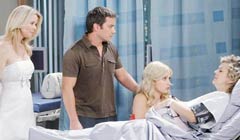 August 26, 2013
Ellie's guilty conscience finally got the best of her and she spilled the secret she swore to keep -- Damien Spinelli has a baby. How did he (and viewers) take the news? Find out in this week's Two Scoops.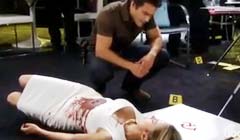 September 2, 2013
A shot rang out and claimed Connie's life, but is A.J. truly the killer or is it a case of shortsightedness? Liz Masters follows the clues and takes a look at the bigger picture in this week's Two Scoops.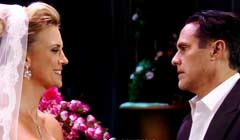 September 9, 2013
How does a ghost get a sunburn? Was Connie vacationing on Mob Boss Island after her gunshot wound? And do any other Port Charles residents have plans to join her? Pack a bag because it's time to visit this week's Two Scoops column by Tamilu.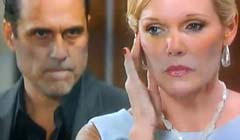 September 16, 2013
Monica cleaned house, Britt gave birth, and Brad overheard a secret. Meanwhile, Ava paid Sonny a visit as he continued to spiral into the pit of depression. Liz Masters looks at all of the highs and lows and shares some exciting news in this week's Two Scoops.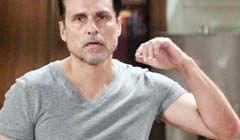 September 23, 2013
Sonny is a handful even on a good day, but do you prefer him on or off of his meds? Join Tamilu as she discusses the ins and outs and the highs and lows of Sonny's moods in this week's Two Scoops.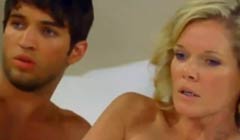 Sonny hit rock bottom and trashed his relationship with Morgan along the way, but Morgan's loss became Michael's gain...and Ava's. Meanwhile, Patrick met the competition and Carly couldn't stay away from newly reformed bad boy Franco. It's time to delve into the affairs of the heart with Liz Masters in this week's Two Scoops.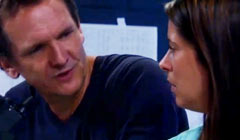 October 7, 2013
Out of the frying pan... Robin broke free from the clutches of the evil Dr. Obrecht, but how will she escape from Cassadine Island with a baby in tow? Is the cavalry on the way to rescue? Let's hope no one ends up in the fire in this week's Two Scoops.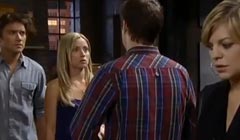 October 14, 2013
A custody battle heats up, but should biology prevail over love? Meanwhile, Luke is in a battle for his life with Jerry Jacks, and Robin is poised to return as Patrick takes steps to move forward with Sabrina. Liz Masters explores all of the surprising twists and interesting turns in this week's Two Scoops.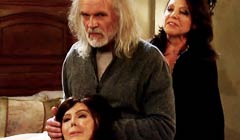 October 21, 2013
Prince Nikolas is the first person from Port Charles to stumble upon a very alive Robin -- but will he be her rescuer? And has Dr. Obrecht been redeemed? Read more in this week's Two Scoops.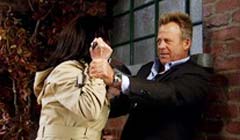 October 28, 2013
We kicked off the week with a proposal of marriage, a long-awaited rescue, a satisfying confession, and the coup de gr'ce of a friendship. From there, things got really exciting, so it's time to grab your BLTs and shakes from Kelly's as Liz Masters takes a stab at this week's Two Scoops.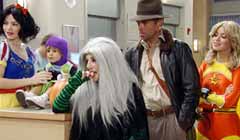 November 4, 2013
Will Lulu and Maxie tell each other's deep dark secrets in hopes of winning baby Connie? There can only be losers in a courtroom battle of frenemies! And how will Port Charles deal with learning who Derek Wells really is? It's time to dish in this week's Two Scoops.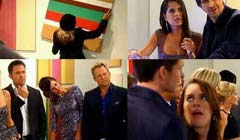 November 11, 2013
Sonny went gunning for his enemy, but Julian was confident that his guardian angel would protect him. Who is Julian's angel, and who is Sonny's true enemy? Alliances shifted, lines were drawn, and Heather made a shocking birth announcement. Grab a BLT or PB&J and get ready for this week's Two Scoops.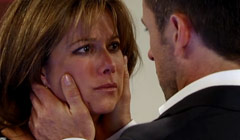 November 18, 2013
Michael and Morgan had a knock-down drag-out fight, couples hit the sheets, and the custody battle took a nasty turn. Meanwhile, Robin raced to find a cure to secure her freedom as Patrick and Sabrina prepared to head down the aisle. It's time for Two Scoops of love, General Hospital style.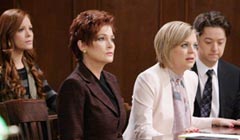 November 25, 2013
In Port Charles, coming back from the dead isn't enough -- you have to do it with pizzazz or no one will raise an eyebrow. And it's not always about winning because sometimes everyone's a loser. But perhaps that's all part of the fun ride. So strap in for this week's Two Scoops, and we promise not to play Robin Thicke.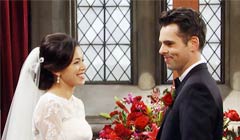 December 2, 2013
Before you could sing 'Here comes the bride,' Maxie was violating a court order, Anna was issuing a death sentence on Faison, and long-lost family members were reunited. But when Robin opens the door and sees all the people we she speak up or forever hold her peace?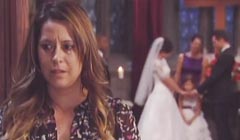 December 9, 2013
Cesar was gunned down, but is he dead? Patrick tap-danced with bigamy, but which bride will he choose? Jerry narrowly escaped death -- again. And how long before Julian figures out who the heck Lucas is? Liz Masters is back and eager to dish in this week's Two Scoops.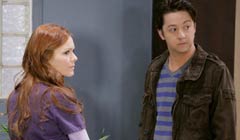 December 16, 2013
Who will hack into all the Port Charles computers now that Spinelli is leaving Port Charles? Join Tamilu for this week's GH Two Scoops as we imagine a world -- or at least a town -- without Damien.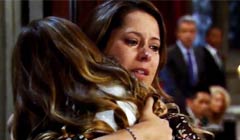 December 23, 2013
It's a look back at the highs and lows of the last twelve months in Port Charles. Which General Hospital stories and characters were nice... and which ended up on Liz Masters' year-end naughty list? Find out this week in a special Two Scoops column!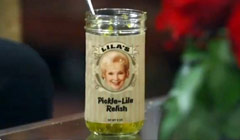 December 30, 2013
2013 was a banner year for General Hospital, but even banner years have some bad days. Read part two of our review of the Best and Worst of GH 2013 and see if you agree with Tamilu's picks.