General Hospital Two Scoops | 2015
General Hospital opinion columns from 2015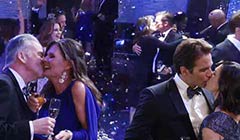 January 5, 2015
Is romance in the cards for Port Charles in 2015? Because when the ball was a-droppin' it seemed everyone's lips were a-lockin'. Now whether or not the right pairs were kissing is an entirely different matter. It's time to kiss and tell in this week's Two Scoops.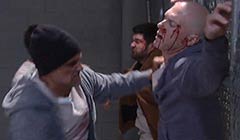 January 12, 2015
Luke languished in the basement of his childhood home at Fluke's mercy, Johnny's murder conviction was vacated, and Julian opted to hide out in prison to avoid an assassin's bullet -- which paved the way for an unlikely alliance between Julian and Sonny. Liz Masters discusses the scales of justice in this week's Two Scoops.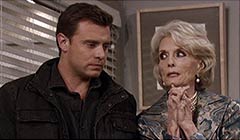 January 19, 2015
What are those odd noises coming from the basement on Elm Street? Will anyone ever go down the stairs and end the nightmare? That is just one of the burning questions we explore in this week's Two Scoops.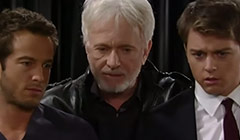 January 26, 2015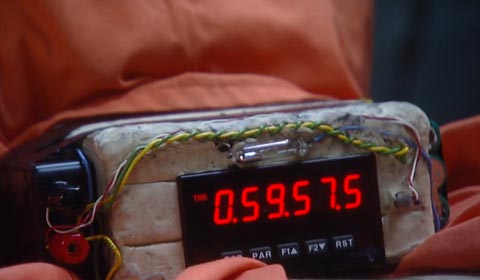 February 2, 2015
Who will live and who will die in Port Charles this week? Explosions, accidents, crow bars and other perils have left our beloved town in danger. Will your favorite characters survive? Find out in this week's Two Scoops commentary -- it's the bomb!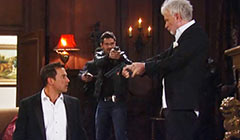 February 9, 2015
It was an explosive week with Dante, and a ship of partygoers, narrowly escaping certain death thanks to several heroic people, Franco making an unexpected sacrifice for Nina, and Ava presumably falling to her death after being shot by Carlos. It's time to dish about who lived, who died, and if there really is a new chapter in the Fluke saga.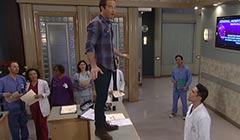 February 16, 2015
Love is in the air for Valentine's Day in Port Charles, but all of our favorite couples are struggling to capture the romance. Did your favorite couple end up together? Let's dish in this week's Two Scoops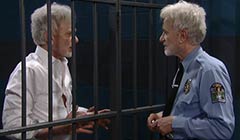 February 23, 2015
Jake had surgery to rid Helena from his brain while Nikolas did a little non-surgical Helena-removing of his own. Will either man be free of Helena? Meanwhile, while two Lukes would seem to be better than one, what exactly happened to cause Luke's split from reality? Plus, Olivia is hiding a pregnancy, and Spinelli is back and wanting to reclaim Maxie's heart. Here's hoping that this week's Two Scoops sweeps you off your feet.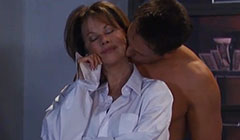 March 2, 2015
Custody battles, declarations of intention, presumed dead criminals hiding in secret hospital rooms, shirtless hunks, and an array of other (pretend) madness in the ever-riveting Port Charles this week. We're prepared to take it all off -- metaphorically, of course -- in this week's Two Scoops.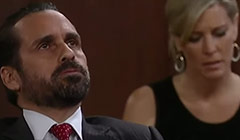 March 9, 2015
Ava cheated death... but then learned that death had another ace up its sleeve. Nina and Franco decided to team up with Luke, while Jake made a pact with the devil that just might be his salvation. It was a week of shocking turns and unexpected twists, as karma began to work its magic... and our columnist predicts who else might fall under its spell in this week's Two Scoops.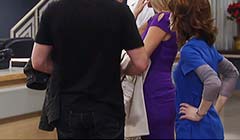 March 16, 2015
Can you recognize your best friend just from their back end? If not, memorize their derriere right now in case they lose their memory someday! We discuss this and other phenomena in this week's Two Scoops.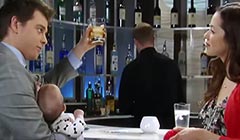 March 23, 2015
Several people resorted to drastic measures to get what they wanted but could there be tragic consequences for unintended targets as the plots are put into motion? Michael stood poised to be taken down by a brother and a trusted ally while a mob war slowly bubbled to a boil as both sides prepared to lash out with deadly strikes against each other. Our Two Scoops columnist delves into all the dastardly deeds brewing in Port Charles and examines the true motives for destructive decisions.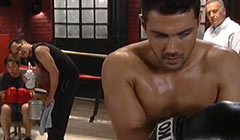 March 30, 2015
Giant cats opening doors, babies growing to watermelon size in record time, lax security in every institution, you just never know what sort of mayhem will happen in Port Charles! Let's discuss this week's portion of crazy!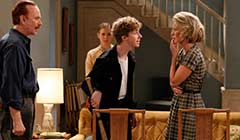 April 6, 2015
How far would you go in the name of love? The mysteries to Luke's past were unlocked, Sam embarked on a new life with Patrick, and Ric enlisted help to win over the woman he loves. It's a look at the damaged, the deranged, and the downright dysfunctional relationships of Port Charles in this week's GH Two Scoops column.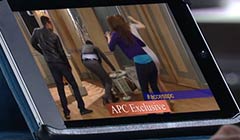 April 13, 2015
It wouldn't be week in Port Charles if there weren't some sort of drama to talk about. This week we hot the jackpot with crashing strollers, potent Scotch, unrelenting hay fever, death wishes, car key throat threats. So get comfortable, perhaps in a cozy pair of pajamas, and let's get ready to dish in this week's Two Scoops.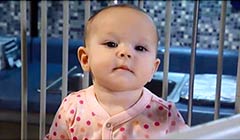 April 20, 2015
Disappearing babies, guilty confessions, and compassionate endings were just a few of the twists and turns in an exciting week where even the best-laid plans hit snags and forced several to put on their sleuthing hats to dig for the truth.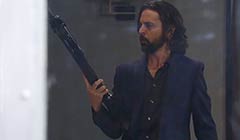 April 27, 2015
Carlos sure knows how to dismantle a sniper rifle in a timely manner, and who knew Carly was such a great private investigator? Meanwhile, Lulu and Dante sure could use a bigger apartment. What do you need from General Hospital? Let's discuss in this week's Two Scoops.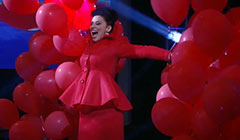 May 4, 2015
Romance was in the air as the 2015 Nurses Ball kicked off, but it wasn't all red balloons and accidental wardrobe malfunctions. Musical numbers and bitter breakups made for an exciting week, but what happens next -- now that lies have been exposed and secrets revealed?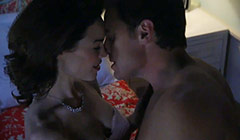 May 11, 2015
Old lies were revealed, and new lies were told! Bullets flew, bodies dropped, and the parking lot is filled with blood. People stripped, got engaged, and switched partners! Just another typical GH Nurses Ball! We discuss all this and more in this week's GH Two Scoops!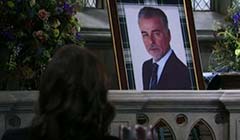 May 18, 2015
Expect the unexpected. Anything can happen. These were mottos for General Hospital's live episodes, but it's been the story that's unexpected. Will Anna ever recover from Duke's death -- and shooting Carlos down? And is Hayden pushing the envelope by wanting to tell Jason and Sam the truth? And just who is Nina's mystery fiancé? Get ready to catch the bouquet in this week's Two Scoops.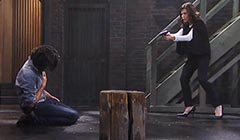 May 25, 2015
Hauntings by mob ghosts, accidentally incinerated babies, doppelgangers in black wigs with Jersey accents... what on earth is going on in Port Charles? We'll discuss it in this week's GH Two Scoops. It's not live, but it's the next best thing.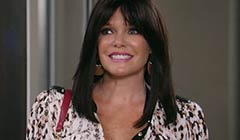 June 1, 2015
Always expect the unexpected, especially when it comes to dead people and love. Identical twins in bad wigs, fatherly sacrifices, guilty confessions, and diabolical plots have our columnist eager to dish about all the soapy goodness keeping viewers on the edge of their seats these days.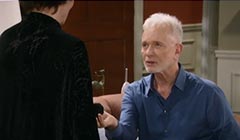 June 8, 2015
Luke and Laura? Luke and Tracy? Dillon and Lulu? Lulu and Dante? Denise and Morgan? Kiki and Morgan? Oh my -- the wheels of possibility are spinning in Port Charles this week! We go shopping for a mix-n-match special in this week's Two Scoops!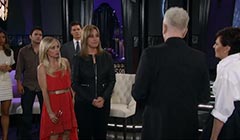 June 15, 2015
Laura's return wasn't a hit with everyone -- just ask Tracy -- but it also wasn't the only thing that had people talking this week. Sloane got a new job, T.J. got arrested, Sabrina got suspicious, and Obrecht got a visitor. It was a busy week for the folks of Port Charles, and now, at long last, it's our turn to dish about General Hospital!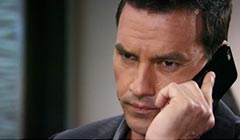 June 22, 2015
A prince embraced his dark side, but is he truly past redemption, or can love save him? As Liz scrambled to keep her new life with Jake from unraveling, forces worked against her by teaming up Jason and Sam to save Michael. Meanwhile, Luke and Laura's quest to rescue their son led them to the past, but who could be behind Lucky's kidnapping? Our columnist looks at all the good and bad shaking things up in Port Charles.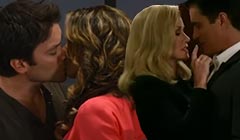 June 29, 2015
It was an exciting week packed with adventures, lies, betrayals, an indecent proposal, and a wonderful blast from the past. But what does it all mean and how will things shake out when the dust settles? Our columnist looks at the possible tragic consequences for decisions made in the heat of the moment, even if some were with the best of intentions.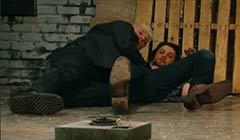 July 6, 2015
Nathan's Red blood has spilled onto the floor of the Canadian lumberyard, Dante is Blue because he thinks Lulu is cheating on him, but Dillon is just trying to be Lulu's White knight in a time of crisis. We discuss this and so much more in this week's GH Two Scoops!
July 13, 2015
Exploding fireworks weren't the only things to rock Port Charles on the Fourth of July as Ava confided the truth to Franco, Dante had an illicit night of passion with Valerie, and the prayers of a grieving mother were answered. Secrets, lies, and a shocking twist have our columnist eager to dish in this week's Two Scoops.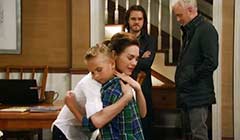 July 20, 2015
Jake Webber is back from the dead! Jake Doe is his dad but doesn't know it. Denise is Ava. Nina thinks she is going mad because Ric is Sic. Morgan and Dante are both big cheaters. Luke is fighting for another shot with Tracy. Lucky left town without any fanfare and goodbyes. So much to dish about in this week's Two Scoops!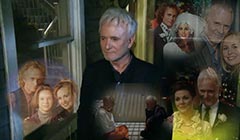 July 27, 2015
As General Hospital bids farewell to iconic character Luke Spencer, the drama heated up off-screen when it was announced that head writer Ron Carlivati would be following Tony Geary out the door. Where does that leave our storylines and where do we go from here? Our columnist dishes about the news and shines a spotlight on the best parts of General Hospital.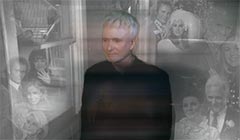 August 3, 2015
Our columnist Tamilu is mad this week about the way things ended with Luke. Are you mad, too, or did you think Luke's last week was fitting? Let's discuss in this week's Two Scoops.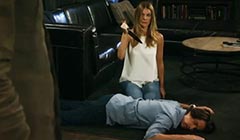 August 10, 2015
As news of Silas' murder spread, several had reason to be concerned as the shadow of guilt was cast over them. Will the police unmask the killer, or will another murder victim be denied justice? Meanwhile, Sonny made a bold move to protect his territory by taking a traitor's word at face value, but was that the right move? Our columnist looks at the week in review and offers some advice to the incoming writers.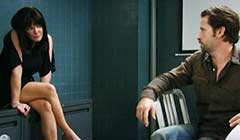 August 17, 2015
Ghosts and mobsters and murder! Oh My! The citizens of Port Charles clearly need to find a wizard to untangle them from the web of lies and deceit in which they are enmeshed! Let's discuss in this week's Two Scoops!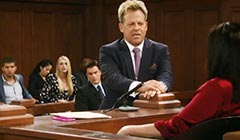 August 24, 2015
Was Silas' murder the result of a moment of insanity or a premeditated plot to keep secrets buried? Scott confronted Ava with a stunning DNA test, Olivia pondered whether or not to believe Julian, and Nina desperately tried to figure out how to outwit a cloud. Our columnist is ready to dish about a week of trials and tribulations.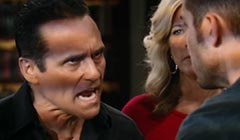 August 31, 2015
The list of suspects continues to grow. Everyone on the list had a motive. Everyone had an opportunity. But the real question is Whodunit? We discuss the suspects in this week's Two Scoops.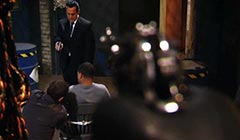 September 7, 2015
A murder was solved, but another mystery unfolded as an enemy's bullet found its target hours before Sonny was to marry Carly -- for the fifth time. Will Hayden follow Kyle's path by covering for Nikolas or will she seek vengeance when her memory of Nikolas' betrayal returns? With new scribes poised to take over, our columnist takes a look at all the possibilities to turn things around.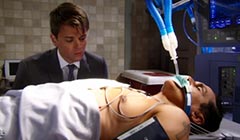 September 14, 2015
As a father battled for his life, one son offered mercy through forgiveness, another went off the rails, and a third raced to find a killer who posed a threat to their family. Meanwhile, hidden sins slowly began to bubble to the surface, but are some simply unforgiveable?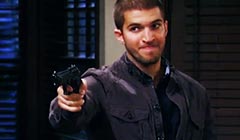 September 21, 2015
Sonny's in the hospital, Morgan's on the verge of committing murder, and Patrick got a new guitar and maybe a new wife for his birthday. It's time for a Two Scoops column where the second verse is the same as the first.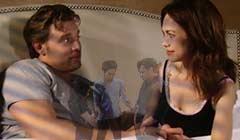 September 28, 2015
It was a week of confusing changes as Michael resumed his role as Sonny's son with seamless ease, Sam realized she still had hope that Jason was alive, and Paul was revealed to be Sonny's true enemy. Is this a sign of things to come, or is there more going on than meets the eye?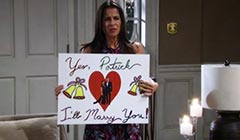 October 5, 2015
Laura is at the door, and we know what she knows about Jake! Dillon is seeing Lulu's head on Maxie's body, and Valerie is blabbing about her fling with Dante! How long until that affair is common knowledge? Carly prayed to Jason -- could he answer her prayers?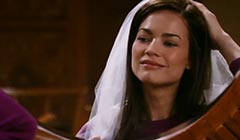 October 12, 2015
Emma became part soothsayer by predicting that Jason would return, while Olivia found the perfect way to pass Leo off as her son without Julian being any the wiser. Meanwhile, Hayden overheard a revealing secret, and Sabrina opted to keep one of her own. The new scribes are at the helm, and things are taking an interesting turn.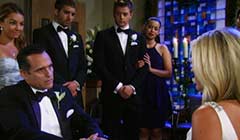 October 19, 2015
New writers, new Josslyn, new babi(es) on the way, new honeymoons to plan, newly adopted babies that might be cleverly disguised presumed-dead babies, new potential A.A. members -- it's a great kickoff to a new sweeps season in Port Charles. Join us as we dish about this and much more in this week's GH Two Scoops!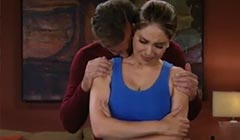 October 26, 2015
Everyone is keeping secrets and lying, but the truth has a way of breaking free, no matter how hard you work to keep it buried. As several pretty little liars are set to have their sins exposed, our columnist ponders the consequences of lying.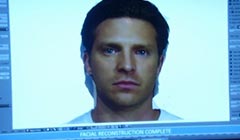 November 2, 2015
Halloween parties in Port Charles never end well, and this year's is no exception. So many skeletons emerging from closets all over town. Spinelli's computer knows Jake is Jason, the whole town knows Valerie acted on her forbidden love, Vampire Felix knows Sabrina doesn't know who her baby Daddy is yet, and the party is only 30 minutes in!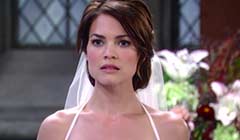 November 9, 2015
Lulu's world fell apart, while Liz was on the brink of finally having everything that she's ever wanted -- until Carly dropped a bombshell on Jake. Our columnist is ready to dish about all the highs and lows of a week fraught with long-awaited revelations and broken dreams.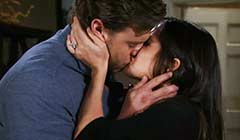 November 16, 2015
The truth was out there, and it is spreading through Port Charles like wildfire! Jake is Jason, Dante is a cheater, Ava has Avery, Hayden was faking, Maxie loves fashion, and Sonny is still hot in a wheelchair. Let's dish about this and all the other excitement of Port Charles in this week's Two Scoops!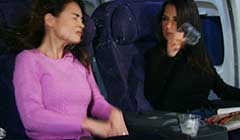 November 23, 2015
Liz and Sam embarked on a desperate odyssey to rescue their true love Jason from Cassadine Island, but Helena was determined to hold everyone's fate in her hands when she cursed Sam and taunted Liz with the truth. Meanwhile, Valerie remained a thorn in Lulu's side, and Franco tried to protect Kiki from a felony charge, unaware that the real danger was a reckless Morgan. It's time to serve up some delicious soapy goodness in this week's Two Scoops.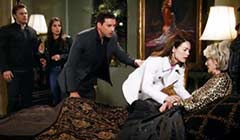 November 30, 2015
On a week of giving thanks, another person came back from the dead, an evil villain supposedly died, and Jason reclaimed his real name. Why aren't the people in Port Charles throwing a parade? Let's discuss in this week's two Scoops.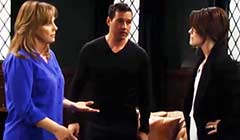 December 7, 2015
Alexis did the happy dance when Nikolas told her about Helena's passing, but was it premature? Lies, lies, everyone's telling lies, and karma is poised to strike. Our columnist takes a look at what might happen once close-held secrets are revealed.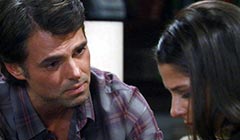 December 14, 2015
Jerry's holding Robin, Emma's brokenhearted, Jason knows Sam lied and is trying to punch his pain away, Morgan has ditched his pills, and so much more! How much more holiday cheer can we take in? Let's discuss in this week's Two Scoops.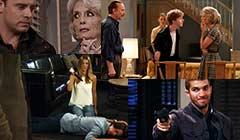 December 21, 2015
With the year drawing to a close, it's time for our columnist to reflect back on the year that was and pick some shining and not-so-shining moments of 2015.