As The World Turns Recaps: The week of December 8, 2008 on ATWT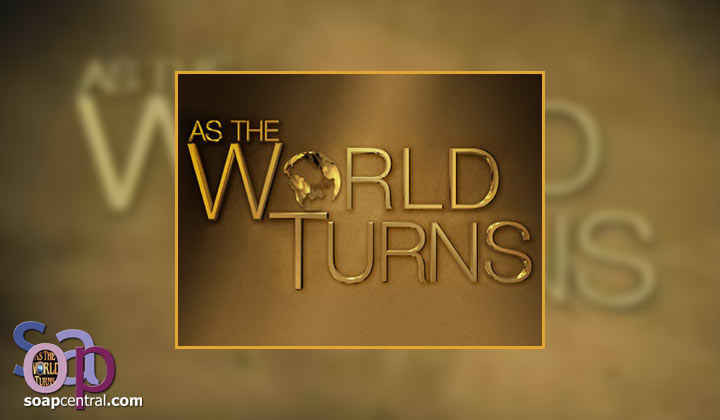 Monday, December 8, 2008
Emily visited Dusty in jail at his request. He wanted a second favor from her; he urged her to talk to the police about her seeing him right after the shooting incident with Paul Ryan and to back up his story of self-defense. Emily was angry because she had tried to warn Dusty that Josie was a fraud from the beginning. All Dusty wanted Emily to do was tell the police the truth, but Emily claimed she was not there and therefore had no idea what he was talking about. The two of them argued loudly, and Dusty grabbed Emily roughly until Dani came in and warned them to behave. Dusty apologized for touching Emily and pleaded for her help. Emily said she was relishing her position of power, for once, and Dusty called her mean and pathetic. She told him to "go to hell" and walked out in a huff.
Meg got Paul settled for a rest at Fairwinds, but he was worried that Dusty might return, so he considered hiring extra security. Meg left him and went downstairs, where she was shocked to find Craig in her living room. She told him he should be in jail and attempted to call the police, but Craig restrained her. He said he was only there to pay her his respects, and he explained that all the charges against him had been dropped. Meg did not believe him until Craig said his little sister, Katie, had provided his alibi. He tried to convince Meg that he had allowed himself to be falsely accused to create a smoke screen that enabled him to quietly disappear so he could look for Johnny. Meg promptly ordered him out. Paul heard the ruckus and came down and threatened Craig. Craig denied any involvement in the bombing of Paul's car and warned Paul to be aware that, since Craig was not responsible, Paul obviously had other enemies out there. He also mentioned that Dusty was in jail, but Meg said she already knew. Craig left, and Paul immediately questioned his wife as to how she knew Dusty was in custody. She admitted that she had gone to see Dusty and had turned him in to the police.
Lucinda and Brian practiced their tango skills with an instructor at Lily's house. Luke walked through on his way out and sarcastically wished the couple good luck before leaving. Once outside, Luke pulled out the envelope from Carolyn Wheatley that he had lifted from Brian's hotel room and studied the return address in Chicago. He drove there and waited outside a building at that address until a woman who met the vague description he had gotten from Ms. Wheatley's secretary appeared. Luke approached her, and the woman verified she was Carolyn. Luke asked to speak to her about her ex-husband, Brian, and explained that Brian had recently married his grandmother. Ms. Wheatley said Brian's business was no concern of hers and tried to go on her way. Luke stopped her with another question: why had she and Brian split in the first place? Ms. Wheatley became flustered and said that was a personal matter. Luke said he had a "close relationship" with the man, and Carolyn frankly told him that their conversation was over.
At Lily's, Brian called a halt to the dance practice because he was afraid his wife would get overly tired. He and Lucinda began kissing on the couch when she said she was feeling fine and suggested the two of them go to bed. Brian told her there was no hurry for that, but Lucinda said she was eager to make their situation "real." Brian said that was a lot to think about, and Lucinda appeared emotionally hurt. She asked him bluntly if their marriage involved no sex, but Brian said that of course they would have sex when she was ready. Lucinda promised that when it happened, it would blow his mind. Brian looked uncomfortable as Lucinda went to their room, and then he took a phone call from his ex-wife, Carolyn. She told him there was something he should know, and he proceeded to listen as Lucinda quietly reentered the room and listened.
Paul was upset that Meg had gone to see Dusty and asked what Dusty wanted. Meg told him Dusty's story, but Paul continued to be angry. Meg thought Paul was too upset, so she offered to go fill his anti-anxiety prescription, and Paul promised to rest until she returned. As soon as Meg left, Paul called Emily and asked her to meet him in the park.
Craig met Dani in a wooded area of the park, and she was unhappy that he had not been showing her enough affection lately. "Business before pleasure," Craig declared. He wanted to make sure that Dusty's arrest was airtight and that he stayed in jail until Craig was ready to make his move. Dani asked what that move would be, but Craig kissed her to distract her. Dani complained that she didn't understand Craig's involvement with Dusty, and accused him of being up to something she hadn't signed on for. Craig stalled her by promising to reveal all the secrets over a bottle of champagne. Dani wasn't about to settle for that and wanted to know exactly what Craig was planning. He said he was going to be the guy who got Dusty out of jail, thereby proving what a good guy he was. The two of them began kissing when suddenly Craig shoved Dani behind a tree as he had spotted Paul and Emily sitting on a park bench not far away.
Craig tried to figure out what Paul and Emily were arguing about, and Dani told him that Emily had been to the station to see Dusty and, curiously, she was having a rendezvous with the alleged victim. Dani left first, and Craig waited and crept close enough to hear part of the pair's conversation. Emily was stunned when Paul told her Craig was back in town, and then Paul told Emily he needed her to assure him that she would not back down from their agreement not to tell anyone he had hired Josie to trick Dusty.
Barbara visited Dusty at the police station, and he was glad to see her. Barbara accused her former son-in-law of trying to kill Paul, and she was conflicted because she had thought of Dusty as family since he had been married to Jennifer. Dusty explained that Paul had hired Josie and fed her information about Jennifer to play with Dusty's mind, but Barbara did not believe her son was capable of that. She asserted that Paul had been a changed man since he was about to become a father, and said she was disappointed in Dusty and no longer considered him part of the family.
Home from Chicago, Luke went to Java to talk to Noah. He told him how he had tracked down Brian's ex-wife and paid her a visit. Luke felt he was justified in checking out his grandmother's new husband and the director of his foundation, no matter what the tactics. He told Noah the woman had been totally offended at Luke's implication that Brian might be gay. Suddenly Brian stormed in and confronted Luke, asking him who the hell he was. He scolded Luke for spying on him and sneaking around in his business. He also brought up Luke's drinking and accused him of acting like a child. Brian demanded Luke stop his ugly behavior and insisted he, himself, was not gay. Noah witnessed the whole tirade, and, after Brian left, he talked to Luke and suggested his friend let the whole thing go.
Barbara was horrified to see Craig as she walked through Old Town. She asked how he could be walking around and not in prison, so Craig told her he had been exonerated in the bombing of her son's car. He mentioned that "Paul's little friend" had gotten him in trouble with Dusty, and Barbara wrongly deduced that Craig had been the mastermind behind the whole Josie plot. Craig was unfazed by her vitriolic outburst, but under his breath, he thanked her for all the information she had inadvertently given him.
Brian went to Lily's and found Lucinda reading on the couch. He gave her a hug and disregarded her sarcastic remarks about getting lucky. That earned him a long, hard Lucinda look.
Paul dashed home from the park and got on the couch just as Meg returned with his medication. She gave him a pill, and he pretended to swallow it. They swore their love to one another, but Paul was obviously concerned about continuing to juggle his lies with the truth.
Craig went to the Oakdale police station and saw Dusty. Dusty did not want to talk with him even though Craig promised he was the one who could get Dusty out of there.
Tuesday, December 9, 2008
Alison saw Casey at Memorial Hospital and asked why he was there. He invited her for coffee, but she said she had to sit with a patient who had almost overdosed on drugs. Casey said he was about to ask his grandfather, Dr. Bob, for a job at the hospital, and he was busy summoning his courage. Bob walked up and was delighted to see his grandson. Casey told him he was trying to strategize his future and had a problem in the area of gainful employment. Bob saw through all the doubletalk and said he knew Tom had given the boy an ultimatum: get a job or get a new place to live. Bob assumed that was the reason Casey was visiting him. Bob did offer him a job as a "custodial assistant," and sent him to the basement for a set of coveralls and a mop.
Liberty came home to find her mother excited. The wedding invitations had arrived, and Janet couldn't wait to show them to her and to Jack. After Liberty admired them, Janet left for the Snyder farm.
Carly went to the farm at Jack's request. She was sure he was going to ask her not to attend the wedding, but instead he said he wanted to take out a second mortgage on their house. He needed to pull out some equity in order to cover his bills, and he wanted Carly to co-sign with him. Carly promised not to interfere with Jack's new life, but, with sarcasm, she told him if he wanted to risk their children's financial future on a party, that was his decision. Janet overheard Carly's biting comments, including the one in which Carly threatened to make Jack regret any bad choices for the rest of his life. Deflated, Janet walked away with the invitation as Carly signed the papers. After his ex-wife left, Jack talked to his mortgage broker, who turned him down for the loan.
Janet went back home and told Liberty she realized the wedding was out of control and way too self-indulgent on her part. Liberty gave her mother a pep talk as Janet reminded her that Jack had three children to raise and educate. She warned Liberty not to get any ideas about going to Jack, and the girl left to meet Parker. She told him her mother had cancelled the big wedding, and unfortunately she knew no millionaires she could hit up for a $20,000 loan. Parker gave that some thought and then said he did know one: himself. He told Liberty that his Aunt Rosanna had left him a huge trust fund with Carly as trustee. He declared the money was his, and he knew where his mother kept the checkbook. Liberty thought the trust was very cool, but she said she could never pay him back. Parker told her that was not important because it was for his dad's wedding. He did have one condition, however: Liberty was never to call him "Geek Boy" again.
Casey was working in his coveralls with his mop on Alison's floor in the hospital. She left him there and went to sit with the patient who had overdosed. Suddenly she realized her sleeping patient was Mark Vero, one of the boys who had kidnapped and terrorized her on Halloween night at the university. Alison ran out and told Casey she could not sit with that boy, and she considered asking her supervisor for a different assignment until she learned from a co-worker that the woman was not in a good mood. Casey suggested Alison just sit quietly with Mark, and if he gave her any trouble, she should call security. Alison went back to the room, but her patient was gone. She began a search for him, but she did not realize he was headed up the stairs to the roof.
Parker and Liberty went to Carly's and got their stories mixed up as to why they were there. Carly volunteered to go get them a snack since she had to go out anyway. After she left, Parker took out the trust checkbook from Carly's desk. Liberty asked him if he was sure he wanted to go through with it, and he wrote out a check to the Lakeview for $20,000. He forged Carly's name, and they left for the hotel. Liberty wanted to see the check and commented that Parker had signed his mother's name. He explained that Carly was the trustee until he turned 18 years old. At the hotel, he gave the check to the desk clerk and asked him to deliver it to Lisa Grimaldi.
Carly returned home to find the teens gone. She did notice, however, that her desk drawer was open, so she investigated the trust checkbook. She noticed that someone had written a $20,000 check to the Lakeview, so she immediately called Jack's mortgage broker and learned Jack had been turned down for a loan. Muttering that Jack had gone too far, Carly hurriedly left. She stormed into the Oakdale police station and confronted Jack, who had no idea what she was talking about. He continued to have no clue until his ex-wife accused him of putting pressure on their son to pay for Jack's nuptials. Jack was flabbergasted as Carly continued her harangue. He denied being involved in the scheme, so Carly next accused Janet of sending Liberty to convince Parker to put up the money. Jack said Janet would not do that, and he suggested they go find out.
Janet called Lisa, wanting to cancel the reception at the Lakeview, but Lisa thanked her for the check for the full amount. Janet was stunned and asked who had signed the check. When Lisa told her it was Carly, Janet said she was certainly not expecting that.
Casey took a break and sat in a stairwell to eat his snack. He remembered the roof, so he went up there for some fresh air, where he surprised the missing patient, Mark Vero, who was seeing imaginary people who were urging him to jump off the roof. Casey told him to go ahead and jump if he felt like it, as Alison continued to search the corridors and stairs for her patient. She finally came out on the roof, where she saw Mark on the ledge talking to Casey. Mark recognized Alison as the "porn queen," and made further lewd comments to her. Casey told Alison she should let him jump, as Mark continued to talk about the "people" who were tormenting him. Casey distracted him until he got close enough to take him down. Alison helped, and they were able to subdue him.
Jack and Carly called on Janet, who had retrieved the forged check from Lisa. Carly wanted to know who had put Parket up to it, and Jack said their son was not answering his cell. Carly suggested they talk instead to Liberty, since Carly felt Parker would never do such a thing on his own. Janet was dialing her phone when the teens walked in. Jack asked Parker if he had written the check, and his son answered that it was his own money and claimed it was a wedding gift for his dad. He said everyone wanted the wedding to be special, even if his mother didn't. Jack explained that Rosanna had intended the money be used for Parker's education and told him how wrong it was for him to forge his mother's signature. Parker was defensive, so Liberty spoke up about her part in the event. Everyone calmed down, and Janet offered strawberry shortcake. Carly declined and made for the door. Through the partially open door, she watched the happy couple and their children, and she appeared sad.
Casey and Alison got Mark back to bed and finally sedated. Casey was still thinking they should have let him jump, but Alison said they needed to have that discussion outside the room. Bob came up and asked Casey where his mop was. Alison explained how Casey had helped subdue a crazed patient, and Bob was so impressed that he asked Alison to come to his office in 15 minutes for a more detailed chat. Casey told his grandfather who Mark Vero was, and Bob was even more impressed how well Alison had handled the situation.
Later, after Alison's shift was over, she and Casey met at the diner, and she thanked him for his help, again. They shared a close moment of friendship.
Wednesday, December 10, 2008
Janet went to Fashions to return her expensive wedding dress, so the sales clerk offered to call Lisa to see how she wanted to handle it. Carly emerged from a dressing room as Janet waited, and she commented that it looked as if Janet was rectifying a $5,000 mistake. She also quipped that Janet had one more thing to hold against her. Janet denied that and actually thanked Carly for pointing out her extravagance. The clerk returned and said that Lisa had approved a full refund, so Janet was relieved. She told Carly that Parker had left some school books at Brad and Katie's, and Carly said she would pick them up later.
Jack went to Lily and Holden's to return the money he had borrowed from his cousin. He told Lily that he and Janet were going to be married at City Hall, instead of in a church followed by a fancy reception at the Lakeview. Lily immediately offered to have the wedding at her house, but Jack was reluctant to accept. He did not want Lily to go to "all that trouble," but she insisted it would be fun, and she would love to do it. Jack was delighted, and he agreed.
Paul "awoke" to find Meg missing, so he went downstairs to find her sitting on the couch with Dusty Donovan on one side of her and Craig Montgomery on the other. Meg told Paul her baby was not his, and he began screaming. The dream faded as the real Meg tried to waken him. Paul realized he had suffered a horrible nightmare and begged Meg not to leave him. Meg calmed him, and the two of them decided to focus on Christmas. Meg said she needed to do some shopping and said she was proud of Paul. She left on her errands, and Paul went downstairs.
Craig visited Dusty in jail, and he brought in Josie as a surprise visitor. He left the two of them alone so they could talk. Dusty asked how she had hooked up with Craig, and Josie said he had tracked her down and told her Dusty needed her help. She offered again to talk to the police to establish Dusty's claim of self-defense in the shooting of Paul, but Dusty warned her she would go to jail herself. Josie confessed she still cared about Dusty and wanted to do what was fair. Dusty said there was just one thing she could do for him.
Janet was trying on some of her nicer dresses, attempting to find one suitable for her wedding, when Carly dropped in to fetch Parker's books. Carly suggested Janet choose the blue dress she had on, but Janet questioned the color. Carly said that was easy enough to fix and made some suggestions. Janet asked her if she was volunteering to make her a wedding dress, and Carly seemed surprised to be doing just that. Janet was thrilled, and Jack arrived and asked what was going on. Janet explained Carly was helping with the wedding dress. Then Jack gave her the great news that the wedding was moved to Holden and Lily's house. Janet was feeling magnanimous and invited Carly to the nuptials, but, at first, Carly refused. After a moment of thought, however, Carly changed her mind and said she would attend.
Margo went to the police station and found her brother waiting. Craig told her he was there to help Dusty's cause, a fact that Margo could not believe. He said he had brought a witness who would back up Dusty's story of self-defense. Josie came out of the interview room, and Margo stopped her. Josie could not stay but promised to be back soon. Margo then asked Craig how he had tricked Katie into becoming his alibi for the bombing of Paul Ryan's car, but Craig swore there had been no tricks. He went in to see Dusty, who could not believe that Craig was offering help without getting something in return.
Craig related how they were both "daddies" to little Johnny, and he wanted the two of them to work together to find the boy. Dusty did not take well to the suggestion, even though Craig said he had brought Josie back to town so that Dusty would be convinced of his good motives. Craig reminded him that Lucy had taken the boy away because he and Dusty were in a full-blown war, so he reasoned if both of them were working towards the same goal, Lucy might bring the child back. He urged Dusty to join forces with him just as Margo came to throw Craig out. He swore he was only trying to redeem himself and invited her to dinner, but Margo declined.
Paul was startled when Josie showed up at Fairwinds, looking for Meg. She said she had to make everything right and tell the truth, but Paul asked her to leave. She refused and declared she would wait for Meg to return. Paul walked to his desk and opened a drawer that contained a revolver. He was reaching for the gun when Meg came in. Paul tried to get Josie to leave and grabbed her arm, but Meg said she wanted to hear what the girl had come to say. Josie said Paul had hired her to pretend she had a psychic connection to Jennifer, because he thought that would get Dusty out of town for good. When Dusty found that out, Paul threatened to kill him, and Dusty acted in self-defense. Josie explained she was there because Meg needed to know the truth. Meg asked her to leave, so the girl did. Paul tried to convince Meg that Josie was lying, but Meg told her husband that he needed to look her in the eye and tell her what he had done to Dusty.
Paul admitted he had hired Josie to force Dusty to leave Meg alone. Meg accused him of playing on Dusty's grief for Jennifer to set him up. She did not believe Paul had just flipped out suddenly, and told him he had chosen his bad behavior. Paul offered to go to the police and tell them the truth, and Meg told him to do it immediately. He promised things were going to be different when he returned, as Meg held back tears.
Josie returned to the police station to see Dusty, and she reported she had told Meg the truth. She offered again to give a statement to the police, but Dusty still would not agree. He said Josie and Jennifer both were victims of Paul, and Josie told him she and his late wife had something else in common: they had both loved him.
Jack told Janet he felt a bit weird that his ex-wife had volunteered to outfit the bride. He was also leery that Janet had invited Carly to the nuptials. Janet said she wanted Carly to see how good she and Jack were together as they said their vows.
Lily went to Carly's and was surprised that she was working on Janet's wedding dress. Carly said she knew Lily was hosting the wedding, and Lily assured her friend she was not taking sides, only offering to help Holden's cousin. Lily questioned whether Carly could watch the ceremony without experiencing a meltdown, but Carly was hoping if she saw the marriage take place, she would have to accept it. Jack called Lily to ask if they could have the wedding in two days, and Lily was surprised, but she agreed. Carly realized the marriage was really going to happen, and she broke down in tears.
Paul went to Margo and was surprised to see Craig there, not under arrest. Margo dismissed Craig and asked Paul what his business was. He said Dusty was telling the truth and that Paul had swung an axe at him, so Dusty was justified in shooting him. Margo said she needed details, and although Paul said some of his memories were fuzzy, he was prepared to give a statement. Margo sent him to see Dallas Griffin to write and sign his statement. Margo broke the good news to Josie and Dusty that Paul had recanted, and all charges against Dusty were dropped. Dusty was released, and Josie offered to buy him a cup of coffee. Over coffee, Josie thanked him again for having her best interests at heart, and asked if there was any chance of a future for the two of them. Dusty said he was not sure of anything, and got up and left.
At Fairwinds, Paul returned and expected to pick up his life with Meg as it was before. Meg, however, told him he had not changed at all, and she laid her house key on a table. Paul pled with her to think about their daughter, but Meg countered with the argument that their little girl needed a mother who was strong enough to stand on her own and do the right thing. Meg walked out on her life with Paul, who began to decompensate and took a swing at the Christmas tree, knocking ornaments and tinsel to the floor.
Thursday, December 11, 2008
At Al's Diner, Janet talked to Jack on the phone and told him she was counting down the hours until she became Mrs. Jack Snyder. He told her he was sorry that they both had to work, and he could not spend the time with her. Vienna interrupted the call and asked Janet to hang up. She told Janet if she was so distracted by her impending wedding, she might as well leave. Katie joined them, and she and Vienna hustled Janet out.
Brad and Henry dashed into the police station, yelling for Jack. They told him he had to come with them right away, and they would explain everything later. Jack tired to figure out what was going on, but his buddies grabbed him and rushed him out. They took Jack to Yo's where Brian, Holden, and Luke were waiting for them, and Jack realized the guys were throwing him a bachelor party.
The women ended up at Metro, where Lily joined them. They slapped a wedding veil on Janet's head and began celebrating when Carly walked out from the back. Janet invited her to stay, but Carly preferred to work behind the bar and mix them chocolate martinis. Janet opened her presents, which included new, shiny handcuffs from Katie, and a black bustier from Vienna. They toasted the bride, not noticing that Carly was drinking three martinis for every one of theirs. Carly finally came out from behind the bar and made inappropriate remarks to the women, so Lily led her away.
Holden was kidding Jack about his multiple marriages and casually remarked that all of them except Luke had been married more than once. Brian asked how Holden knew that about him, and Holden said Luke had mentioned it. Luke became uncomfortable and went to the bar to get a soft drink, and the bartender reminded him that the last time Luke was there, he had thrown him out on his ear. Noah came in, and the boys discussed Brian. Then Brad called his brother a "wedding addict," but said he believed this time Jack had found the right woman. Luke spoke with Brian, who suggested they do the right thing and be civil to one another, and then Brian promptly ordered another scotch.
Henry spotted what he thought was the "entertainment," as a stunning woman came in. He made a fool of himself by asking if she wanted to take her clothes off in the ladies' room or just get right to it there in the bar. The woman's husband joined her and tried to punch Henry, but the group restrained him. Finally, the real exotic dancer appeared and provided raucous entertainment around the pool table.
Lily took Carly's martini away from her as a police officer came through the door. He asked for Janet, and at first she was fearful something had happened to Jack. She caught on fast, however, when he began stripping and tore off his break-away trousers. The ladies whooped and hollered, and Janet danced with the "cop." Carly had seen enough, so she asked Lily to take a walk with her, but Lily was reluctant. Carly said she thought she would go to Yo's, but Lily explained that was where Jack's bachelor party was taking place. Carly left anyway, so Lily called Holden to give him a warning that Carly was most likely on her way. Before long, the ladies figured out where Carly had gone, and Vienna went off on Carly's bad behavior. She reminded the women that except for her, Carly had made moves on all of their husbands. Janet called Jack and left a message inviting him to stop by Metro and pick her up when his party was over.
Luke and Noah discussed their situation, and Luke asked for a second chance, but Noah walked out. Jack challenged his buddies to a game of pool as Holden intercepted Carly just outside Yo's. He suggested she go home, but Carly walked right in. Holden stopped her again and implored her not to humiliate herself, but Carly was determined. She claimed Jack still loved her, as the groom-to-be, himself, came up. Carly asked him for one more dance before he belonged to someone else, but Jack offered a cup of coffee instead. Carly chose a beer, and did get Jack up for a few measures of line dancing until she became ill and had to make a hasty exit to the ladies' room. When she returned, Jack offered to take her home, even though Holden pointed out that was not a good idea. Jack drove her home, where she apologized for getting sick in his car. She became very melancholy and went inside, only to collapse in tears just over the threshold. Jack came back and carried her upstairs.
Jack tucked Carly into bed, and she pulled him down beside her. She asked him if he still loved her, and he answered yes, but explained that did not change anything. He started to get up, and Carly remarked that it was the last time he would ever be in that bed. They said a poignant goodbye, and Jack walked out.
Brian was very drunk and asked Luke to drive him home. Luke said he didn't want any part of being alone in a car with him, so Brian agreed to call a cab. Luke felt some remorse and finally agreed to take Brian home.
The men showed up at Metro, minus Jack, but just as Janet was questioning his whereabouts, he joined them. He explained he had driven Carly home, and that was greeted by dead silence by the group. Everyone scattered, leaving the wedding couple alone. Janet told Jack it was not too late to change his mind about the wedding, but Jack said he was connected and committed to only her.
Luke and Brian arrived at Lily's, and Brian thanked him for the ride. He apologized for getting so drunk and letting loose. He asked for another drink, but Luke suggested water and poured it for him. Brian bobbled the drink and splashed water on himself and Luke. As Luke was blotting the water from Brian's coat, the older man grabbed Luke's hand and did not let go. Luke told him he really didn't want to do that, but Brian said yes, he did. The door opened and Lily and Holden walked in, wondering what was going on. Brian apologized for being inebriated and went to bed. Holden told his son he was sorry that the night hadn't turned out the way Luke had hoped. After Luke went to bed, Lily asked Holden what he was referring to, and Holden told her about the argument between Noah and Luke at Yo's.
Vienna and Henry played "Lord and Lady" in their hotel room, and in the middle of the role-playing, Vienna looked at Henry and asked if they were making a mistake by not getting married. After a bit of discussion, neither one voiced any urgency to get married, so they went back to being British nobility.
Brian came out for another scotch after he thought everyone else was in bed. As he poured it, Luke appeared and told him whatever secret Brian was hiding was his own business, but since he had married Luke's grandmother, Luke would not be taken for a fool. He issued a stern warning that if Brian ever came on to him again, he would tell Lucinda everything.
Brad and Katie talked about their respective parties and discussed how Katie felt about Jack's marrying Janet. She said she had no regrets, and they kissed.
At home alone, Carly looked at old wedding photos of her with Jack. She finally put them away in a drawer and looked back at her empty bed.
Still at Metro, Janet danced with Jack and told him the traditions of an Italian wedding. Jack whispered sweet things into her ear, and Janet said she was beginning to think the world was finally on their side.
Friday, December 12, 2008
Lily prepared her home for Jack and Janet's wedding and took care of her kids, who were sick with the flu. Meg arrived and brought cupcakes from Emma. When Holden asked where Craig was, Meg told Holden that her marriage to Paul was over.
Craig went to Fairwinds and told the maid he had a baby gift for Meg. He saw Meg's suitcases packed and standing in the living room and asked if Meg was going somewhere. Paul walked in and told Craig that Meg's whereabouts were none of Craig's business. Craig told Paul it was strange that Meg was leaving shortly after Josie had returned to town. Paul realized that Craig had brought Josie back. Craig told Paul he had simply produced a "material witness" to help Dusty, who had been "unjustly accused" of a crime, and he was sorry if doing so had "torpedoed [Paul's] wedded bliss." Craig then claimed he wanted to help Paul, to make amends for the past. Craig offered to talk to Meg, but Paul told him to stay away from her. Craig left, and Paul followed shortly thereafter.
At Brad and Katie's house, Katie and Liberty got dressed for the wedding. Brad had a serious conversation with Liberty about Jack. Brad said his brother was the best guy he knew, and Brad wanted Liberty to know she could go to Jack for fatherly advice any time she needed to. Liberty said she already had a dad, but she appreciated it. She told Brad she couldn't help but remember that the reason she'd gone to Oakdale in the first place had been to try to get Brad to marry her mom. Brad said he and Janet were good friends, but as a couple, they didn't click. Liberty agreed.
At the farm, Jack asked Parker to be his best man, telling him that Parker's dad, Hal, had been a hero to him, and he couldn't think of anyone he'd rather have at his side than Hal's son. Parker accepted happily. Jack then asked Emma if he and Janet could live at the farm for a short while after they got married, and Emma gladly agreed.
Janet went to Carly's house to pick up the dress Carly had altered for her. While there, she lectured Carly about staying away from Jack after the wedding. Janet made it very clear that Carly could no longer use the kids or her home repair problems as excuses to try to lure Jack back. Carly told Janet she had accepted that Janet and Jack were going to get married. She said she wanted Jack to be happy, and Janet said she did, too. Janet said she didn't mean to be harsh, but she sometimes felt it was the only way to get through to Carly.
Sage came downstairs and asked if everything was okay. Carly and Janet assured her things were fine. Carly went upstairs to get Janet's dress. Janet gave Sage some earrings as a gift for being in the wedding party. Sage was thrilled and hugged Janet. Carly came back downstairs and admired the earrings, then gave Janet the dress. Janet left, and Sage asked Carly to help her put on the earrings.
While getting ready for the wedding at Lily and Holden's house, Janet told Liberty she needed something old, something new, something borrowed, something blue. Liberty said the dress counted as something new, and Janet said her underwear could count as something old, because she'd been saving them in her hope chest since she was a young woman dreaming of her wedding. Liberty thought that was gross, but agreed it would work. Liberty then gave her mom a necklace that had been Liberty's when she was a baby, to borrow for the wedding. Janet was surprised and touched that Liberty still had the necklace.
That left Janet needing something blue. Brad arrived and told Janet he'd brought her a garter. It happened to be blue, and Janet was thrilled. Brad then asked if he could give Janet away, since none of her family was going to be in town for the wedding. Janet was very moved that Brad wanted to do that for her, and she happily accepted his offer.
Jack, Emma, and Parker arrived at Lily and Holden's for the wedding. Sage and Carly arrived, but Carly told Sage she needed a minute alone before she went in. Sage explained to Lily that Carly wasn't coming in right away, and Lily told Sage she was sure Carly would come in soon.
Craig arrived at Lily's home, and Jack glanced outside and spotted him. Jack went out to talk to Craig, who said he was there looking for Meg. Jack told Craig it wasn't a good time to talk to Meg, because they were about to have a wedding. Craig asked if Jack was marrying Carly again, saying, "That's ... optimistic!" Jack told him it wasn't Carly or anyone else Craig knew. Craig said he hoped Jack's new bride lived up to Jack's expectations, because as Carly had learned the hard way, "it's simply impossible to live with the most moral man on earth."
Katie, Brad, and Meg spotted Craig and went outside. As Craig approached Meg, Paul rushed up, trying to knock Craig down. Brad separated the two men. Craig apologized to everyone, saying he hadn't known there was a wedding going on. Craig left, but Paul refused to leave until he had talked to Meg.
Lily found Carly standing by the Snyder pond. Carly said she didn't think she could go to the house and watch Jack marry someone else, but Lily told her she had to, for her children's sake. Lily said if Carly wasn't there, the kids would think that what made their father happy was tearing their mother apart. She said Carly needed to act like that wasn't true, even if it was.
Lily and Carly returned to the house for the wedding. Carly sat in the back and watched as Sage entered with the flowers. Janet said her own vows first, beginning by asking, "Is this for real?" She told Jack she felt that she had won the lottery twice: first with Liberty as her daughter, and then with Jack. She told Parker and Sage she loved them, too, and that all the loves of her life were in the room with her. When it was Jack's turn, he told Janet he'd almost stopped believing in love altogether until Janet came into his life. Jack said, "Until I met you, I didn't know that one could have passion and peace at the same time." He finished by saying that it was for real, and he loved Janet, because she felt like home to him.
Carly watched, her eyes brimming with tears, as Jack and Janet exchanged rings and were pronounced husband and wife. After Jack had danced with Janet, Carly approached him and told him she was happy for him. Jack told Carly he was glad she was there. He said he still loved her and always would, because they were part of each other's soul. But Jack pointed out that living together hadn't worked very well for them, and they had the battle scars to prove it. He said his life was with Janet, but he needed Carly to be part of his family, to take part in family celebrations, and other big family events. He asked if Carly could do that. She smiled but said, "Don't push it, Jack." Brad called for the cake to be cut, and Carly used that as a chance to slip out unnoticed.
Meg took Paul back to the farmhouse. Paul said Craig had come back to town to try to destroy Paul's relationship with Meg. Meg said everything Paul had done had been a lie, and Craig had nothing to do with it. She continued, "Neither did Dusty, or Josie, or Sophie, or whoever else has it in for you this week! You did it to yourself!" Meg asked if Paul had even gone to therapy, and his response made her realize his lies went back farther than she'd thought. Meg said it was too late for Paul to fix things, because she was afraid of him. She told him she couldn't let him near her child.
Paul told Meg he couldn't stand to lose her and their baby. He said he would do anything Meg wanted him to do to make things right. Meg said she wanted to end their relationship. Paul got down on his knees, laid his head against Meg's pregnant belly, and begged her to give him another chance. Meg told him she couldn't risk that, and she told Paul she wanted a divorce. She asked him to leave and not come back. Reluctantly, Paul left.
After the wedding, Brad and Katie went to Yo's to have a drink. Brad said it was weird that Craig had shown up at the wedding. Katie told Brad to stop obsessing about her brother. Brad asked why Katie kept getting twisted up every time he mentioned Craig's name.
Carly went to the bar at the Lakeview, where she sat drinking by herself. Craig walked in and saw her. Seeing there was no bartender around, Craig went behind the bar and poured Carly another drink. Carly asked what on earth Craig was doing there. He told her, "A lady should never drink alone ... and neither should you."