Brad Cooper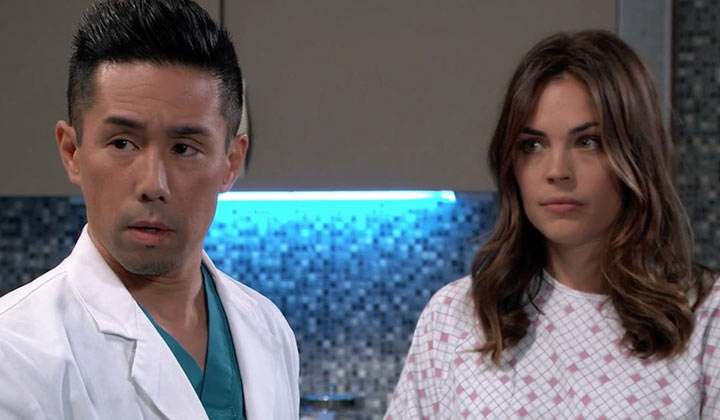 Parry Shen
Manager of the lab at General Hospital
Former lab technician at General Hospital
Condominium in Port Charles, New York
Married to Lucas Jones [Engaged: May 4, 2015 (April 29, 2015 on the show); Married: June 13, 2016]
Rosalie Martinez [divorced; Feb 23, 2016]
Kim Soong Wu (biological father; deceased)
Unnamed biological mother (deceased)
Mr. Wu (paternal grandfather; deceased)
Jade Soong Wu (paternal aunt)
Mr. Cooper (adoptive father)
Mrs. Cooper (adoptive mother)

*Brad's mother died while giving birth to him and he was raised by adoptive parents (revealed Jan 24, 2014)
Wiley Cooper-Jones (deceased and switched with Nelle Hayes' baby; Jul 31, 2017]
Michael Corinthos III (flirtation)
Felix Dubois (kissed)
Lucas Jones (lovers)
Conspired with Britt Westbourne and helped her fake hyperemesis gravidarum during her pregnancy and in exchange Brad received a promotion [May 2013]
Attempted to blackmail Michael Corinthos III into exchanging sexual favors for Brad's silence regarding Michael's feelings for Kiki Jerome [Aug 2013]
Conspired with Britt Wesbourne and allowed her to steal embryos from Dante Falconeri and Lulu Spencer (Britt later gave birth to Dante and Lulu's child) [revealed Dec 17, 2013]
Harbored fugitive Britt Westbourne [Apr to May 2015]
Altered Hamilton Finn's drug tests to positive for drugs [Apr to Jul 2015]
Failure to report a death: Wiley Cooper-Jones [Jul 31, 2017]
Kidnapping: Switched his dead baby with Nelle Hayes' baby [Jul 31, 2017]
Enlisted Julian Jerome's help to pressure Willow Tait to proceed with adoption [Aug 2017]
Attempted murder; shoved Liesl Obrecht overboard [Jul 8 and 9, 2019; revealed Aug 5, 2019]
Blackmailed Liesl Obrecht to keep quiet about Wiley's paternity or he will reveal that Britt Westbourne had been his accomplice [Aug 5, 2019]
Pushed off a turret at Wyndemere by Liesl Obrecht [Mar 24, 2014]
Lab technician Brad Cooper was not well known around the hospital until he was promoted to lab manager in May of 2013. Brad's colleague Ellie Trout had been passed over for the promotion, and Ellie, along with several of her friends, wondered if Brad's promotion had been related to his friendship with Dr. Britt Westbourne. The suspicions regarding a connection between Brad and Britt were correct. Britt claimed to pregnant with Patrick Drake's child and conspired with Brad to fake a complication with the pregnancy in order to garner attention from Patrick. In return, Brad received a promotion.
While Britt and Brad worked to keep their association secret, Brad enjoyed the tactics that nurse Felix Dubois had used to uncover the truth regarding Britt's pregnancy. Felix flirted with Brad, but Brad remained loyal to Britt. Brad was smitten when he met Michael Corinthos, but Michael did not return Brad's feelings. Regardless, Brad hoped to blackmail Michael into spending the night with him when Brad learned that Michael had kissed a woman that Michael believed was his own cousin. Brad's attempt to spend time with Michael did not work out, and Brad later admitted to Felix that he was lonely and desired to be in a relationship.
After Brad opened up to Felix, the two became close. However, the relationship was tested when Britt gave birth to a son and named Brad as the child's father. Brad did not deny the assertation, but he took no interest in the baby. Instead, Brad tried to convince Felix that he was a good person by going public with a private conversation that he had overheard between Maxie Jones and Damian Spinelli about Dante and Lulu Falconeri's "daughter" Connie. The baby was really Maxie and Spinelli' daughter.
Brad remained relentless in his pursuit of Felix, and Felix started to spend more time with him. However, Felix still struggled with Brad's lack of involvement in his son's life. Brad continued to lie for Britt even at the expense of his blossoming relationship with Felix. Brad also knew that Britt's son had been conceived with Dante and Lulu's stolen embryo. When Dante and Lulu started to ask questions about their frozen embryos, Brad perpetrated Britt's lies.
Felix seemed to pull back each time Brad and Felix would get close, and Brad started to doubt that he would ever have a meaningful relationship with Felix. At the same time, Brad met Lucas Jones at the Floating Rib, and they commiserated over their shared familial experiences. Brad had been raised by adoptive parents, but he had discovered in adulthood that his biological father Kim Wu, had been a member of an infamous organized crime family in Port Charles. Lucas had made a similar discovery about his biological father who had also been revealed to be alive. Brad and Lucas spent the night together, and Lucas hoped that it would be the start of something special. Unfortunately for Lucas, Brad continued to have feelings for Felix.
Brad realized that he needed to confess to what he had done on Britt's behalf if he ever hoped to have a real chance with Felix. Just as Brad planned to share his secrets, Felix learned that Brad had slept with Lucas, and Felix pushed Brad away. Lucas consoled Brad and they decided to give a relationship a try. Lucas escorted Brad to an engagement party at Wyndemere to celebrate Britt's engagement to Nikolas Cassadine. Lulu and Dante were also in attendance, and Brad's feelings of guilt increased. Britt's mother Liesl Obrecht sensed that Brad wanted to confess to Lulu and Dante, so she threatened Brad at knifepoint then pushed him off a castle turret.
Brad survived the fall, but his new relationship with Lucas ended because someone else had revealed that Britt had been raising Dante and Lulu's biological child. Lucas realized that Brad had been involved in keeping his cousin Lulu from her son, and Lucas wanted nothing to do with Brad.
On May 21, 2014, Lucas was shot by an assassin. Both Brad and Felix vied to be at Lucas' bedside. After Lucas was released from the hospital, he flirted with the idea of an open relationship with Brad and Felix but in the end, Lucas forgave Brad and chose to date only him. The bond that Brad shared with Lucas deepened quickly, and Brad publicly declared his love for Lucas. The feelings were mutual, and the couple entered into a serious relationship.
On May 4, 2015, Brad and Lucas attended the Nurses Ball together, and Brad was asked to step in when a musical number went awry. At the end of the impromptu performance, he proposed to Lucas. The proposal caught Lucas by surprise, but he accepted. The wedding plans hit a snag when Brad revealed that he was already married to a woman named Rosalie Martinez. Brad assured Lucas that the marriage had been strictly for convenience, and to protect themselves from legal troubles. Lucas was not pleased, but his love for Brad was stronger than his anger.
On February 23, 2016, as Julian Jerome and Alexis Davis prepared to exchange wedding vows, Brad surprised Lucas with the news that his divorce from Rosalie had been finalized. Brad and Lucas were married a few months later on June 13 at Julian and Alexis' home. Bobbie and Carly were in attendance as a justice of the peace performed the ceremony, and the Port Charles police carried out a search warrant. Despite the unusual circumstances, Brad and Lucas exchanged touching vows. Later that evening, they enjoyed the honeymoon suite at Metro Court compliments of Carly.
Brad's friendship with Britt remained unwavering, even when she went on the run. He briefly provided her with a place to hide out, and Britt would always visit Brad whenever she sneaked into town. Brad also couldn't stay out of trouble. When Dr. Hamilton Finn cheated Brad out of a fortune to save the hospital, Brad took revenge by changing Finn's drug tests to show that the recovering addict hadn't stopped using drugs. Eventually Brad and Finn made peace, and Brad focused on his marriage as he and Lucas made plans to adopt.
On July 31, 2017, Brad and Lucas' dreams were realized when the young woman who had picked them to adopt her baby gave birth to a baby boy. Lucas was stuck at work, so Brad decided to take the baby home and surprise his husband when Lucas arrived home. Brad happily put the newborn in the crib then went to the kitchen to fetch a bottle. Tragedy struck when Brad returned to the nursery and found the newborn unresponsive. Brad raced to the hospital, but he pulled over when his emotions got the best of him. He wept with grief until -- in a shocking twist -- Nelle Hayes stumbled out of the woods carrying her newborn son.
Following a car accident, Nelle -- a wanted criminal -- had given birth in the woods. Nelle persuaded Brad to take her son because she didn't want the baby's father to get his hands on him. In exchange, Nelle took Brad's dead baby, and she passed it off as her stillborn son. Brad returned home with Nelle's baby, but he quickly realized that he had a problem when the birth mother expressed regret about her decision.
Brad appealed to Lucas' estranged father, Julian, for help. Brad told Julian the truth right up until his encounter in the woods with Nelle. According Brad, a homeless woman had switched babies with him, and he had buried the dead baby in the woods. Julian paid the young woman a visit. Afterwards, Julian assured Brad that everything had been taken care of. Brad was relieved when Alexis Davis told Brad and Lucas that the birth mother had signed all of the papers -- the adoption had been finalized.
Brad and Lucas named their son Wiley Cooper-Jones, but Brad remained uneasy because Lucas had asked Lucas' nephew, Michael Corinthos, to be their son's godfather. Brad knew that Michael was Wiley's biological father, and he was consumed with guilt. Further adding to Brad's anxiety was the appearance of Michael's new friend, school teacher Willow Tait. Brad soon learned that Willow was the birth mother of the baby that had died, but she believed that Wiley was her son. Brad worried that Willow might try to have a relationship with Wiley, and inadvertently expose Brad's secret, but Willow assured him that she was happy to know that her son was being raised by a good couple.
In early April 2019, Brad read a book titled, Every Day Is A New Dawn written by life coach and spiritual advisor, Shiloh Archer who had founded an organization called Dawn of Day, which helped local communities through outreach programs. Brad found some peace, and things looked up when Willow announced that she intended to leave town. Brad began to relax, and Lucas noticed the change in his husband. Brad suggested that Lucas attend DOD sessions with him because they had helped, but Lucas had little interest in the organization. Brad was disappointed, especially when he learned that Willow had had a change of heart about leaving town.

Post a Comment

Share on Facebook

Tweet this

Submit Feedback