As The World Turns Recaps: The week of April 24, 2000 on ATWT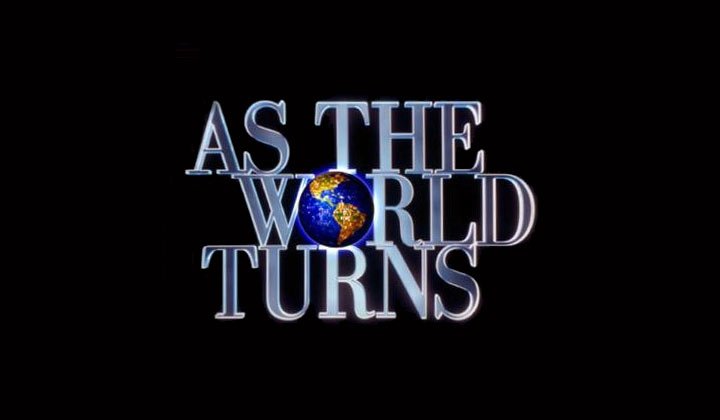 Monday, April 24, 2000
There is a knock at Denise's door. She opens it and there is a man standing there with a box in his arms. He asks her to sign a paper. She asks him what it is for? He tells her to sign the paper. She signs it and he gives her the box. She takes the box inside and finds a letter inside the box. The letter says that the box holds the personal affects of Andrew Dixon. She reaches inside the box and pulls out Andy's duffel bag. She starts to go through the bag and finds that Andy has purchased a toy for Hope. She decides to call Kim and then remembers that Kim is in Washington DC She calls John. He is in his office, but does not pick up the phone. She leaves a message for him that she has received Andy's belongings from Russia. She goes back to the duffel bag and finds a letter that Andy had been writing to her and Hope. She starts to read it and then decides that she can't do it alone. She calls Ben and asks him to come over and be with her. He says that he can't because it will cause too much friction for the Hughes family. She begs him but he still won't come over. He tells her that she can call him when she is feeling lonely and they can talk on the phone. After they hang up, Ben runs into Isaac and after Isaac heckles him about Denise, Ben takes off and goes to her house. He isn't there long and Denise gives him the letter to read that Andy had been writing. There is a knock at the door and John is on the other side saying that he got her message and came to see her. Denise makes Ben go to the kitchen while John is there. Ben goes reluctantly. Denise lets John in and she shows him the duffel bag and the toy that Andy had purchased for Hope. She gives him the letter to read, but John is choked up and can't read it. He asks Denise to read it for him. Denise reads a few excerpts to John where Andy is talking about his father and how he has become a stronger person and a better father because of his dad. John gets really choked up and he tells Denise that he knows why Andy married her. He tells her that she is a sensitive person and a loving person. He thanks her for calling him and telling him about the letter and the duffel bag. Ben is listening in the kitchen. John leaves and Ben comes out and says that he is going to leave. He shouldn't be there. Denise asks him to stay, but he leaves to go back to the hospital.
At WOAK, Katie is ending her newscast. Before she signs off, she wishes Molly all the best and a speedy recovery. When they are off the air, Henry tells Katie that she is good at faking her sincerity. Katie tells Henry that she is afraid that now that Molly is awake, she will tell Holden everything she knows and she will be finished. Henry adds that if Molly can even remember her name, she will be lucky. Katie tells Henry to get serious, they could both lose their jobs. Holden comes up and tells Katie that she had a good newscast and now he is going to the hospital to see Molly. Henry tells Holden that he should take Katie with him. Katie flashes Henry a look and then tells Holden that Molly shouldn't have too many visitors. Holden tells her that it will be good for Molly to have the stimulation. Katie tries one more time to get out of it and Holden tells her that she should come along with him. After Holden leaves, Katie, sarcastically, tells Henry thanks for getting her into this. Henry tells her that if she is there and Molly starts with the accusations, she can deny them right away. Katie stomps off.
When Katie and Holden get to Molly's room at the hospital, Molly is asleep and Holden starts to talk to her. Katie stands nervously by the bed. Holden tells Katie to say something to Molly. Katie tells Molly that they are all pulling for her and she has been praying for her. Molly's eyes pop open and she weakly says, "Who?" and then, "You!" Katie says to Holden that they shouldn't get her excited and she should go out into the hall. Holden tells her that it will be good for Molly. Katie insists that she leave and she goes out of the room. Henry is waiting outside with a bouquet of flowers in his hands. Katie asks what is he doing there? He asks if brain dead Molly even knew her own name. Katie tells him to stop making fun, this is important. Holden comes out of the room and sees Henry there with flowers. Holden thinks it is nice of Henry to bring Molly flowers and she will enjoy them. Holden leaves and Katie tells Henry to go deliver the flowers. Henry tells her to take the flowers in to Molly. Katie says that she has already paid her respects. Henry tells her to come with him. He opens the door and Molly is staring off into space. He walks over and puts the flowers down on the table beside her bed. He looks at her and she is still staring. He waves his hand in front of her face and says, "Hello in there." There is no response from Molly and he starts to back away from her bed. He says, "Good luck, Mol. Hey, how about charades next time?" Katie tells him to come on and they walk out into the hall. Henry says that there is no response. Katie says that they are in the clear, Molly can't rat on them. Henry says that they need to go celebrate. Back in Molly's room, she looks over at the flowers and then slowly takes her hand and knocks the flowers to the floor.
At Lily's house, Lucinda is giving Lily a hard time about Simon. Lily tells Lucinda that she knows what she is doing and she should stay out of it. Lucinda says that is fine and she leaves. Lily goes over to her computer and starts to download her messages. She says to herself that it was easy convincing Lucinda to stay out of this thing with Simon. Then she realizes that it was too easy. She runs out the door just as an e-mail is coming in for her from "Redhead."
At Cal's house, Simon is working on a family tree. He is talking to someone on the phone about Vera. He argues with the person that Vera did have children. He asks if he could get a copy of Vera's will. They tell him that he can and he has them fax the will to him. He hangs up the phone and goes back to studying the family tree. There is knock at the door and it is Lucinda. Simon answers the door and asks Lucinda what can he do for her today? Lucinda says that she doesn't want any of his Aussie charm and she wants to know what kind of a scam he is pulling on her daughter? Simon says that he doesn't know what she is talking about. He only was building Lily's family room and painting a portrait for her. Lily comes running in and tells Lucinda that this is enough and she makes her leave with her. Lucinda and Lily go back to Lily's house. Lily explains to Lucinda that she needs Simon because he has some connection to her birth family and she wants to find out more about them. Lucinda is hurt a little and Lily tells her that she is her only mother, but she is curious about her other family. Lucinda says that she understands and tells her to be careful. Lucinda leaves and Lily sees that her computer is on and remembers that she was downloading a message. She goes over to the computer and reads message that says, "I have the same picture as you. What is it to you?" Lily replies to the message by saying, "Can you tell me what is the name of the lady in the picture?" Send.
Back at Cal's house, Simon gets his fax and sees that Vera left all her worldly possessions to her niece, Caroline Carpenter. Simon says that someone close to her must have it. Yes!!
Tuesday, April 25
Abigail and Bryant are studying at Abigail's house. Bryant wants to go out and Abigail says that she needs to study. She says that she has spent so much time with Molly that she is behind and needs to catch up. Bryant says that he is going to go to Mabel's Red Hots if she wants to join him later. He goes out on the porch and takes out his cell phone. He calls Jennifer and tells her that he is going to try out Mabel's Red Hots and would she like to join him? Jennifer is ecstatic and says that she has plans but she will try to get out of them. She hangs up the phone and Barbara walks into the room. Jennifer is jumping up and down for joy and she hugs her mother and says that she loves her. She starts up the stairs and Hal is coming down the stairs and Jennifer grabs him and hugs him and says that she loves him too. Jennifer runs up the stairs, squealing all the way. Hal asks Barbara if the was their daughter being happy? Barbara tells him that it is just a phase. A little later, Jennifer comes downstairs and she is dressed up. Hal asks if she has plans and she says that she doesn't, but Abigail called and needs help on her Math. Hal tells her that he will drive her and she says that he doesn't need to, she is going to ride her bike, she needs the exercise. As she is going out the door, Barbara and Hal look at each in a state of confusion.
At Mabel's Red Hots, Jack and Julia come in and they are having their second, first date. Mabel comes over and says that she hasn't seen them in awhile and she looks at Jack and says that she hasn't seen him since he dropped that blond one. Mabel leaves and there is an awkward moment between Jack and Julia. Julia suggests that they leave and Jack asks her why? Julia says that there are too many memories here. Jack convinces her to stay and they sit at the bar and get a drink. Jack gets a call and has to leave Julia just for a moment to look up something in his car. When he leaves, Bryant comes in and sees Julia sitting by herself. He goes over to her and says that it is against the law for a beautiful woman to be sitting alone. Julia is flattered that a younger man would be looking at her. Bryant tells her that older women have appeal to him. He tells Julia that he hasn't been in town long and he is staying with a relative. Julia asks who the relative is, maybe she knows them. Bryant asks her if she knows Lucinda Walsh. Julia can't believe it and she says that he must be the grandson who is a handful. Bryant says that his name proceeds him. Julia tells him that she is there with her date and he should probably move on. Bryant asks her if her date is a hit man? Jack has walked in and says that he isn't a hit man, but he is a policeman. Jack tells him to move and Bryant finds another place to sit. Julia tells him that Bryant is Lucinda's grandson and he says that that accounts for his nerve. Jennifer walks in and sees Bryant. She walks over to him and apologizes for taking so long. Bryant tells her that he has waited five times longer for not as much. He tells her that she is beautiful. He tells her that at his home they were always having models and actresses over and he has never met anyone as beautiful as she is. Bryant gets Jennifer a seat and they sit and talk.
Back at the Munson's house, Hal has decided to go out for some ice cream. Barbara tells him that there is fruit in the frig. Hal tells her that they can put the fruit over the ice cream. Hal tells Barbara that he will buzz by Lily's house and see if Jennifer is ready to come home. Barbara says that she will call over to Lily's and alert Jennifer and Hal tells her not to, they might wake up Lily's kids. He says that if Jennifer isn't ready, it will be no big deal. He gives Barbara a kiss good-bye and leaves. When Hal gets to Lily's house, Abigail answers the door and Hal asks her if Jennifer is ready to go home? Abigail gives him a blank look and Hal realizes that Jennifer has lied to him and he leaves in a huff.
At Mabel's, Jennifer and Bryant are finishing their meal and Bryant has ordered brownies for them. Jennifer says that she can't stay, she has to get home. Bryant asks if he can give her a lift home and she tells him that she has her own wheels. He asks what she is driving and she says that she isn't driving anything. Bryant doesn't understand. Jennifer tells him that she only has two wheels, her bike. Bryant says that he can put her bike on his car and give her a lift home. When they get to her house, they are saying good night and just as they are about to kiss, Hal grabs Bryant by the collar and throws him into the house. Jennifer screams at her father. Hal tells Bryant that if he finds him around his daughter again, he will put out an APB on him. Bryant says that he must be kidding and he is grinning. Hal isn't laughing and says that if he doesn't believe him just try it and find out. Hal grabs him again and as he is throwing him out the door, Bryant says good night to Jennifer and to Barbara. After he is gone, Jennifer yells at her father that he embarrassed her. She starts to go upstairs and Hal tells her that they are not finished. Jennifer yells back at him and says that they are finished. Barbara tells Hal that she will go talk to her as soon as she cools off. Hal says that she will probably do a better job than he just did.
Back at Mabel's, Jack and Julia's date is coming to an end and Jack suggests that they go back to his place. Julia takes that as he wants to go to bed with her. Jack apologizes and says that he didn't intend for it to come across that way. He just wanted to kick back and talk. They get up and dance and as they are dancing, they look into each other's eyes and then they kiss.
At the Java Underground, Isaac comes up behind Camille and kisses her on the neck. Camille says that she is still waiting for their "alone time." Isaac says that they may get some "alone time" later tonight. Camille says that she would love to, but she has to study for her make up test that she is taking in the morning. Isaac says that he doesn't want to come between her and her studying. They kiss again and Isaac sees Roland come in. He looks up and Camille looks up and sees Roland come in. She says that she wishes that he wouldn't be there. Isaac tells her not to worry about Roland. Roland goes over to Lisa, who is there playing black jack. Roland starts to argue with the dealer and Isaac comes over and asks what is going on? Roland says that the dealer was dealing from the bottom of the deck. The dealer is arguing that she didn't deal from the bottom of the deck. Isaac gives some extra chips to Lisa for any inconveniece. Lisa thanks Isaac and then excuses herself to go to the powder room. Isaac gets in Roland's face and tells him that he better not pick any fights with his dealers again. Roland threatens Isaac that he could go to the board that gave him the liquor license and tell them about some things that Isaac has been into in the past. Isaac tells him that he runs a clean business. Roland walks away. Camille and Lisa are coming out of the powder room and Camille is warning Lisa about Roland. Lisa tells Camille that she knows that Roland is a player an she is being careful with him. As they are talking, Roland is listening to them. Roland walks up and asks if Camille is bad mouthing him to his new friend. Camille tells Roland that she does not like him and she is not going to pretend that she does. Roland and Lisa walk away. Roland sees Isaac standing by himself and goes over to Isaac and tells him that he caught Camille "dissin" him to Lisa. Roland tells Isaac that he had better get his woman under control or he will have to show her that beauty is only skin deep. Isaac warns him that he had better not lay a hand on Camille. Later, Camille sees Isaac across the room and Isaac walks the other way. Camille catches up to him and asks if he saw her looking at him from across the room? Isaac tells her that he was trying to wait until his anger wore off. Camille asks why he is mad at her? He tells her that she has to keep her nose out of his business. Camille tells him that if they are going to have a relationship, then he is going to have to let her in his business. Isaac gets more mad and tells her that if she can't keep her nose out of his business, then there is the door. Camille looks at him like she can't believe that he just gave her an ultimatum and she turns and walks across the floor and out the door.
Wednesday, April 26, 2000
John quizzes Camille before her anatomy exam and she insists that she's done with Isaac. Emily badmouths Lucinda to Jake and encourages him to quit, unaware Lucinda is standing right behind her. Henry exults when Katie is invited to New York for an interview with the network about her stalking experience, but Katie insists she's not going. When Simon brings a wandering Luc home, Lily panics when she realizes she left her laptop open to the website with Beloved's photo. Lily then tells Simon she's giving up the search.
Jake allows Emily to prattle on about Lucinda until she finally tells him they could take over the Intruder together--he has the money and she's got the ideas. Lucinda finally speaks up and advises Emily to try gambling at Isaac's instead.
When Katie says she has already committed to doing a series for Holden on women's issues, Henry suggests to Holden that Katie do her story from New York. Simon tries to reason with Lily when she expresses guilt about neglecting her own family during her search for her ancestors.
Emily tells Isaac she can get him some positive press if he invests in her. Jake walks in and chastens Emily for hitting up so many people for money before lunch. Simon is convinced Lily doesn't mean what she's saying, but is unable to persuade her to change her mind.
Isaac tells Emily he wants to hear more about her offer. After learning Holden will be going to New York with them, Katie agrees to go. Isaac and Jake have fits of laughter when Emily says all she needs is a million dollars, but Emily warns them she'll have the last laugh. Isaac later tells Jake that Camille walked out of his life.
John confides in Camille that his career what's keeping him going as he awaits word on Andy. After Lily visits Holden at the station, Holden tells Henry and Katie to cancel his reservations--he's not going with them.
John gives Camille the good news--she scored a 98 on her anatomy exam--and invites her to go on rounds with him. Katie refuses to accept Holden's decision and vows to Henry that Holden will be on the plane with her. When an anxious Lily writes "Redhead" another e-mail, Redhead responds immediately.
Thursday, April 27, 2000
Jake visits Isaac and tries to help with his problem with Camille. Curtis, who is hiding behind the bar, comes out to also tell him about his girl problems. Curtis and Jake try to get Isaac to lighten up. Isaac then throws Curtis out while Jake tries to get Isaac to understand what he just did to Curtis. Allowing a 12 year old kid to fen for himself. Isaac then wants Jake to leave while Jake is persistent on wanting to know who threatens him. Jake finally figures out that Isaac is scared to love someone for fear of being hurt, like Vicky. After Jake leaves, Isaac is concerned about Curtis and wants to look for him.
Tom, Chris and Gram have lunch at Al's and talk about Kim looking for answers in Washington about Andy. Mean while Emily barges in asking about Margo's whereabouts. Emily is mad because no one told her about Margo leaving town for a few weeks. She commented on Margo not being mother of the year but she wanted to know who would watch Daniel if Tom had to work. Tom said arrangements would be made much like arrangements were made for Emily to get out. Emily decided to do what she does best and push Tom's buttons...She said that she was calling her lawyer and ending all overnight visits. Emily yelled at Tom for not helping her start her on business and wondered why she bothers. Tom reminded her of how much she is like her "infamous ex...David Stenbeck" Emily didn't take to kindly to that and tried to slap Tom AGAIN..."I let you get away with that once but don't do it again" Tom told gram and Chris he won't let her use their son as a way of revenge. Chris jumps to Emily's defense and said she may not be out for revenge...she is probably out for the one thing she can't have. Tom wondered what that was and gram said "that would be you Tom." Chris reminded Tom he knew how it felt to be the "black sheep" and how Emily wants a Hughes family pass. Tom assures Chris that he and Margo can handle whatever Emily dishes out. Gram leaves and Chris and Tom talk. Chris offers to "suck up" to Emily to make her believe the Hughes clan isn't out to get her. He wants to do it as a way to repay Tom for his believing in him. Tom then leaves and Chris goes over to Emily. He apologizes to her for Tom and tells her if she ever wants to talk, she can call her. After Chris leaves she calls the prison where David is and wants to arrange an interview for a so-called book she is doing.
Katie sends Molly flowers with a card saying "Get well soon. Love Katie" Molly is not impressed. Molly watches Katie on the news. Henry then gives Katie her tickets to New York but she won't go without Holden. Henry warns her about Molly being able to talk. Henry wants to nationally expose Katie before Molly fully recovers. Katie is still reluctant so Henry threatens...AGAIN. Molly has a nightmare about Katie only to wake up to see her there. Susan then comes in and talks to Molly and tells her to face her fears. Jake then visits Molly. molly talks about her deadline. Chris then walks in. Molly only remembers the basics about Chris at this time. back at the station, Henry asks Katie about Molly and she said Molly didn't talk. They then start to leave for New York while Holden runs in to catch them to join them in New York.
Lily talks to Redhead and asks about the women only to find out that she only found the pictures in a box after her parents died. While outside Simon is watching her trying to see what she is doing. Holden catches him watching Lily and wants answers. Holden tells Simon to leave NOW! Lily wants to meet redhead a.k.a- Rose D'Angelo. Holden tells Lily Simon was watching her. He then decides that her and the kids and him need to spend some quality time together. Lily and Holden plan a get away. Lily is reluctant though because she wants to find out about the picture. She tells Holden about the picture and the women in Atlantic City. They decide to go to New York. Holden can work with Katie while Lily goes to Atlantic City to find out about the picture. Simon then returns to Lily's after Holden leaves and tries to snoop around. He makes up a false excuse for looking in the window and then finally leaves Lily's house.
Friday, April 28TH, 2000
Jake informs Chris that Molly doesn't remember having an affair with him. Camille asks Isaac why he runs so hot and cold towards her. Lily doesn't believe Simon when he insists he saw a woman spying on her and rushed over. When Simon spies her suitcase, Lily tells him she's joining Holden in New York.
Isaac refuses to open up to Camille and later finds Curtis waiting for him outside Al's Diner. When Abigail visits Molly, Molly believes it's the first time they've met. When Molly wants to know how she was injured, Abigail tells her only that she was having an argument and fell. Jake and Chris wonder about Molly's selective memory problems.
Curtis refuses to accept Isaac's help. Curtis's friend Freddie encourages him to participate in his robbing the diner. Molly believes it's October but Jake informs her it's April. Molly wonders why the last day she remembers is the day after her birthday.
After searching through Lily's trash, Simon learns Lily has hotel reservations in Atlantic City. When Rose D'Angelo speaks she sounds eerily similar to Lily. Chris reveals to Jake that Molly's birthday is when they started having their affair. Molly asks Abigail about her boyfriend.
Camille has dinner at the diner with Jack and Julia and tells them she's not with Isaac. After Camille leaves, Curtis runs into one of the waitresses. Abigail hesitates before telling Molly that she broke up with her boyfriend.
Simon tries to book a direct flight to Atlantic City and worries about getting there before Lily does. Lily arrives at the Colonnade and is led to a table right in front of the stage. Rose's friend Mitzi drops her tray when she sees Lily.
While Curtis berates the waitress's clumsiness, Freddie empties the cash register. When the waitress finally realizes what's happening, she cries for help. Jack starts to draw his gun but stops when Freddie takes Julia by the throat.
Jack tries to calm down Freddie and orders him to let Julia go. Abigail confesses to Chris that she wishes they'd had more time together. Chris warms to Abigail's suggestion that they be friends. Molly likes Jake's idea of making a fresh start--she can live her life the way she wants to. When Mitzi tells Rose that Lily is there, Rose looks in the mirror--she's a dead ringer for Lily.