Tricia Dennison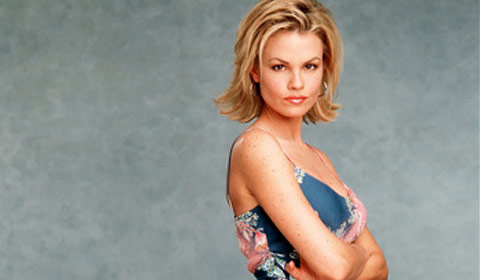 Inmate in a psych ward
Mental institution
Single
Ryan McNeil (deceased) [Married: 1998; divorced: Aug 24, 2001]
Unknown Name Dennison (mother; deceased)
Keith Dennison (father)
Megan Dennison Viscardi (sister)
Miscarriage with Ryan in 1999
Ran down Tony Viscardi on his motorcycle; judged an accident
Drugged Victor Newman with Rhohypnol and erectile dysfunction medication, raped him, and beat herself up to frame him
Murdered Ryan McNeil; incarcerated in the psych ward
Tricia is the older daughter of Keith Dennison. She was a college student who was introduced to Ryan McNeil through Jill Abbott, who was her father's lover. Tricia instantly fell in love with Ryan. They went on a few dates before she found out that he was married. However, this didn't stop her from scheming to steal Ryan away from his wife, Nina. When Nina asked Ryan for a divorce, he was left free to pursue the relationship with the much younger Tricia. They eventually married despite the objections of Tricia's father, Keith, and sister, Megan.
Everything seemed fine for Ryan and his child bride, except that Tricia didn't like the time and attention Ryan devoted to Nina's son, Phillip, whom he thinks of as his own. In desperation to divert Ryan's attention away from Phillip, Tricia stopped taking her birth control pills (unbeknownst to Ryan) and became pregnant. At first Ryan was upset because the timing wasn't right, but later he warmed to the idea of being a father. But Tricia miscarried, believing that it was because she deceived her husband to begin with. She had a breakdown, then rejected her husband in every way. Instead, her attention was focused on her sister Megan and her relationship with Tony Viscardi. The tension between Tony and Tricia was obvious to everyone but Meg. Tricia became so obsessed with her vendetta against Tony that they ended up in a physical fight in the lobby of the Colonnade Room on New Year's Eve. Tricia suddenly quit struggling and kissed Tony. It was all he could do to get her off him. It was then that we knew that Tricia had gone over the edge.
Tony decided the only solution was to marry Meg quickly. The wedding was arranged at the Justice of the Peace, with Nina Webster standing up for Meg, Sharon Newman for Tony, and Cassie Newman as flower girl. But the groom never arrived. Tony was run down on his motorcycle by Tricia McNeil as she blindly backed out of the Dennison driveway in a rush to stop the wedding. Tony and Megan were later married in the hospital on Tony's deathbed.
Grace Turner and Sharon Newman teamed up but were unable to prove that Tricia intentionally ran down Tony. Once Megan found out that Tricia was responsible for Tony's death, she refused to forgive her and left town. Tricia left Ryan and returned to London with her father, Keith. She returned about six months later, hoping to resume her marriage, but Ryan was convinced that Tricia was unstable. Unable to win him back, Tricia turned to Carter Mills, who was really rapist Matt Clark after plastic surgery. Carter drugged her into sleeping with him, and used her to help set up Nick Newman and put him in jail. Once Tricia figured out she had been used and abused, she turned on the gas in a suicide attempt. Ryan managed to find and rescue her, only to be knocked unconscious by Carter and locked in a closet to die with gas filling the room. Ryan was rescued, but Tricia was missing. Tricia later caught Carter attempting to rape Nick's wife, Sharon, and drove off a cliff expecting to kill them both. Tricia survived with cuts and bruises, but the evil Carter/Matt deliberately pulled out his breathing tube, committing suicide to make Nick look like a murderer.
Ryan and Keith talked Tricia into institutionalizing herself at Fairhaven, outside Genoa City. She appeared to be making a miraculous recovery, signed divorce papers from Ryan to prove it, and checked herself out under the custody of her father. But behind his back she was not taking her medication and brought Carter/Matt back as a figment of her imagination. Together they plotted revenge against the Newmans. Tricia was obviously crazier and more dangerous than ever.
Meanwhile Victoria and Ryan found their love again, moved in together, and were thinking about marriage. Victor was suspicious of Tricia, so bought their apartment building, installed security, and when her father Keith became incapacitated with a stroke, Victor even ended up with Tricia living with him to monitor her meds and protect his daughter from her. But Tricia was able to fool her therapist and Victor, faked taking her meds, and seeking revenge, drugged his tea with Rhohypnol and erectile dysfunction medication, and basically raped him. Then she beat herself up to further frame him, and Victor was arrested for rape. Paul combed the Penthouse surveillance tapes expecting to prove that Victor was setup, but apparently Tricia knew about the cameras and arranged everything out of their view, then walking into them disheveled and distraught, supposedly post-rape. DNA tests on Tricia and Victor further proved her case, but once Victor realized he'd been drugged, the same DNA sample proved he had been, and he was released on bail.
Meanwhile Tricia disappeared, leading everyone believe she was on a train to L.A., then bought a gown identical to Victoria's, locked her in a closet, and marched down the aisle to Ryan on their wedding day. Before they took their vows, the delusional Tricia lifted the veil expecting Ryan to marry her instead. Tricia pulled a gun when she realized no one in that church was anything but aghast to see her. Victor arrived in time to free Victoria, and bargained with Tricia to get everyone else out of the church. But all came to a screeching halt when Victoria entered the room. Tricia fired at her and Ryan jumped between them, taking the bullets for Victoria. Ryan held on for a few days, but died in the arms of Victoria. Tricia was institutionalized shortly afterward and the figment of Matt bade her farewell, and the rape charges were dropped against Victor.

Post a Comment

Share on Facebook

Tweet this

Submit Feedback