Port Charles' daring experiment with vampires has now concluded.
In a move not seen since the 1960s series "Dark Shadows," PC explored the world of vampires in its "Tainted Love" story book, which debuted in June and ran through the end of August. While some fans were turned off by the non-traditional soap opera storytelling, critics raved about the show's decision to distance itself from sister soap General Hospital and establish a new identity for itself.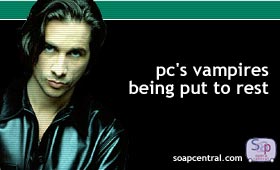 "Tainted Love" is by far Port Charles' most popular storyarc to date, though its ratings might not offer much proof of the claim. SoapNet, the all soap cable channel, opted to rerun the 13-week storyline due to overwhelming demand from its viewers.
With the decision to take the bite out of its vampire storylines, Port Charles will be forced to jettison some of its talent. According to an ABC spokesperson, Michael Easton (Caleb Morley and ex Michael Morley) will no longer be a Port Charles fixture. Easton's last appearance was December 3rd.
However, the decision to write out Easton's character may cause some of the actor's fans some sleepless nights.
In a recent Soap Opera Central poll, 30% of poll respondents indicated that they would like to see Easton remain with the show. However, those replies indicated that they did not want to see Easton play a vampire. 16% of those responding to the poll wanted to see Caleb live on in the show's storylines with an additional 7% wanting to see Caleb return sometime in the near future. On the flip side, 43% of voters wanted to see PC ditch its vampire storylines all together.
Also out as a result of the vampire reduction is Another World veteran Charles Keating (James Richfield). Keating has appeared occasionally throughout the show's "Tainted Love" and "Tempted" books as Caleb's humble servant.
So what's ahead for the back-to-normal PC storylines? The show remains committed to its 13-week storytelling format, but it will focus on topics other than vampires.
---
RELATED INFORMATION
More News: Return to the Port Charles Online FrontPage.

SOAPULARITY: WHAT'S TRENDING

MAKING HEADLINES: NEWS FROM AROUND THE SOAPS

COMMENTS: SHARE YOUR THOUGHTS ON THIS STORY