The latest Port Charles book has finally gotten a name. And like two of its three predecessors, the new book has been named after a decades-old pop song.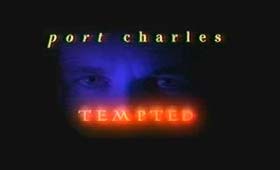 Since debuting its new telenovela (or thirteen-week story arcs) format last fall, Port Charles executives have been looking for a way to promote the new storytelling method. The first book, which began in November 2000, was titled Fate. Three months later, the show unveiled Time In a Bottle, complete with snippets of the 1970s Jim Croce classic of the same name woven into the storyline. The most recent book, Tainted Love, relied even more heavily on its theme song, so to speak, than the previous book. The song of the same name, by the 80s punk group Soft Cell, was used in commercial promotions and even in the previews shown at the end of the show. According to independent research done by Soap Opera Central, downloads of the song from online music-swapping services soared during the Tainted Love story arc.
The newest book to join the musical format is Tempted, based upon the 80s song by group Squeeze,
According to executive producer Julie Hanan Carruthers, Tempted will focus on the many relationships that were strained - and created - during the last book. "It's about putting the pieces back together," Carruthers explains. "People's lives have been turned upside-down."
Fans of the supernatural storyline explored in Tainted Love will find comfort in knowing that some of the supernatural plot devices will carry over to the new book, though it remains unclear to what degree. Also making the crossover are some of the new characters debuted in the last book. Brian Gaskill (Rafe) is said to be on tap for a return engagement in Tempted. Despite Internet rumors to the contrary, the show will not confirm reports that Michael Easton (Caleb and Michael) will also be returning. However, seeing Easton's face in the new logo and promos for Tempted seemingly imply that the actor will be back.
If you're still trying to rack your brains to come up with the melody for the book's new theme song, here are some of the words to help you along. "Tempted by the fruit of another. Tempted but the truth is discovered." Only time will tell if the new song wedges its way into the minds and hummings of soap fans across the country.
Tempted begins September 3rd.
---
RELATED INFORMATION
So It Begins"Fate" marks PC's new storyline format. [Dec 4, 2000]
Book Three"Tainted Love" promises supernatural storytelling. [Jun 4, 2001]
More News: Return to the Port Charles Online FrontPage.

SOAPULARITY: WHAT'S TRENDING

MAKING HEADLINES: NEWS FROM AROUND THE SOAPS

COMMENTS: SHARE YOUR THOUGHTS ON THIS STORY