Continuing the trend of naming its "books" after popular songs, the thirteen-week story arc will be named "Tainted Love."
Tainted Love was a hit for Soft Cell in the early 1980s. The previous book, "Time In a Bottle," was a named after a hit by Jim Croce - and the song was featured quite often within the show's story.
Unlike the last book, which focused heavily on the Ian, Eve and Arianna triangle and Frank's time travel, the next thirteen weeks will skew younger by focusing on the show's "teen crowd." According to co-head writer Barbara Esensten, this storyline has been building for weeks.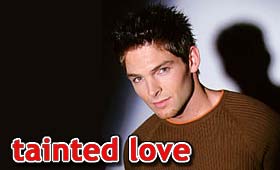 The new book begins on June 4th when the lives of the four young adults - Alison, Jamal, Livvie and Jack - are altered forever. PC's executive producer Julie Hanan Carruthers, has promised that the book will start off with a major development - the death of one of the more familiar faces on the show. At press time, the show was keeping the identity of the victim a closely-guarded secret and Soap Opera Central, though having learned the identity of the victim, has decided to also keep tight-lipped about the victim.
The shift to focus on the show's younger talent should not come as a surprise to any daytime veterans. Traditionally all soaps feature teen storylines during the summer to hopefully draw in some of the younger viewers who are out of school for the summer.
---
RELATED INFORMATION
So It Begins"Fate" marks PC's new storyline format. [Dec 4, 2001]
More News: Return to the Port Charles Online FrontPage.

SOAPULARITY: WHAT'S TRENDING

MAKING HEADLINES: NEWS FROM AROUND THE SOAPS

COMMENTS: SHARE YOUR THOUGHTS ON THIS STORY

© 1995-2016 soapcentral.com