For the past year, Port Charles has been experimenting with 13-week story arcs. Back in December 2000, PC debuted its first book, "Fate." The book was broken down into three different chapters "Desire," "Deception" and "Destiny."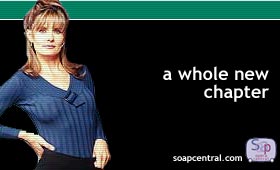 By the time the next book debuted in February 2001, the writers had decided to ditch the idea of chapters and focus more on a comprehensive three-month story. In doing so, the show also adopted a musical theme. The book "Time In a Bottle," prominently featured the Jim Croce tune of the same name. Additionally, the network used the song in commercials for the soap.
When the third book rolled around, Port Charles seemed to have learned exactly how to make the storyarc process work. "Tainted Love" was by far the most successful of the show's books. Again, PC used a musical theme, this time by the 80s group Soft Cell, to help bring things together.
This month, PC's fourth book, "Tempted," comes to a close. It will also mark the end of the string of thirteen-week storyarcs.
Sort of.
Due to the holidays, the Port Charles writing team decided to develop a one-time four-week story arc for December called "Miracles Happen." Because of the holiday preemptions, PC has opted to feature a holiday-themed book that will last until the close of the year.
Like its predecessors, the book will have a musical theme. This time around, Myra does the honors with the tune "Miracles Happen (When You Believe)." The song was featured in the Disney film "The Princess Diaries" starring Julie Andrews. Disney owns ABC.
Beginning in January, the show will once again pick up the traditional three-month-long books.
---
RELATED INFORMATION
News Archive: Tainted Love to push the envelope. [Jun 4, 2001]
So It Begins"Fate" marks PC's new storyline format. [Dec 4, 2001]
More News: Return to the Port Charles Online FrontPage.

SOAPULARITY: WHAT'S TRENDING

MAKING HEADLINES: NEWS FROM AROUND THE SOAPS

COMMENTS: SHARE YOUR THOUGHTS ON THIS STORY