According to setside sources, Susan Pratt's (Claire Ramsey) contract with Guiding Light will not been renewed. Pratt's future with the show has been fodder for Internet rumors for several weeks.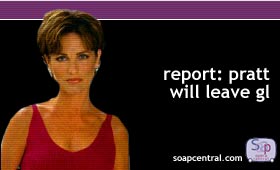 Pratt debuted as Guiding Light's Claire in 1983. Pratt remained with GL through 1986 before heading to ABC's All My Children, where she played Barbara Montgomery from 1987 through 1991. Pratt remained with AMC on a recurring basis for the next few years before taking a short stint in 1999 as Charlotte Lindsay on As The World Turns. Pratt returned to GL in April 2000.
Setside chatter hints that Pratt will not be written off the GL canvas. In fact, it is widely believed that the actress will remain on a recurring basis.
When contacted by Soap Central, a Guiding Light spokesperson reminded us that it is not their policy to discuss performers' contracts.
The new of Pratt's departure comes with a bit of naming irony; just last week Soap Central reported that Wesley A. Ramsey (Sam Spencer) had been told that his contract was not being renewed. Fictional Claire's last name, of course, is also Ramsey.
Photo: Dan J Kroll/Soap Central