There are unconfirmed reports that Wesley A. Ramsey (Sam Spencer) has been released from his contract with Guiding Light.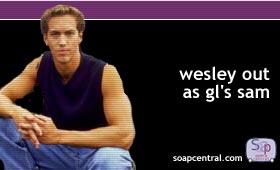 According to a source within the show, Ramsey was informed that he is being released from his contract. The same source hints that Ramset was first tipped off to his impending release before Christmas. At the time, Soap Central attempted to contact a show spokesperson for comment on the report, but due to the holiday the show was on break and no comment could be obtained.
The GL source reveals that several of Ramsey's cast mates also heard the rumors that he was being let go and that several were very unhappy the Ramsey had been kept hanging for so long.
A Julliard graduate, Wesley joined Guiding Light on September 13, 2000. He makes his final on-air appearance on March 6th.