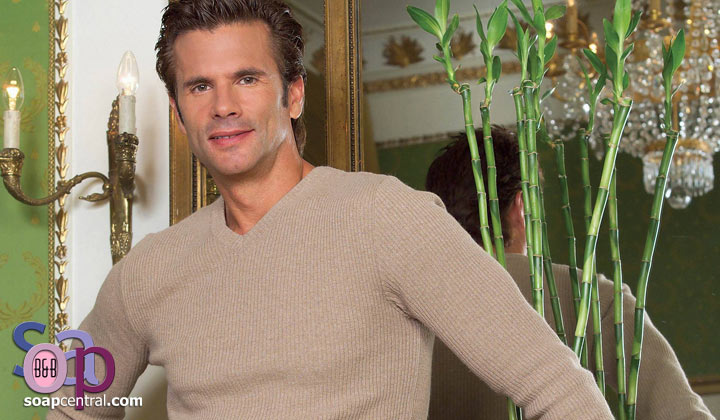 Hector Ramírez
Firefighter Somewhere in Los Angeles Single (never been married) None
Christian Ramírez
(brother)
Caitlin Ramírez
(daughter; with Sam)
Jimmy Ramírez
(son; via adoption)
Samantha Kelly
Statuatory rape of Samantha Kelly years earlier
Accidentally hit Rick Forrester with his truck
Lied to cover up Taylor's role in Darla's death [Jul 2006]
Kidnapped Taylor to keep her quiet about her role in Darla's death [Aug 2006]
Medical History
Blinded by a fire [Aug 2006]
Hector was born and raised in Los Angeles, and frequently played against Ridge Forrester on the soccer field in high school. While in his twenties, he fell in love with the underage Samantha Kelly, and the two were making many plans for their future. She got pregnant when she was seventeen, and she and Hector planned to live together and raise the baby together. The next thing Hector knew, Priscilla Kelly was at his door handing him a baby and asking him to sign papers stating he would stay away from Sam, who didn't want his baby. A few well-placed threats about pressing charges against Hector for sleeping with the under-aged Priscilla and the promise that he would never see Sam again or he would lose his daughter. He raised Caitlin all on his own, telling her his mother was dead, and when Caitlin was still a young girl, adopted a young boy named Jimmy when his parents died in a fire.
Years later Hector was furious to learn that his daughter was working for the Forresters, who were part of a lifestyle he blamed for Samantha turning her back on their daughter. He demanded she quit immediately, and she eventually did, not telling him she went to work for Logan Designs. He finally found out, but because Caitlin did not tell him Sam was her boss, he did not object. When Caitlin again began having nightmares about her mother, Hector decided the time had come to hash it out (with a little help from Amber) with Sam, which was how he learned that Sam believed their child had died. He told her the truth, and enabled Sam and Caitlin to have a tender reunion.
Hector and Sam reunited, but Sam was soon gone from the scene with no explanation, and Hector began to fall in love with Taylor. Knowing she was married didn't deter him from actively pursuing her, and he wasn't interested in taking no for an answer. He made her a deal that if Ridge wasn't not back in Los Angeles by New Year's Eve that she would give him a New Year's kiss, and that promise ultimately led to Taylor confessing that (as well as a past) indiscretion to Ridge, which led to an annulment for the two of them. With Taylor free, Hector was more determined than ever to make her his, even though Taylor continued to resist his advances.
Hector was blinded in a fire the night that Taylor confessed the truth of what happened that night with Darla. He moved into Taylor's home, but once Taylor and Thorne reunited, he moved into Thorne's home to watch over it.