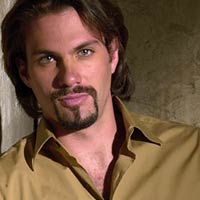 Antonio Dominguez
Tony (nickname) Head designer at Spectra Fashions Florida Married (
Kristen Forrester
) None Eduardo Dominguez (father)
Liliana Dominguez (mother)
Zende Forrester Dominiguez
(son; via adoption) Ellen (lovers; deceased)
Sofia Alonso
(lovers)
Did not initially disclose that he was HIV-positive to Kristen Forrester.
A young Latin designer on the rise, Tony was recruited by the downward spiraling fashion firm, Spectra Fashions, to influence their style to a level never before experienced.
Eric at Forrester Creations had the same idea sending his newly returned daughter, Kristen, to entice the young Latino into joining them.
Proving a loyal man, Tony turned town Kristen's offer but instead took her up on a date. A spark between the two was instantaneous.
The fairytale romance was instantly plagued form the start when Tony discovered that a past love of his, Ellen, had died from AIDS. Tony was sent into a world of hysterics and disaster when he was forced to realize his risk of developing the disease.
Sharing tender moments with Kristen and bringing he Forrester family together in the kitchen for a Spanish home cooked meal, Tony and Kristen promised to be a spectacular couple together.
With the help of psychiatrist, Dr Taylor Hayes, Tony came to terms with the results of his HIV test as positive, giving him a changed outlook on life and his future. On the night Kristen anticipated Tony to propose to her, she was shocked to learn of his condition and his request despite the very minimal chances, that she take a HIV test.
In a noble and selfless move, Tony broke his relationship off with Kristen.
A determined Kristen continued to implore and pursue the love of her life and promised to fulfill his deepest longings. Kristen's insistence led to Tony giving in to their passion for one another. Kristen and Tony are completely aware of the ramifications of continuing their relationship before announcing it to Eric and Stephanie. Tony questioned Kristen determination to want so badly to be together, she replied telling him that he was the love of her life and with that, she proposed.
All opposition to the marriage was overcome when Eric finally accepted Tony's request for him to stand up as best man.
After Tony and Kristen marry, they honeymoon in Africa on Safari. There, they encounter, Zende, an orphan who was accused of stealing a role of film from them. An instant bond is made. Later at Zende's orphanage, Tony and Kristen learned that many of the children there are orphans of AIDS. Tony and Kristen fell in love with Zende and wanted to raise him. After leaving Africa they came back a short while later and adopted Zende and took him back to L.A. with them. Shortly after that, Antonio and Zende stopped appearing on the show. At last notice, they were still in L.A.