The tightrope walk is over. Shemar Moore (Malcolm Winters) has confirmed that he will exit The Young and the Restless in 2002. According to the actor's camp, this time he really means it.
Moore has been on the fence about leaving Y&R since at least February of 2000.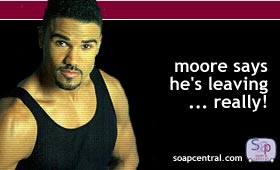 "I've done a lot of soul searching," Moore told Soap Central in February 2000. "I really had to look at my career and my future. Timing is everything." In April of that same year, Moore announced that he'd make his final exit in May. However, Moore was still in Genoa City in June and it soon became clear that the actor was torn between leaving the show that gave him his big break.
Moore joined Y&R in 1994 after the casting department spotted him doing a television commercial for a shaving product.
Despite his relative inexperience as an actor, Moore quickly proved that he was more than just a pretty face. Moore's biggest achievement came in 2000 when
he was awarded the Outstanding Supporting Actor Emmy
at the 2000 Daytime Emmy Awards. He had previously been nominated in the Outstanding Younger Actor field the previous year. Moore has also found success in the NAACP's Image Awards. Moore has been awarded the Outstanding Actor in a Daytime Drama award every year since 1997. He is once again nominated for the award this year.
Moore has been signed to star in a FOX primetime series called, Celebrity, but that pilot was never picked up for the network's 2000 fall lineup. However, Moore remained busy with feature film projects, such as "The Brothers," and a touring production called "The Fabric Of A Man." These outside projects were in addition to Moore's work on Y&R and his hosting job on the syndicated "Soul Train" series.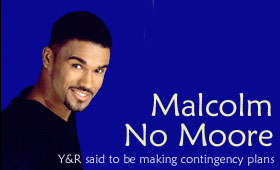 According to Moore, his agents were trying to convince him to cut ties with Y&R as soon as possible so that he could pursue additional film and television projects. The hectic everyday taping schedule of a soap opera prevents most performers from landing outside acting gigs. Some daytime performers, however, have had their contracts include clauses that allow them to take on outside work.
In December of 2000, Moore again announced that he'd be leaving the show. In February of 2001, Moore announced that he'd extended his stay after show execs offered him the chance to work on outside projects.
Moore's exit will come on February 14. According to a show insider, Y&R has no immediate plans to recast the role.