Mike Corbin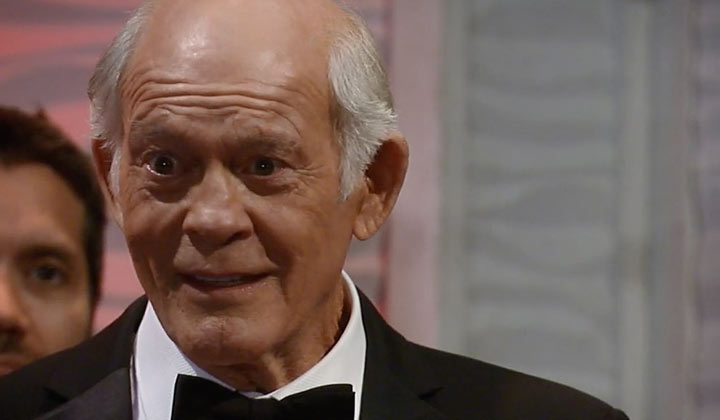 Ron Hale
January 4, 1995, to October 28, 2010
Max Gail
February 5, 2018, to Present
Michael Corinthos Sr. (former name)
"Bagman" for local mobster Caruso
Manager of Kelly's Diner
Part-time bartender
Formerly part owner and operator of the Recovery Room
Former maître d' at Luke's Club
Turning Woods Long Term Memory Care, 1225 River Street, Port Charles, NY 16543
Greystone Manor, 120 Shoreline Rd, Port Charles, NY
New York City, New York
Formerly 1420 Quartz Lane, Port Charles, NY 16543, New York (Port Charles Hotel) [burned down]
324 Wharf Street, Port Charles, New York (Kelly's Diner) [assumed, because he ran the diner]
Single/Divorced (Adela Corinthos)
Adela Corinthos (divorced)
Unknown
Michael Corinthos Jr. (son, with Adela)
Courtney Matthews (daughter, with Janine; deceased)
Dante Angelo Falconeri (grandson)
Michael Corinthos III (grandson, via adoption)
Kristina Davis (granddaughter)
Morgan Corinthos (grandson; deceased)
Lila McCall (granddaughter; deceased)
Avery Corinthos (granddaughter)
Jonah Corinthos (grandson; presumed deceased)
Rocco Falconeri (great-grandson)
Mary Scanlon (dated)
Amy Vining
Tammy Hansen (dated)
Janine Matthews (lovers)
"Donna" (affair)
"Rita" (live-in girlfriend; 2013 to 2018)
Yvonne Godfrey (dated)
Apparently has an unscrupulous past, details unknown
Borrowed money from a loan shark who worked for Joseph Sorel in order to pay off his excessive gambling debts
Moved the body of Sonny's first murder victim [revealed Jun 2018]
"Bagman" for mobster Caruso [Feb 2018)
Altercation with a police officer [Feb 15, 2018]
Accused of kidnapping his granddaughter, Avery [Apr 2018]
Tampered with gas line in Charlie's Pub [Sep 2018]
Shot by Joe Scully [May 2, 1995]
Beaten nearly to death by Russian mobsters [Nov 2008]
Beaten by thugs working for loan shark [Jan 2010]
Treatment for gambling addiction [2011]
Diagnosed with Alzheimer's disease [2018]
Stitches to forehead after falling down flight of stairs [Aug 9, 2018]
In 1995, Luke Spencer hired Mike Corbin to work in Luke and Sonny Corinthos' blues club. Unknown to Luke, he had just hired Sonny's father as his maître d'. Mike had left his wife and son when Sonny was still young, thinking that his son would be better off without him. Sonny's mother had gotten re-married to a cop, Deke, and Mike had thought that Deke would be a better father to Sonny. What Mike hadn't known was that Deke had beaten Adela and Sonny mercilessly throughout the marriage until Deke had been killed. Filled with regret over the past, Mike tried to reach out to his estranged son, but Sonny initially ignored Mike's overtures.
Mike and Sonny's relationship was turbulent at first, but in time, they managed to reach an understanding and slowly got to know each other. Mike opened the bar/restaurant the Recovery Room with former flame Mary Scanlon, a nurse at GH, and he ran the restaurant where the interns at General Hospital often went.
In 1997, Caroline "Carly" Benson asked Jason Morgan to act as the father of her son, so Jason had the infant christened and named him after Mike's son, Sonny. Mike was asked to be Michael's godfather. Later, Carly married Sonny, and together, they raised Michael. Meanwhile, Mike began a relationship with an ex-prostitute, Tammy Hansen, who had worked at Kelly's. The relationship was serious for a time, but by the spring of 2001, Tammy had left town.
In December 2001, a young woman arrived in town, looking for her mother, Janine Matthews. Soon, it was revealed that Janine was Mike's ex-lover who had left him after he had gambled away their money. Janine had given birth to Mike's daughter, Courtney, and had told her that her father had died. Courtney was shocked to learn that not only had her father been alive, but she also had a brother. Despite Janine's objections, Courtney developed a relationship with both her father and her brother.
Mike tried to make up for his past mistakes. He worked hard to put his gambling problems behind him and eventually developed a close bond with Courtney. Tragically, in 2006, Courtney contracted a deadly virus during the final weeks of her pregnancy with her first child. The virus ultimately claimed Courtney's life, but not before she gave birth to a baby boy. Mike was devastated by his daughter's death, but he remained in town, working as the manager of Kelly's, because he was determined to have a relationship with his son and be a part of Courtney's son's life.
In January 2010, Mike fell off the wagon when he played a game of poker with Ethan Lovett. Mike's addiction quickly spiraled out of control. After being beaten and left in an alley, Mike was taken to the hospital. By early 2011, Mike was deep in debt, so he stepped down from managing Kelly's and checked into rehab. Sonny paid off Mike's debt and supported his father's decision to get treatment for his gambling addiction.
Little was heard from Mike until the beginning of 2018 when Sonny received word that Mike might be gambling again. Sonny drove to New York City to check on his father. He was surprised to learn that Mike had been living with a woman named Rita for five years. Rita and Mike had met in rehab. Sonny's surprise turned to concern when he learned that the money Mike had been accused of stealing from a local mobster had actually been misplaced rather than gambled away. Sonny persuaded his father to return to Port Charles with him for a little visit.
Sonny quickly noticed alarming signs that Mike was struggling to remember things, prompting him to have Mike checked out. Sonny was heartbroken when Mike was diagnosed with Alzheimer's disease. Shortly afterwards, Rita called it quits with Mike because she feared that the responsibility of caring for someone with Alzheimer's would trigger her gambling addiction. Mike was crushed, but his memory of her quickly faded as his illness advanced. Sonny insisted that Mike move in with him and the family full-time because Sonny didn't want to waste what precious time he had left with his father.
Mike moved in with his son and befriended social worker Stella Henry. Stella arranged for Mike to get help managing his disease then guided Sonny on making plans for Mike's future when the illness advanced. Meanwhile, Mike spent his days reconnecting with his son and grandchildren, but the disease continued to progress with heartbreaking speed.
One day, Sonny became alarmed when Mike referenced a body that had been buried in Croton. Sonny confided to Jason that Joe Scully had ordered an 18-year-old Sonny to kill a man who had betrayed the mob. Sonny had carried out the hit -- his first -- then Sonny had buried the body in Croton. Sonny and Jason decided to drive to Croton and move the body in case Mike had been referring to the body of the man that Sonny had killed. Sonny and Jason were shocked when they discovered an empty grave.
Sonny returned to Port Charles and tried to question his father about the missing body, but Mike had no idea what Sonny was talking about. Sonny worried about what Mike was hiding because the new district attorney happened to be the daughter of the man that Sonny had killed. Margaux Dawson was determined to solve her father's mysterious disappearance, and she was certain that Sonny knew something about it because her father had been an attorney for his old boss, Joe Scully. Hoping to force a confession from Sonny, Margaux tried to question Mike on several occasions, but he became easily confused and upset because of his illness.
Eventually, Mike recalled learning about Joe Scully's order and following Sonny to Croton the night that Sonny had killed Vincent Marino. Mike had waited until Sonny had left the burial site then dug the body up -- as well as the gun that Sonny had used to kill Vincent. Afterwards, Mike had taken the body to Port Charles, where his friend had been building a new bar. Charlie had agreed to let Mike hide the body and the gun in the freshly poured foundation of the bar. Fearing that the police would find the body 20 years later, Mike decided to destroy the skeleton and the gun by tampering with the gas line in Charlie's Pub.
Mike's plan failed because it unearthed the skeleton instead. The police considered him a prime suspect in the murder because he had caused the explosion. However, Sonny found proof that Margaux's mother had been having an affair with Joe Scully at the time of Vincent's death, and she had been in on the plans to kill her husband. Margaux realized that she couldn't pursue legal charges against Sonny without charging her mother in the crime.
Shortly afterward, Sonny and Carly realized that Mike's disease had advanced significantly, so they turned to Stella for help. Stella arranged for Mike to attend a day program at Turning Woods Long Term Memory Care. During this time, Mike would say things that suggested that he'd secretly kept a close watch over his son throughout Sonny's youth and early days as a mobster. He also began to talk about a special friend that he had met at the long-term care facility.
It was clear to all that Mike had a crush on Yvonne, but Sonny and Carly were surprised when it was revealed that Mike's new girlfriend was in the advanced stages of Alzheimer's, and she was married. Marcus, Yvonne's husband, objected to his wife's romance with Mike, even though she had no memory of her husband. Marcus was ready to move his wife to another facility, but he changed his mind when he realized that Yvonne was only truly happy when she was with Mike.
Marcus continued to visit his wife daily, but he didn't object to her relationship with Mike. By February 2019, Mike's illness had progressed, and he moved to Turning Woods full-time.

Post a Comment

Share on Facebook

Tweet this

Submit Feedback