Claudia Zacchara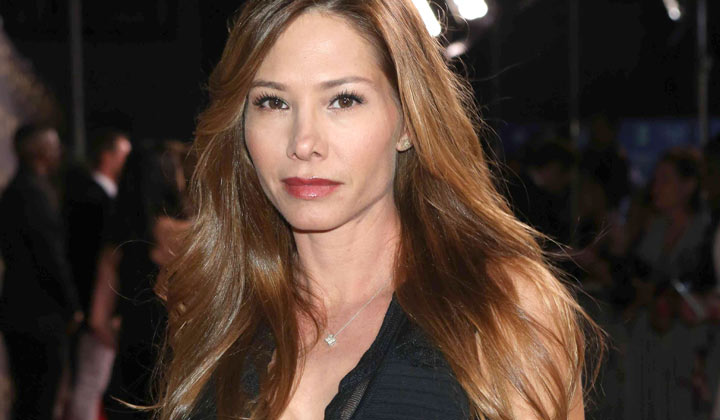 Born on October 29, 1977 [Subsequently revised in 2011]
Murdered on October 29, 2009 [On-screen on November 4, 2009]
Birthday marked on-screen on November 4, 2011
Mob boss
Greystone Manor (120 Shoreline Road, Port Charles, New York 16543)
Formerly the Zacchara Estate, Crimson Pointe, New York (a small town off of the Hudson River)
Milan, Italy
Married to Michael "Sonny" Corinthos [Dec 1, 2008]
None (assumed)
Anthony Zacchara (father)
Domenica (mother; deceased)
Rudy Zacchara (Uncle) [Previously known as Ray]
Johnny Zacchara (son; with Gino)
Unborn child (with Sonny; miscarried)
Gino Soleito (deceased)
Sonny Corinthos (one-night stand)
Shipped drugs for Ian Devlin [prior to her 2008 arrival]
Found a wounded Kate Howard and did nothing [Feb 18, 2008]
Tried to bribe Ric Lansing into giving her Lorenzo Alcazar's old waterfront properties [March 14, 2008]
Tried to get Jason Morgan to kill Trevor Lansing [Mar 27, 2008]
Ordered Ian Devlin and Jerry Jacks to kill Sonny Corinthos [Mar 28, 2009]
Covered up her involvement in Michael Corinthos' shooting [Apr 7, 2008 to Oct 29, 2009]
Plotted to kill Ian Devlin [Apr 17, 2008]
Perjury; lied on the witness stand saying her father never tried to kill her [May 1, 2008]
Threatened Kate Howard with bodily harm [May 5, 2008]
Planned to fabricate evidence that would have linked Ian Devlin to Anthony Zacchara [May 15, 2008]
Offered Maxie Jones $10,000 to seduce her brother Johnny and $20,000 so Lulu Spencer could witness it [Jun 9, 2008]
Almost smothered Jason Morgan with a pillow [Jun 23, 2008]
Disposed of Logan Hayes' corpse [Jul 9, 2008]
Evidence tampering; Removed evidence at Logan Hayes' murder scene [Jul 10, 2008]
Pulled a gun on Jason Morgan [Jul 14, 2008]
Perjury; lied on the witness stand saying that Logan Hayes' tried to rape her [Sep 12, 2008]
Adultery; slept with Ric Lansing while married to Sonny [Dec 5, 2008 to Feb 25, 2009]
Posed as Monica Quartermaine to get Michael's test results [Mar 13, 2009]
Drugged Ric Lansing [Mar 27, 2009]
Ordered a hit out on Jerry Jacks [Apr 23, 2009]
Ordered a hit out on Jason Morgan [Jun 18, 2009]
Tried to smother Dominic Pirelli with a pillow [Jun 24, 2009]
Ordered Jerry Jacks to go after Michael Corinthos III and Kristina Davis [Jul 30, 2009]
Blackmailed Olivia Falconeri into breaking up with Johnny [Oct 5, 2009]
Tried to blackmail Dominic Pirelli into having sex with her [Oct 9, 2009]
Planned to get pregnant with Dante/Dominic's child and pass it off as Sonny's [Oct 9, 2009; revealed Oct 13, 2009]
Took Carly Corinthos Jacks hostage at gunpoint [Oct 30, 2009]
Attempted to kidnap Josslyn Jacks [Nov 4, 2009]
Suffered deep laceration in side during an explosion of the Alcazar cannery [Mar 2008]
Claudia's mother Domenica died of a broken heart after emotionally abusive Anthony divorced her and took Claudia out of spite. Anthony then married a beautiful young woman named Maria. Claudia was a quiet and sullen child who had difficulty getting along with others. By all accounts, the only light in Claudia's life was her little brother Johnny, seven years her junior. After 16-yearl-old Claudia seduced Anthony's attorney Trevor Lansing, Anthony shipped her off to Milan, Italy to live with her uncle Ray (a.k.a. Rudy). Ray was also in the mob, laundering money, so she continued to be exposed to the seedier side of life.
Claudia quietly learned the tricks of the trade. When Trevor (secretly running the Zacchara empire) realized that he couldn't control Johnny he reached out to her with the hope that she would help him rein her younger brother in. Claudia was more than eager to return home but defying Trevor's expectations, she'd set her sights taking over the family empire, since her father was declared mentally unstable and institutionalized.
On the eve of her arrival in Port Charles in January of 2008, Claudia happened to find herself in a quiet little bar with Sonny Corinthos. Neither knew who the other was. Sonny was drowning his pain over Kate's rejection of his marriage proposal. Claudia was waiting to be picked up by her father's people. Deciding to pass the time in more interesting ways rather than drinking, Claudia picked Sonny up and they ended up in a motel room, having sex. They parted ways without exchanging names. But when Claudia figured out whom her mystery lover had been - "her chief rival for control over Port Charles" - she called a meeting between herself and the Five Families. Sonny made it clear that he wasn't about to hand over his territory to Claudia and so the lines between the two were drawn. Blurring the line though was the continuing attraction that Claudia felt for Sonny. Despite wanting control over Port Charles, she was eager to welcome Sonny back into her bed. Sonny wasn't quite as eager as he was still in love with Kate Howard.
Sonny left Claudia for dead after an explosion. But she survived. Sonny also kidnapped Johnny and held him captive, all the while taunting Claudia. Fed up with Sonny's behavior, she hired Jerry Jacks and Ian Devlin to kill Sonny. While Sonny was giving his son Michael a tour of his coffee warehouse, Ian shot at Sonny but missed. The bullet, however, ricocheted and struck Michael in the head. Michael was rushed to General Hospital but went into a coma. Soon thereafter, Jerry, to cover his tracks with regard to Michael's shooting, stabbed Claudia and kicked her lifeless body into the river.
Claudia washed up on the shore at Wyndemere and was discovered by Nikolas Cassadine, who nursed her back to health. While delirious, she blurted out that she'd hired Devlin to kill Sonny. Nikolas later demanded that she come clean or he'd tell Sonny's right-hand man Jason Morgan the truth. But Claudia knew that Nikolas had paid Devlin $10,000,000 for experimental drugs to treat his inoperable brain tumor and threatened to expose the truth if he breathed a word of her involvement in Michael's shooting.
Anthony appeared recover from his mental illness and was released from the institution. Retaking control of the Zacchara empire, he kicked Claudia out of the family business. But weeks later, he told her that if she killed Jason Morgan, he'd let her resume her activities. Claudia tried but failed.
After Lulu Spencer's ex-boyfriend Logan was killed, Johnny confessed - even though it was Lulu who had stabbed Logan in self-defense. Claudia helped cover up the crime by dumping Logan's body on the street, making it look like a hit-and-run. However, evidence surfaced that pointed to Johnny. Scott Baldwin, Logan's father, prosecuted the case against Johnny. He fabricated documents to make it appear that Logan was a cop to increase any possible sentence. Claudia perjured herself on the stand, testifying that Johnny had killed Logan to stop him from raping her. He was found not guilty.
After Kate was shot at their wedding, Sonny wanted his territory back from Jason, who had temporarily taken over the empire with Sonny's blessing. When Jason refused, Sonny began to work the Zaccharas. Claudia began a fling with Sonny's half-brother Ric Lansing but Ric began to fall for her. At this time, Anthony made a deal with Sonny: he'd allow Sonny to take control of the Zacchara empire if Sonny married Claudia. To get into her father's good graces and to help cover her involvement in Michael's shooting, she agreed to the union. Sonny and Claudia married in December, 2008 and moved into Sonny's home. Not long after the wedding, Claudia began to find DVDs carefully hidden around the mansion. Each DVD, placed in the home by presumed-dead Jerry Jacks, detailed her involvement in Michael's shooting. Claudia desperately tried to locate all of the DVDs before anyone else found one.
Claudia told Sonny about Anthony's role in the prior shooting of Kate Howard on the day she and Sonny were to have been married. Sonny was able to freeze Anthony's off-shore bank accounts, preventing Anthony from fleeing to Brazil. Furious at Claudia's betrayal, Anthony kidnapped her on February 25, 2009 and threatened to kill her unless Sonny brought him $20 million. Sonny arrived with the money to find that Claudia was tied to a bomb. With the aid of Jason, Sonny rescued Claudia in the nick of time. Sonny and Claudia finally made love.
During the time Michael was in a coma, Claudia regularly visited him. She would talk to him and apologize for her role in his shooting. After a year, Michael emerged from his coma after receiving an experimental drug regime. Claudia feared that Michael might remember her confession but he didn't seem to.
Ric and Jasper "Jax" Jacks each eventually learned that Claudia was responsible for Michael's shooting and Ric decided to blackmail her. In an attempt to further bond with Sonny in the hopes that he would not kill her if the truth were ever to surface, Claudia became pregnant. Ric suggested that he may be the baby's father, sending Sonny into a rage. He only allowed her to stay in the mansion until the baby's paternity was confirmed. Claudia convinced him to wait until later in the pregnancy when the procedure to determine paternity would be less risky to the baby.
Weeks later, the amniocentesis proved that the baby was Sonny's. Driving home to tell Sonny, Claudia was accidentally run off the road by Sonny's daughter Kristina Davis. Carly happened upon the wreck and rescued Claudia from the car, which was leaking gasoline. In the hospital, it was determined that Claudia had sustained a subdural hematoma which required immediate action. Dr. Robin Scorpio Drake suggested a drug protocol but her husband, Dr. Patrick Drake explained that surgery would be less risky to the baby. Claudia opted for surgery but suffered a miscarriage anyway.
Michael, who was driving at the time Claudia had been run off the road, feared he was responsible and confessed before he went on the run to Mexico with Kristina, who was still unaware that it was she who caused the accident. Claudia wanted revenge. Learning that Jerry Jacks was still alive Claudia contacted him and hired him to track down Michael and Kristina. Having escaped from Jerry's henchmen, Michael and Kristina were eventually found by Jason and Sam. When the truth came out, Claudia forgave Kristina because she reminded her of her younger self.
On September 8, 2009, General Hospital held a charity carnival in the parking lot. Claudia and Sonny attended with Michael and his half-brother Morgan, and Kristina and her half-sister Molly. Edward Quartermaine, who had been drugged by Mayor Floyd's wife Andrea in an attempt to kill him and keep her involvement in the death of the mayor's mistress a secret, lost control of his car, driving into the fair as Claudia shared a carnival ride with Molly and Kristina. Several people were killed or injured. Claudia desperately searched for Kristina in the wreckage but it was Michael who found her unharmed under the rubble.
Claudia and Sonny flew to Puerto Rico on a business trip. She impressed Sonny by handling the discussion with rival mob bosses with finesse. On the way home, their plane experienced engine trouble.
Jason had long suspected Claudia's involvement in Michael's shooting and worked with Sam McCall to find proof. With growing appreciation for his wife, Sonny decides to throw her a lavish birthday party at the Metro Court Hotel. In the days before the party, Sam and Jason got the proof they needed. Jason wasn't sure if he should share the information with Sonny right away but told him the truth right before the party.
During the celebration, Sonny stood up and made a toast to Claudia, bitterly accusing her of hiring the man who shot Michael. Knowing that she would be killed, Claudia grabbed a very pregnant Carly and held her at gunpoint. They left in a stolen rental car as Claudia began to become psychologically unstable. Carly, now in labor, grabbed the steering wheel, intentionally crashing the vehicle. She emerged from the vehicle uninjured and discovered that Claudia was unconscious. Carly made her way to an empty cabin and started a fire in the fireplace. Claudia soon showed up and helped Carly give birth to baby Josslyn. But Claudia had lost her grip on reality. She believed the baby to be hers and made plans to leave with her in a basket.
Carly, weakened from giving birth, was unable to stop Claudia. But Michael, who had discovered the crashed car, came across the cabin. Hearing his mother pleading with Claudia to give Josslyn back to her, he burst through the door to witness Claudia holding the baby. Reacting violently, he grabbed the first thing he saw, an axe handle, and swung it at Claudia, hitting her in the head. She died instantly.
Jason and Sam soon arrived and made plans to cover up Michael's involvement in Claudia's death. Sonny got to the cabin and took Michael home. Sam took Carly and Josslyn to the hospital while Jason called Max and Milo. Max, Milo, and Jason buried Claudia's body and burned the cabin to the ground.
Serial killer cum artiste Franco was at the cabin at the time and took incriminating photos that he later sent to Jason as part of the twisted cat-and-mouse game he played. Sonny was prosecuted for Claudia's death but Michael eventually confessed and was given the particularly harsh sentence of two-to-five years in Pentonville Prison.
Because Sonny treated Claudia so poorly when she was alive, Johnny has vowed to destroy Sonny's empire to avenge her.

Post a Comment

Share on Facebook

Tweet this

Submit Feedback