Former General Hospital star Tamara Braun (ex-Carly Corinthos) is returning to daytime television in a new "mysterious" role on NBC's Days of our Lives. The actress left daytime television in 2005 to try her hand at other projects.
"Effective immediately, Tamara is joining the cast of Days of our Lives," a representative of Braun's fan club announced. "[She] could not be happier.
Braun joined the cast of ABC's General Hospital in May 2001. The newcomer had the difficult task to taking over the role of an established character, a character whose portrayor was wildly popular with fans. Braun was eventually able to win over viewers -- and critics. In 2004, Braun received a Daytime Emmy nomination in the Outstanding Lead Actress field.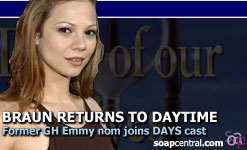 Later this month, Braun will appear in the motion picture Little Chenier: A Cajun Story. Little Chenier is the story of a young man who lives a simple life on a houseboat in the Louisiana bayou with his mentally handicapped brother until one is accused of a crime in the small town. A portion of the profits from ticket sales will benefit Rita Remembered, a nonprofit established to aid victims of Hurricane Rita.
"Tamara is coming to DAYS as a mysterious woman from Steve's past," a DAYS spokesperson tells Soap Central. "We will see this mystery woman on February 8th."
Viewers quickly speculated that Braun's "mystery woman" would turn out to be Sarah Horton, a character not seen in Salem since 1991. That turns out not to be the case; Braun will play a newly-created character, "Ava."