Emmy-winning actor Jeff Branson (ex-Jonathan Lavery, All My Children; ex-Shayne Lewis, Guiding Light) will join the cast of The Young and the Restless next month.
Branson joined the cast of All My Children in 2004, playing the troubled Jonathan Lavery. He remained with the show for four years, and picked up an Outstanding Supporting Actor nomination in 2005. In December 2008, Branson signed on to appear as Shayne Lewis on Guiding Light. He remained with the series through its finale in September 2009. Last year, Branson earned a Daytime Emmy win in the Outstanding Supporting Actor category.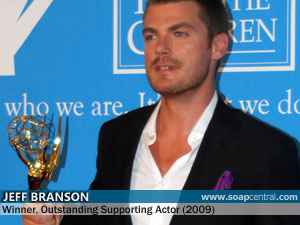 Upon winning his Daytime Emmy in August 2009, Branson declined to comment on his future job prospects. After admitting to being a little superstitious, Branson said only that he'd be moving from New York to Los Angeles, and refused to rule out working on a soap in the future.
On The Young and the Restless, Branson will be reunited with several familiar faces from his previous stops in daytime. Branson worked previously with Eden Riegel (Heather Stevens), Stacy Haiduk (Patty Williams/Emily Peterson), Billy J. Miller (Billy Abbott), and Elizabeth Hendrickson (Chloe Mitchell) on All My Children, where Hendrickson played Branson's former on-screen love interest. During his time on Guiding Light, Branson worked with John Driscoll (Chance Chancellor) and Marcy Rylan (Abby Carlton).
Exactly what role Branson will be playing on The Young and the Restless has not yet been revealed. It is known, however, that the role is a contract role. Branson first reports to the Y&R set in late May.
"Jeff will be playing in what I believe will be a real breakout role for him over the summer," Y&R's co-head writer Maria Arena Bell told TVGuide Canada's Nelson Branco. "It's a small-term story arc. I want to keep the story specifics under wraps because [it's a doozy]."