CBS daytime recently arranged to incorporate Los Angeles-based singer/songwriter Beth Hart's new single, "Leave The Light On," into its on-air publicity campaign for As The World Turns, The Bold and the Beautiful, Guiding Light and The Young and the Restless.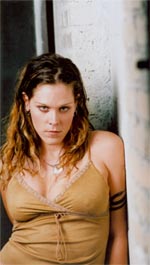 With lyrics like "I'm all messed up inside/I cut myself to feel alive," Hart's songs echo the most vivid soap operas - but her music isn't merely a story; it's an autobiography of a life filled with deep addictions and pain.
Though her music and raspy voice sound like that of a modern-day Janis Joplin, Hart was trained in classical piano, cello and opera. However, by age 15 she was exploring blues and eventually rock 'n' roll.
"I realized that the blues gave you the chance to feel your pain," Hart said in an interview published in The Dallas Morning News. "That's when I really clicked with it."
Throughout her new album, also titled Leave The Light On, Hart explores a level of raw emotion seldom seen in literature, painting or film, let alone popular music. In addition to providing the vocals, Hart wrote or co-wrote each of the album's 11 tracks, too. Tapping her childhood training as a musician, she also played piano on nearly every cut.
"I'm not afraid of the feelings I express because all of them are totally real," Hart explained to The Dallas Morning News. "I know the difficulties of the experiences I sing about. I've been through every one of them."
Hart's latest release on Koch Records is her first for the label. It follows two previous recordings issued on Atlantic in 1996 and 1999 - Immortal and Screamin' For My Supper. The latter album contained the hit single "L.A. Song."
Leave The Light On is now available online and in music stores. Her official web site (www.bethhart.com) also allows visitors to preview selected tracks from the album.
As a special bonus, the firm handling publicity and public relations for Beth Hart, Wolfson Public Relations (www.wolfsonpr.net), has made available to Soap Opera Central visitors a limited number of her CDs. If you are interested in being eligible for a free CD, please send an email to bethhart@soapcentral.com for more details.