Port Charles' ninth book - "Naked Eyes" - begins on October 1st.
This time around, the focus of "Naked Eyes" won't be on a vampire or a group of angels or even a creature that inhabits other people's bodies. No, this time the menace will come in the form of every mother's worst nightmare: a musical group.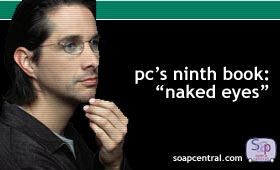 The group, called The Stephen Clay Experience, arrives in Port Charles hot on the heels of their latest hit, "Crooked Avenue." The band remains a bit of a mystery and it is said that no one has ever seen the lead singer of the group in person - but when the residents of Port Charles see him there are bound to be some surprises.
Playing the part of Stephen Clay, the group's leader, is Michael Easton (ex-Caleb and Michael Morley).
Also joining the cast for the newest book is Emmy winner Ian Buchanan (ex-James Warwick, The Bold and the Beautiful; ex Duke Lavery, General Hospital). A spokesperson declined to comment on how Buchanan will tie into the show's new story arc, however, an insider tells Soap Opera Central that Buchanan's character will also have ties to the band.
For those of you playing the home version of Name That Port Charles Tune, this will mark the first time since Port Charles' very first book, "Fate," that the show is not using a "famous" song as the book's title. Instead, PC music supervisor Kelly Brown penned the music and lyrics for "Naked Eyes."
"Since the story revolves around a fictitious rock and roll band, we've produced and mastered [the songs] ourselves," said PC's executive producer, Julie Hanan Carruthers.
Upon the conclusion of "Naked Eyes," Port Charles' tenth and still untitled book will receive a special one-hour kickoff in One Life to Live's 2pm timeslot. (Click here for more information).
---