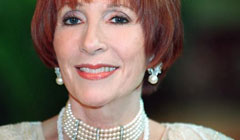 Patricia Elliott
When it comes to delineating a Sondheim lyric or delivering a Shakespearean passage, Patricia Elliott is a whiz at enthralling Broadway audiences. And since 1988, the Tony Award-winning actress has been captivating One Life to Live viewers with her high-spirited portrayal of the good-hearted, generous Renee Divine Buchanan, a former madam turned society matron, and ex-wife of feisty oil baron Asa Buchanan. She has received two Soap Opera Digest nominations for her performance as the much-beloved Renee.
Challenging roles are nothing new to Ms. Elliott, who has been drawn to the theater all her life. As a child in Denver, Colorado, she was, by her own admission, a "constant show-off." After a brief stint working in a public relations office at Harvard, she headed for England, where she had been accepted at the London Academy of Music and Dramatic Arts.
In 1973, Ms. Elliott made her Broadway debut as the Countess Charlotte in the critically acclaimed Stephen Sondheim musical,
A Little Night Music
. This appearance (her first musical and her first Broadway show) won her New York's triple crown -- the Tony Award, a Theater World Award and a Drama Desk Award. Then came an equally dazzling performance in the Pulitzer Prize-winning play,
The Shadow Box
, which earned her a second Tony nomination. Her other Broadway ventures include
The Elephant Man
, opposite David Bowie, and
A Month of Sundays
, opposite Jason Robards.
In addition to those triumphs, the actress has headlined in extensive off-Broadway and repertory productions, tackling everything from Greek tragedy to French farce. She played Dorine in the Circle in the Square revival of
Tartuffe
(and won her second Drama Desk nomination); starred in
Bunker Reveries
and
Misalliance
at New York's Roundabout Theater, and sparkled as Beatrice in
Much Ado About Nothing
at the American Shakespeare Festival. She won a Los Angeles Dramalogue Award for her performance in Noel Coward's
Hay Fever
at the Ahamson Theatre. She most recently starred in
Durang! Durang!
, Christopher Durang's satirical evening at the Manhattan Theatre Club.
She has also guest starred on numerous primetime television series, including
Kate & Allie
,
Spenser: For Hire
,
St. Elsewhere
and
Hill Street Blues
. Her other television appearances include starring roles in
Sometimes I Don't Like My Mother
,
The Ladies
,
The Cartier Heist
,
The Adams Chronicles
and
Man Without a Country
. In 1984, she was a regular on
Empire
, a situation comedy series satirizing corporate America.
Ms. Elliott has made three feature films:
Somebody Killed Her Husband
,
Natural Enemies
, and
Morning, Winter and Night
.
One of her great loves is her work with Plays for Living, an organization which produces inspirational plays performed at schools, shelters, prisons, churches and corporations. The dramatic pieces focus on various issues including alcoholism, drug abuse, homelessness, AIDS, and racial prejudice, and are designed to encourage audience discussion and participation. Ms. Elliott is on the organization's board along with Julie Harris, Philip Bosco, Frances Sternhagen and Tony Randall, and she is "thrilled by the profound impact and the awakened awareness the organization and its plays bring to the audience." Other performers who have been involved include Helen Hayes, Katharine Hepburn, Alan Alda and Jean Stapleton. Ms. Elliott is chairman for the Theatre World Awards Fund. Her committee includes, among others, Alan Alda, Alec Baldwin, Carol Channing, Bernadette Peters, and One Life to Live's Thom Christopher and director Lonny Price.
A resident of Manhattan, Ms. Elliott claims she has little time for hobbies, unless, of course, one counts "bike-riding, race-walking, meditation, enjoying elegant dinner parties with friends, and swimming with dolphins." Kate & Allie
January 4, 1988
One Life to Live
Renee Divine Buchanan
1987 to
August 24, 2011
The Ladies
Darlene
1987
A Special Friendship
Mrs. Davis
1987
Spenser: For Hire"
Vera Canning
January 17, 1987
Spenser: For Hire
October 25, 1985
Hill Street Blues
January 24, 1985
The 13 Ghosts of Scooby-Doo
voice
1985
Empire
Renee
1984
St. Elsewhere
Ms. Colman
March 28, 1984
Summer Solstice
Emily
1981
Tartuffe
Dorine
1978
The Quinns
Rita Quinn O'Neill
1977
Kojak
Christina
January 4, 1977
The Man Without a Country
Mrs. Graff
1973 101 Ways (The Things a Girl Will Do to Keep Her Volvo)
Ruth
2000
Richie Rich's Christmas Wish
Hazel
1998
Casper: A Spirited Beginning
Mortified Teacher
1997
Criminal Hearts
Good Samaritan
1995
Natural Enemies
Woman on train
1979
Somebody Killed Her Husband
Helene Birch
1978
Interval
Martha
1977
The Green Slime
Nurse
1968 Tony Award: Winner, Best Supporting or Featured Actress (Musical) (1973; for
A Little Night Music
)
Tony Award: Nomination, Best Actress in a Featured Role (Play) (1977; for
The Shadow Box
)
Soap Opera Digest Awards: Nomination, Outstanding Supporting Actress (1992)
Soap Opera Digest Awards: Nomination, Outstanding Supporting Actress (1993) PLACE OF BIRTH: Gunnison, Colorado
DATE OF BIRTH: July 21, 1942
HAIR: Brown
EYES: Brown