Soap Opera Weekly is reporting that Stephen Markle (ex-Mel Hayes) will return to One Life to Live in January. The magazine did not state whether or not Mel would be appearing again as a ghostly apparition or if he might somehow turn up alive.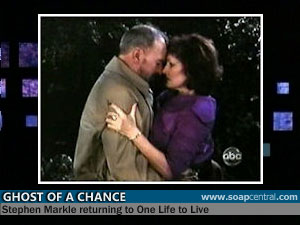 Dorian and Mel fell in love at first sight -- or as close to it as possible. Their relationship had a series of highs and lows until Dorian was accidentally shot and nearly died. The near-death experience made Dorian reevaluate her life, and she promptly proposed to Mel. Mel accepted, but their happiness was short-lived. About a year later, Mel was killed in a plane crash. His body was never recovered.
Since that time, Mel has appeared to Dorian as a ghostly visitor from beyond. Most recently, in July 2008, Mel appeared when Dorian was wrestling with whether or not to try to save Viki's life.
Markle, meanwhile, has kept busy by making a series of guest-starring appearances in primetime since leaving his full-time gig on One Life to Live in 1999. Among the shows he's appeared on are Alias, JAG, House, and First Monday.
Photo: ABC