The platinum-selling rock group, the All-American Rejects, will be appearing on One Life to Live later this year.
"The cast and I, being fans of the All-American Rejects' incredible talent, look forward to their performance on One Life to Live," said Executive Producer Frank Valentini. "Their appearance helps us to continue our tradition of incorporating music as a pivotal part of our storytelling while reaching a new audience."
Indeed, the All-American Rejects join a long list of accomplished musical acts who have appeared on One Life to Live. Just this year alone, Llanview has been visited by Rachael Yamagata, the Pussycat Dolls, Frankie Negron, and, later this month, Lionel Richie.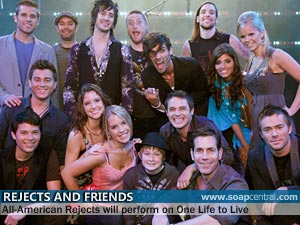 The appearance on One Life to Live comes as part of the group's ongoing promotion for their third album, When the World Comes Down, which was released last year. On September 15, the band members rang the opening bell of the New York Stock Exchange. They were also featured performers on this year's MTV Video Music Awards.
In 2001, front man Tyson Ritter and guitarist Nick Wheeler founded the group and, soon after, drummer Chris Gaylor and guitarist Mike Kennerty completed the quartet. In October 2002, the group released their full-length self-titled debut. Three years later, the group released the double-platinum selling album, Move Along. The album featured the hit single "It Ends Tonight," which was featured on the primetime drama Grey's Anatomy.
The group will perform two of their latest hits, "Mona Lisa" and "I Wanna" during their two-day appearance on One Life to Live. The episodes will air on Friday, December 4, and Monday, December 7.
---

RELATED ARTICLE
Find out how to purchase the All-American Reject's music.
---
2018 DAYTIME EMMYS: SOAP CENTRAL'S COMPREHENSIVE COVERAGE