Crystal Hunt
(ex-
Lizzie Spaulding
, Guiding Light) joins the cast of One Life to Live next month in the newly created role of "Stacy."
Though Stacy's last name has not yet been revealed -- and that often means a secret connection to a character already on the show's canvas -- bits and pieces about Stacy's non-familial ties are slowly coming together. Stacy is the ex-girlfriend of another newly minted character, Schuyler Joplin. Stacy reportedly also shares some sort of connection to Gigi and Rex.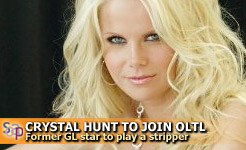 As for some of the other details of Stacy's life, prepare to hold on to your hats. Stacy is a stripper with a takes-no-nonsense kind of attitude. The role will be a far cry from that of spoiled rich kid Lizzie Spaulding, the Guiding Light role Hunt played from 2003 to 2006. Hunt started off as a recurring character on the long-running CBS soap, but show executives were so pleased with her work, that they offered the actress a long-term contract. During her tenure with Guiding Light, Hunt received an Outstanding Younger Actress nomination at the 2005 Daytime Emmys.
Since leaving Guiding Light, Hunt has kept busy with other projects. She's wrapped work on two films, Sydney White and From Brooklyn to Manhattan.
Hunt's first airdate is February 5.