Kathy Brier (Marcie Walsh) will reportedly exit the show when her contract expires. The actress has expressed an interest in returning to her roots -- the stage. While the Emmy nominated Brier is comfortable on the small screen, the bulk of her acting portfolio is comprised of stage work. Brier hit the Great White Way in 2002 and 2003 when she appeared as Tracy Turnblad in the Broadway production of Hairspray. Prior to that Brier served as an understudy for the same role. The actress has numerous off-Broadway credits in addition to having done regional theater.
During her tenure with One Life to Live, Brier has had numerous opportunities to showcase her vocal talent. Brier has also released a CD entitled "Heartbreaker," available via her official web site.
In 2003, Brier unwittingly became the poster child for women everywhere who do not fit into the so-called typical mold of what a television star should look like. Then-ABC Daytime President, Brian Frons, issued a statement in which he seemed to call into question the actress' physical beauty.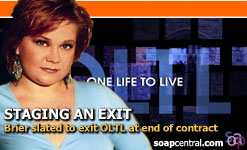 "Kathy Brier, a marvelous actress, […] has an incredible voice and is not beautiful, is overweight and the audience has just embraced her, because she is not perfect like everybody else," Frons stated.
One Life to Live execs are apparently already prepping the show for a post-Brier timeframe. The show is ready to pair Marcie's current love interest, Michael McBain (played by Nathaniel Marston) with the soon-to-be-seen Gigi, a role said to have been created for actress Farah Fath. Fath debuts later this month.
Brier joined One Life to Live in October 2002. A final airdate has not yet been announced, as there has been no formal announcement that Brier is exiting. The role of Marcie is not expected to be recast.