David Fumero (Cristian Vega) has signed on to return to One Life to Live.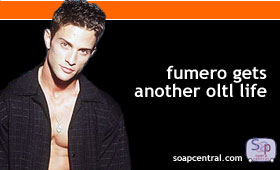 Fumero joined the cast of One Life to Live in June 1998 and, despite frequent mention of wanting to exit the show, remained with the ABC soap through October 2003. A little over a year later, in November 2004, Fumero agreed to return to the show for a short-term run. Dena Higley, the show's then-new head writer scripted a Manchurian Candidate-esque four-month story arc to accommodate Fumero's return. When last seen on-screen in February 2005, Cristian was carted off to jail for killing Tico Santi.
This time around Fumero's run is expected to last much longer than a couple of months. Fumero is on contract with the show and will figure into the show's existing triangle of Natalie, John and Evangeline.
Fumero will first air on September 1st.