The announcement
that three-time Emmy winner
Hogan Sheffer
was no longer the head writer of CBS's
As the World Turns
took many by surprise. The surprise soon gave way to speculation about the scribe's future. And as expected, rival networks are said to already be actively courting the scribe.
The most popular rumor hints that ABC wants to hire Sheffer to take over head writing duties for One Life to Live, which, ironically, airs in the same timeslot as As the World Turns. If the reports are true, Sheffer would assume the helm from Dena Higley, who was
named head writer in October 2004
. It would also mark the second time that Higley was promoted to head writer only to have the position taken away from relatively quickly.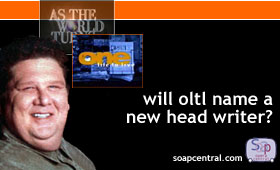 Higley arrived at One Life to Live with admittedly limited experience as a head writer. She
served temporarily as head writer
of
Days of our Lives
from December 2002 through the Spring of 2003. Higley, who had served on the writing staff of the NBC soap for some 19 years, was said to have offered show execs an outline that would bring the show back on track. Shortly after her hiring, DAYS brought back former head writer James E. Reilly and demoted Higley.
If One Life to Live were to hire Sheffer, it would, perhaps, unwittingly make Higley appear as a transitional head writer - someone brought in to help right a struggling soap and then asked to step aside once that program found someone to take over on a more permanent basis.
Indeed, Higley is being given credit for restoring some sort of order to One Life to Live. Dawn Renta, who co-writes
Soap Opera Central's Two Scoops commentary
for One Life to Live, notes that Higley has made progress since taking over in 2004.
"Higley had a lot of work to do when she came to One Life to Live because the show had lost a lot of its appeal," Renta remarks. "While some of the storylines have dragged on for too long, and there have been some questionable changes in certain characters, Dena Higley has initiated a much needed, long awaited rejuvenation of One Life to Live. There is still a long way to go, but I have seen glimpses of the great show I once knew and hope to see more as Higley gets acquainted with the show and its elaborate history."
This is not the first time that Sheffer has been rumored to be headed to an ABC soap.
In 2002
, while Sheffer was still very much gainfully employed at As the World Turns, rumors circulated that the writer was being wooed for the head writing position at
All My Children
.
ABC declined to comment on the rumors of Sheffer's possible addition to the One Life to Live writing team