There have been some changes to the head writing team of One Life to Live. The changes do not, however, involve an addition or removal of a writer. Instead, there has been a change in job title for one of the show's co-head writers.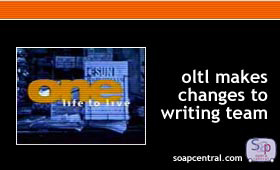 Michael Malone is now One Life to Live's sole head writer. Josh Griffith, who had shared head writing duties with Malone, is now the show's associate head writer and consultant.
An ABC spokesperson explains that Malone and Griffith worked together to restructure their job responsibilities in order to allow Griffith to remain in Los Angeles with his family. One Life to Live is filmed in New York City.
The Emmy winning team of Malone and Griffith returned to One Life to Live in November 2002 as part of a series of changes instituted by then-new ABC Daytime president Brian Frons. The pair had previously helmed the writing team of One Life to Live from 1991 through 1996.
In related news, Lorraine Broderick, who had served as co-head writer prior to Malone and Griffith's return and continued on as a member of the transitional writing team, is no longer with the show.
And also in writing-related news, John Loprieno (ex-Cord Roberts) has helped pen a few episodes of One Life to Live. His episodes will air on May 31 and June 7.