On Sunday, April 2nd, a fundraiser was held at the Four Points Sheraton Hotel in Cherry Hill, NJ to benefit The Gabriel Project, which brings children from third-world countries to the United States for life-saving surgery. To support this cause, OLTL's Jason-Shane Scott (Will) and Don Jeffcoat (Joey), AMC's Finola Hughes (Alex), Esta TerBlanche (Gillian) and Cameron Mathison (Ryan) and DAYS Matt Cedeno (Brandon Walker) attended the event.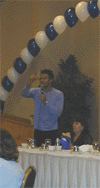 The afternoon began with the introduction of the actors and the naming of the fans that had won raffles to eat lunch with their favorite star. These lucky winners joined the stars on the dais. Throughout lunch, the actors auctioned off items they had brought with them, including OLTL and AMC mugs and T-shirts and signed scripts from both the shows. One of the more unusual items auctioned off was the actual copy of Ryan and Gillian's divorce papers which Cameron and Esta had signed on air. In addition, studio tours of OLTL and DAYS were also offered, each getting winning bids in the range of $500.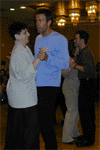 Next, a winner was chosen to perform a scene with the actor/actress of their choice. The fan that won chose to perform the scene with AMC's Cameron Mathison. Then winners were chosen in the raffles to dance with the star of their choice.
Finally, the afternoon ended with a chance for the fans to meet all the stars, get their autographs and pose for pictures with them. There was plenty of time for everyone to meet each actor and speak with them for a moment. The event was a big success, giving fans a chance to meet their favorite soap stars and at the same time raising money for a very worthy cause.