She's known for her syndicated column and numerous television appearances. You can even find her work in the Smithsonian. Now, Lynda Hirsch brings her daytime experiences to the Internet -- exclusively on soapcentral.com. And look out because Lynda's got a lot to say when she's Lathered Up.
I am the girl who can remember what everyone wore in my kindergarten picture. Yes, they had cameras back then. Anything can set my almost photographic memory bank whirring. The news that As the World Turns was being cancelled set my brain clicking away. My life with ATWT is like a kaleidoscope with so many beautiful patterns. Some in black and white, which is how ATWT first aired in 1956, then in glorious living color, which it switched to in 1967.
The show was Irna Phillips' great experiment. She wanted to expand her already running Guiding Light from 15 minutes to 30. When CBS said no, she created ATWT. For the first year, ATWT struggled in the ratings. By the show's second year, it became a hit. Until 1978, ATWT was the number one daytime show. Ten million viewers watched daily. I was one of them.
I was so hooked on ATWT at one time that if I was away from home I would go to the television area of my local department store, pull over a chair from the furniture department, and watch the show. Gosh, I wish I still had that kind of nerve.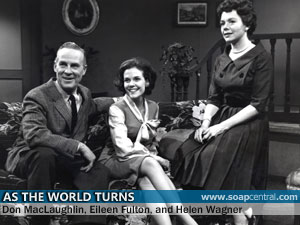 One of my earliest ATWT memories was Nancy talking about the death of her oldest daughter, Susan, who was a champion swimmer. We never saw Susan. Susan had an impact on the life of her little sister, Penny. Penny felt she could never measure up to her late, but never forgotten, big sister. Penny was a troubled teenager. She met the equally troubled Jeff Baker. Jeff was a rich kid. In those soap days, rich was equal to no good. Mark Rydell, who played the dreamy Jeff, was the first soap star to create a public ruckus. After a highly popular six-year run at ATWT, Rydell decided he wanted to leave the show. Irna had written a long send-off. Jeff was to die after months of suffering from a terminal blood ailment.
The then ultra-popular
Life Magazine
learned of Rydell's plans to leave. The weekly magazine did a feature on his exit plans. Rydell told the magazine that his character was going to perish in six months. The actor had broken Irna's number one rule: never give out a future plot point. A week after the article appeared, Jeff Baker died in a car crash. Rydell had the last professional laugh. He went on to direct such movie blockbusters as
The Rose
(1979) and
On Golden Pond
(1981, for which he received an Oscar nomination as best director). Rydell was also director of the TV movie,
James Dean
(2001), which earned actor James Franco a Golden Globe award and a recent guest gig on General Hospital. Penny's next husband, Neil Wade, died after being struck by a car.
The deaths of Penny's two loves should have made her keep her men away from cars. So what does Penny do? She marries a race car driver, Anton. Penny and Anton live in England. Penny never even sends a postcard to her mom, Nancy.
There may be a reason. The lovely Nancy we see today was a very controlling, bossy parent and spouse. The first time we interviewed the amazing Helen Wagner, who has played Nancy from day one, I asked her what she would have done if she had a mother-in-law like Nancy. In a very elegant voice she responded, "Oh my dear, I did." Wagner's real life husband, producer Robert Wiley, died last year.
Some of the scenes I remember most vividly were the ones between a very young Tom Hughes and his beloved Grandpa Pa Hughes. Grandpa was a pipe-smoking sage who gave life lessons while working in his basement wood shop. Tom was a troubled lad. Why not? He was the product of the equally troubled marriage of Lisa and Bob Hughes.
When Bob went off to college, he met scheming Lisa Miller. Nancy almost had a conniption fit when Bob had to come home from college because he had mononucleosis, at the time known as the kissing disease. She had a full fit when she met Lisa, who was pregnant. Like Cher, Lisa only needed to be referred to by one name. The mention of that name Lisa could be translated into "here comes trouble."
Another ATWT scene I can not get out of my mind was between Lisa and her pre-teenage son Tom. At the time Tom was played by Richard Thomas. Yes John Boy Walton. Tom was acting too old for his age. Lisa told Tom, "You may look and act older, but you are still a little boy." Soon after that, Tom was aged seven years. Yes the first reported incident of SORAS.
ATWT has had many firsts. In 1988, ATWT introduced daytime's first gay character. He was a fashion designer for Barbara. At the time, Lisa was still at her height of evil. Prejudice was shown through that character's eyes.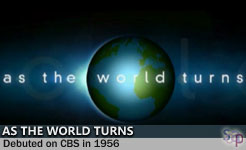 It is the first and hopefully last soap to have an actor lose his hairpiece on live television. Dean Santoro played eternal good guy Dr. Paul Stewart. As a young man, Santoro had a ruptured appendix, which led to peritonitis. The illness caused him to lose much of his luxurious hair. Paul Stuart had to look like Prince Valiant. To achieve the look, he wore a toupee. In a live scene, Paul was to take a punch to the jaw. His fellow actor was to do a fake punch. Take hefty aim, miss the target, and hit the air. Sadly the fist connected to the jaw, Santoro went reeling, and so did the wig. When the scene was over the other actor apologized, handed the hairpiece to Santoro, and said, "I think this is yours."
I know all the gory details because Dean Santoro was the first soap opera actor I ever interviewed. I have interviewed a gazillion since, but I will never forget Dean's kindness and openness. He also revealed that after the show, all he wanted to do was go home and forget the day happened. Unfortunately for Dean, Walter Cronkite saw the incident and mentioned it on his number-one rated newscast. Sadly, the actor was also the first person I knew to succumb to AIDS.
It was the first soap to have crossovers. Writers from Another World, also produced by P&G, had lawyers come to Oakdale to help in several cases. It was the first to spin off a nighttime show. Our Private World featured Lisa, who had left Oakdale for life in the big city of Chicago.
For me, it is the first soap opera I loved, and in a sense, it helped spawn my career. Sadly, it is the first soap to be canceled in 2010. With any luck and what appears to be some ratings spikes for other soaps, it will be the last for the year. And for years to come.