GL Recaps: The week of August 11, 1997 on Guiding Light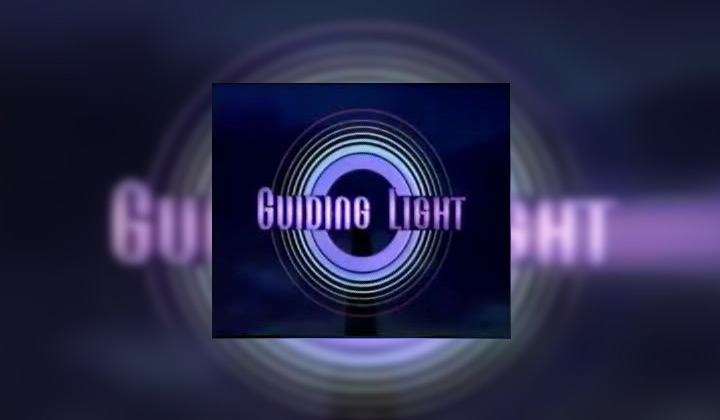 Monday, August 11, 1997
by Jeannae Dickerson
Matt woke up from a dream about a burning car and asked Vanessa how she could let him think she was dead. He was stunned that she didn't trust him enough to be there for her. She said she had done it to spare her family pain. He said she hadn't saved him from pain. "I was sick; I wasn't thinking straight," she said. Matt said he took his vows seriously -- in sickness and in health. He said he could have made her illness less horrible.
Vanessa said that the drugs had stopped working and the doctors had written her off. Then she had started getting better; she thought maybe she had been trying to get back to Matt. She wanted him to forgive her, but he said he wished he could. He told her that he loved her but it would take some time for him to forget about the past. "Tell me you will never leave me again," he said. She promised to never leave him.
Harley went out on the balcony of the club, thinking about her "experience" with Phillip. He joined her and asked her if she needed a breather from the crowd or from him. She went back in and told him to leave her alone.
After taking Marcus to the club on his motorcycle, Jesse watched the end of Dahlia's singing performance with Marcus. Jesse thought about Rick's conversation with him concerning Michelle's college needs, then went to Rick and explained why he was there. Michelle told him she had been hoping he would stop by. He left, and she blamed Rick and told him she hated him.
Later Jesse got back to his place. Michelle walked in. He said he hadn't left the club because of Rick. He had left because he had wanted to, and he didn't want Michelle there. He told her he didn't want their "relationship." He asked her to leave, which she did.
Mr. Jacobs told Sugar that he wanted to close a deal with Dahlia. "My pocketbook is open," he said. Marcus told Dahlia she had been great. While Marcus was getting ready to perform, Sugar introduced Dahlia to the record producers. Mr. Jacobs told her that she had lit up the stage when she sang. Marcus apologized to the crowd for being late at his concert and then played a song that he had written for Dahlia. Mr. Jacobs met Griffin who said it was his son who had just played. Mr. Jacobs took Dahlia's mother aside and told her that he could see Dahlia being right up there among Whitney, Celine, and Mariah.
The three record producers went off to talk. Then they talked with Sugar, Marcus, and Dahlia. Sugar suggested that they all go party, but Marcus said he wanted to celebrate with Dahlia alone. In their hotel room, Dahlia seemed very nervous, and he said they didn't have to do anything, but she said she wanted him to make love to her. They made love, with him playing the sax and her singing in the background.
Dinah talked to Michael about Vanessa's illness. He said he thought she needed more therapy. He said the best person she could talk to about it was her mother. Later, Hart asked Dinah what she thought about having the wedding in October. She liked the idea. Still later, Dinah asked Michael if she could stop by the hospital the next day and talk with him.
Rick and Phillip talked about Michelle. Abby said that whatever was going to happen about the situation would happen no matter what he did.
Mr. Jacobs told Sugar to forget Marcus and sign Dahlia.
Tuesday, August 12, 1997
by Sarai
Alan and Annie woke up after their first passionate night together. Annie tried to pass it off as a one-night stand, but Alan convinced her that she was all he had ever wanted and they were a great team. He also commended her for telling Cassie that the only way for her to gain custody of Tammy was to help them with their scheme. Alan also mentioned that Lewis Oil stock was going down, which was in his favor as he planned his corporate takeover. Annie couldn't wait for Cassie to ruin Josh and Reva's relationship, and wanted to be the one to tell Reva that the home wrecker was Reva's long-lost sister. Alan even had some pictures that had been taken during one of Cassie's strip routines.
Cassie showed up at the playgound where Tammy was playing and said that she needed to go on a trip, but she would return for Tammy. Tammy's foster mother walked out and found Cassie; she warned Cassie again to stay away from Tammy. Alan and Annie were watching Cassie's every move from an alley.
Harley burst into Josh and Reva's bedroom, along with Jenna, to tell them that she had some new information on Reva's missing sister. Cassie had been sold as an infant, as Annie had originally discovered, but it was possible that she still lived in Chicago. Jenna later scolded Harley for intruding on Josh and Reva, and accused her of being jealous. She also encouraged Harley to pursue a relationship with Phillip. Harley admitted that she was hesitant about getting involved with Phillip so soon after her separation with Mallet, and didn't want to be emotionally hurt again.
Rick advised Phillip to keep his distance, since Harley obviously ran from him every time they encountered each other. Harley ended up calling Phillip for a dinner date, which he politely refused, saying that they needed space.
Michelle turned in her candy-striping uniform at Cedars Hospital, and told Lillian that she could not work around Rick. She got even angrier and outwardly blamed Lilliam for her mother's death. Then, an ambulance pulled up with a gunshot victim from Jesse's side of town. Michelle begged Rick to find out who had been wheeled out of the ambulance, as she was sure it was Jesse.
Wednesday, August 13, 1997
by Sarai
Today's recap is unavailable. We apologize for the inconvenience.
Thursday, August 14, 1997
by Angela Vogel
Sugar offered Dahlia -- but not Marcus -- a singing contract with Sugar Hill Records. Dahlia agreed, but only if Sugar agreed to also sign Marcus and promise not to tell him about their agreement. In a staged meeting, Sugar offered Marcus a record deal, and Marcus -- not knowing his girlfriend had set it up for him -- told Sugar that he'd accept, but only if Dahlia got a contract too. Sugar pretended that the idea had never occurred to him and agreed, extending a two-year contract to the couple as a performing duo. In a private moment between the men, Marcus made it clear that he didn't appreciate Sugar having any more than a musical interest in Dahlia. Sugar denied thinking about anything other than business.
Amanda was outraged to learn that Annie had ordered a private telephone installation at the Spaulding mansion. Roger told Amanda that Alan had been buying up huge chunks of Lewis Oil stock under a dummy corporation, with Annie Dutton as CEO. Amanda snooped in Annie's room and found the date book for Annie's court-appointed therapy. She and Roger schemed to doctor the dates and cause Annie some trouble. Amanda went as far as to call Annie's doctor and, posing as Annie, schedule an afternoon appointment that she knew Annie wouldn't know about. Over the phone, Annie's doctor reminded "Annie" that if she missed the appointment, she would be reported to her probation officer, and could wind up in jail. "Annie" promised to be there.
Annie and Alan told Cassie to trade her wild clothes for something conservative for her interview at Lewis Oil. Their plan was for her to get a job as Billy's secretary so she could infiltrate Lewis Oil and get close to Josh. Cassie reported for the interview but was told Billy was not in need of a secretary after all. She left his office upset and ran into Reva, who spoke to her briefly, took a liking to her, and convinced Billy to hire her. He did. Then Reva introduced herself to Cassie by name, and Cassie realized that this kind woman who had produced a job for her was actually the woman Annie Dutton called "the enemy."
While she waited for Cassie to return from the interview at Lewis Oil, Annie fantasized about her revenge on Reva. She imagined Cassie lying on Josh's desktop, making love to him. In the dream, Reva walked in and saw them, saying, "How can you do this to me?" Just then, Annie delivered the crushing blow to Reva, "Not only is she Josh's executive assistant, she's your long-lost sister!" Annie woke up from her fantasy delirious, and began seducing Alan in their hotel bed.
Friday, August 15, 1997
by Sarai
Alan and Annie were ecstatic to find that Cassie had been hired at Lewis Oil as Billy Lewis' assistant. Much to their dismay, Cassie had accepted an invitation to attend Vanessa's welcome-home party with Billy.
Amanda got hold of Annie's appointment book and rearranged all of Annie's scheduled meetings with the court-appointed psychiatrist. Roger answered a call on Annie's private line in the Spaulding home, and it was the psychiatrist looking for Annie, who had missed another appointment. Amanda was pleased that Annie might be caught violating her probation.
Cassie and Billy made an entrance to Vanessa's party, and Vanessa was happy to see Billy. Hart put pressure on Dinah to elope, but Dinah rejected his proposal until at least after Vanessa got back from her trip to Switzerland, where Vanessa was getting more of her miracle drug. Dinah also spoke with Michael again about the possibility of inheriting her mother's disease and passing it on to future children. Hart began to show an interest in Cassie.
Frank arrived at the Spaulding home to take Annie away in handcuffs, arresting her for violation of her parole.
Jesse's father went to Cedar's Hospital, obviously drunk, and confronted Rick about Ed Bauer being responsible for killing his wife. Lillian retrieved the chart belonging to Jesse's mother to prove that her death had not been Ed's fault, but had instead been because she had been in poor pre-natal health.

2018 DAYTIME EMMYS: SOAP CENTRAL'S COMPREHENSIVE COVERAGE