Emmy winner Crystal Chappell (Olivia Spencer) will be sticking around Guiding Light for the foreseeable future. The actress has announced that she has inked a new contract with the long-running CBS soap.
"I am so happy to be staying on Guiding Light for another year," Chappell said in a statement on her official web site. "They are my family and hopefully, Olivia will find her own light. Regardless of how some people feel about Olivia, I have always appreciated all the fans of the show."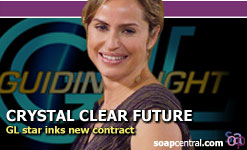 The news of Chappell's re-signing is a far cry from news surrounding the actress just two years ago. At that time, the actress asked to be released from her contract -- and it set off a maelstrom of fan reaction. Chappell's announcement came at a time when Guiding Light was very much in turmoil; the show was slashing its budget and contract players were being dismissed on a regular basis. There were also rumors that the actress might want to jump ship to another soap. Her request, however, was denied by show executives.
"I did ask to be released from my [Guiding Light] contract," Chappell confirmed, "but for my own reasons. It's not about going anywhere else."
In addition to her work on Guiding Light, Chappell has also appeared on ABC's One Life to Live and briefly on NBC's Days of our Lives.
Chappell joined the cast of Guiding Light in July 1999. In 2002 the actress was awarded the Daytime Emmy for Outstanding Supporting Actress.