In a statement made through his official web site, Bradley Cole (Richard Winslow) has confirmed that he will return to Guiding Light next month.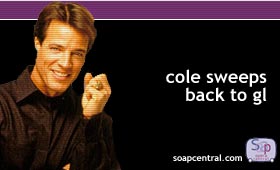 Details surrounding the return are sketchy -- and a spokesperson for Guiding Light declined to comment for this article. There has been no confirmation that Cole will portray Richard, a character that was killed off in 2002.
Upon leaving Guiding Light in June 2002, Cole expressed a desire to focus on his musical career.
In January, Cole made a brief two-day appearance on ABC's All My Children, where he played an acquaintance of Erica Kane (played by Susan Lucci). There was immediately talk that Cole might be signed to a long-term contract to play opposite Lucci, but Cole had stated that he wasn't ready to make a return to daytime television at that time.
"It has been an incredible ride for me and I will surely miss it," said Cole of his GL stint. "I thank the producers for giving me a chance to be a part of this legendary show. And most of all, I thank [the fans] for supporting me, and taking this little voyage with me."
Cole has already returned to taping at Guiding Light. His first on-screen appearance is scheduled for May 2nd.






Grant Aleksander to return to Guiding Light. [Nov 10, 2008]