According to
Variety
,
Jordi Vilasuso
(
Tony Santos
) has been cast in a pilot for a planned FOX drama series. If the pilot is picked up for the fall season, the actor has announced that he will have to leave Guiding Light.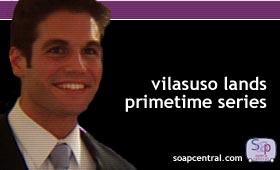 The series, called
No Place Like Home
, will have Vilasuso joining other cast members Rebecca DeMornay, known for her appearance in the motion picture thriller The Hand That Rocks the Cradle, Carlos Gomez and Amanda Righetti.
According to show publicity,
No Place Like Home
, centers on two teenagers who marry and try to create the stable family environment they never had. DeMornay's Liz, whose husband is in prison for a white-collar crime, is mother to the teen bride.
Vilasuso began production on the pilot of the new series in early March.
"[Vilasuso] is still on Guiding Light right now, and you'll continue to see Tony on-screen," a Guiding Light spokesperson tells
soap
central
.com
. "This is not going to affect storyline in any way."
If picked up for the fall season, Vilasuso will leave his role on Guiding Light. The new series will tape in California; Guiding Light is filmed in New York. An exact date for a decision by FOX on the series' future is not known, but Vilasuso would most likely exit GL in July if the series was green-lighted.
Photo: Dan J Kroll/
soap
central
.com