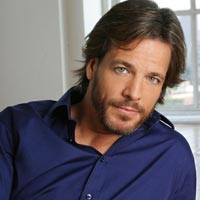 Cole's "little voyage" on GL to end
By
Dan J Kroll

Posted Sunday, June 02, 2002 10:52:05 PM
In a statement on his official web site, Bradley Cole (Richard Winslow) confirms reports made last month about his upcoming departure from Guiding Light.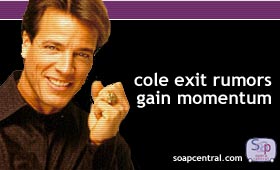 "It has been an incredible ride for me and I will surely miss it," says Cole. "I thank the producers for giving me a chance to be a part of this legendary show. And most of all, I thank [the fans] for supporting me, and taking this little voyage with me."
The talk of Cole's exit began long before a May Soap Opera Central article cited setside sources' claims that he was leaving. The rumors started in late 2001 as rumblings that the actor wanted to focus more on stage work.
With Cole's exit now a certainty, the speculation as to how the show will write out the character continues to swell. Message boards have speculated that Cole's character would be killed off. Cole declined to comment on the fate of his character or exactly how Richard would be written out.
Cole tape his final on-air appearance on June 7th. His final airdate is expected around June 28th.




RELATED STORY
Grant Aleksander to return to Guiding Light. [Nov 10, 2008]
---
2018 DAYTIME EMMYS: SOAP CENTRAL'S COMPREHENSIVE COVERAGE