The subject of Anthony Addabbo's (Jim Lemay) departure from Guiding Light has been a hot topic for several months. Now, it looks like the actor's final scenes will be just as hot -- literally.
Earlier this year, Addabbo let it be known that he was not at all pleased with Guiding Light execs' decision to let him go. Accordingly, fans were also dismayed. Addabbo had said that he was being let go as part of the new writing regime's plan to clean house.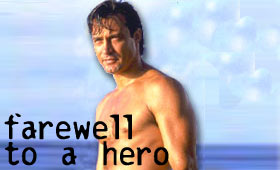 Guiding Light executive producer Paul Rauch promptly responded to Addabbo's remarks, nixing the idea that writers get paid a bonus for bumping off old characters and bringing in new ones.
Though a bit miffed by his firing, Addabbo is reportedly pleased with the way his character is being dismissed. In a courageous that is sure to be remembered for many, many years, Jim will sacrifice his own life so that Lizzie and James can live on. A faulty electrical cord on some Christmas decorations sets the Lemay home on fire. Jim races around the fiery inferno and manages to get Beth's children to safety. Sadly, Jim is unable to rescue himself.
Though the show is a work of fiction, the storyline device is a dutiful reminder to everyone: Be sure to carefully inspect all of your holiday decorations and use them only under the proper supervision.
Addabbo's final airdate (barring preemptions) is scheduled for December 19.