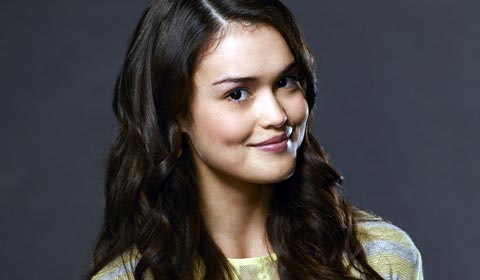 Paige Larson
None Student Salem U Dorms
Formerly Apt. 46 in Salem
Formerly in Miami Single None
Eve Donovan
(mother)
Unnamed father
Shane Donovan
(maternal grandfather)
Gabrielle Pascal (maternal grandmother)
Andrew Donovan II (maternal great grandfather)
Margaret Donovan (maternal great grandmother)
Andrew Donovan III (maternal great uncle)
Andrew Donovan IV
(maternal uncle)
Jeannie "Theresa" Donovan
(maternal aunt)
Joan (cousin) None
J.J. Deveraux
(dated/kissed) None
In spring of 2013, J.J. Deveraux was assigned to pick up trash on Horton Square as part of his community service, a condition of his probation for vandalism. On his first day there, he saw Paige - a pretty girl who was volunteering to help pick up trash as a way to give back to the community. Paige was a straight-A student who spent most of her free time studying.
J.J. and Paige started a flirtation, despite warnings from both of their friends that neither was right for the other one. But the two grew closer, J.J. even confessing to Paige about the dark times he'd been through with drugs and crime in the past. Paige told him that she believed that he was a good guy. They bonded over heartaches surrounding
Paige was thrilled when her mom Eve returned to Salem in June 2014. Paige had been living with her cousin Joan, but Eve assured Paige that the two of them were going to get their own place and start their life together. Paige was also excited for Eve to meet J.J., but neither J.J. nor Paige knew that their mothers were old enemies.
When they learned of their mother's past, both J.J. and Paige were adamant that it would not effect their relationship. Since they were growing closer, Paige decided to defer her admission to Stanford for a year and attend Salem U in the fall. Eve was not happy about this decision.