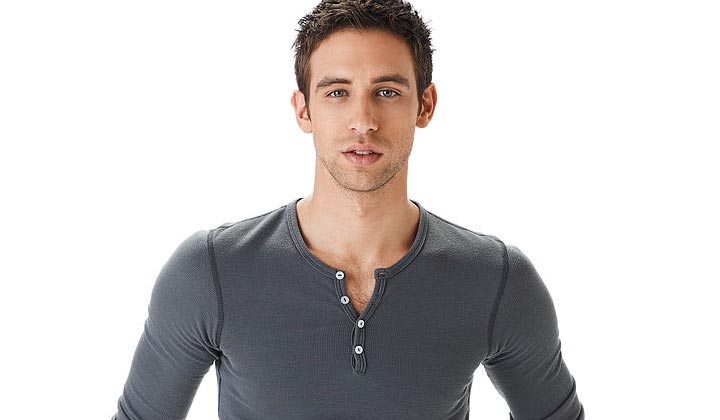 Nick Fallon
Lonely Splicer (online screen name) Associate for Mad World Cosmetics
Former dishwasher at the Brady Pub
Formerly in prison
Former associate professor at Salem University
Former Salem Hospital lab technician
Former worker for the Horton Foundation at Salem University Hospital The Kiriakis Mansion in Salem
Formerly Salem Prison
Formerly with Maggie and Mickey
Formerly in an apartment in Salem (he couldn't afford to maintain his lease and moved back in with Maggie and Mickey)
Formerly in Ohio Married to
Gabi Hernandez
(Married: March 15, 2013) China Lee (annulled)
Joshua Fallon
(father)
Jessica Blake
(mother)
John Talbot (paternal grandfather)
Sunny Chisholm (paternal grandmother; deceased)
Alex Marshall
(maternal grandfather)
Marie Horton
(maternal grandmother)
Tom Horton Sr.
(maternal great-grandfather; deceased)
Alice Grayson
(maternal great-grandmother; deceased)
Sid Grayson (maternal great-great-grandfather; deceased)
Abigail Grayson (maternal great-great-grandmother; deceased)
Todd Chandler
(paternal half-uncle; deceased)
Harley Marshall (maternal great-uncle)
Tommy Horton Jr.
(maternal great-uncle)
Addie Horton
(maternal great-aunt; deceased)
Mickey Horton
(maternal great-uncle; deceased)
Bill Horton
(maternal great-uncle)
Sandy Horton
(maternal first cousin once removed)
Steven Olson
(maternal first cousin once removed)
Julie Olson
(maternal first cousin once removed)
Hope Williams
(maternal first cousin once removed)
Melissa Horton
(maternal first cousin once removed; via adoption)
Sarah Horton
(maternal first cousin once removed; via adoption)
Mike Horton
(maternal first cousin once removed)
Jennifer Horton
(maternal first cousin once removed)
Lucas Roberts Horton
(maternal first cousin once removed)
Spencer Olson (maternal second cousin)
David Banning
(maternal second cousin)
Shawn-Douglas Brady
(maternal second cousin)
Zack Brady
(maternal second cousin; deceased)
Ciara Brady
(maternal second cousin)
Jeremy Horton
(maternal second cousin)
Nathan Horton
(maternal second cousin; via adoption)
Abigail Horton
(maternal second cousin)
Jack Deveraux Jr.
(maternal second cousin)
Will Roberts
(maternal second cousin)
Alice Caroline Horton
(maternal second cousin)
Scott Banning
(maternal second cousin once removed)
Claire Brady
(maternal second cousin once removed) None
Billie Reed
(one-night stand; she was his first)
Chelsea Brady
(dated/lovers)
China Lee
Melanie Jonas
(flirtation, obsession)
Gabi Hernandez
(dated/lovers/engaged)
Convinced Melanie that she killed Trent, attempted to flee Salem with Melanie, held her hostage in a hotel room (November 2008)
DUI; Ran a stop light with a blood alcohol level of 1.6 (October 2008)
Killed Trent Robbins (September 2008)
Stole Trent's cell phone to give to Max (Summer 2008)
Caused the accidental death of Willow Stark (2007- found not responsible and cleared of all charges)
Stole the hairbrush proving Willow set the fire at the Brady house (2007)
Stole files from the hospital so Sami could fake a paternity test (2007)
Doctored paperwork to prove that E.J. fathered Sami Brady's baby (2007)
On-Line Identity Fraud (without consent, he used his coworker Dr. Shane Patten's name and image while chatting with Chelsea) (2007)
Blackmailed Chad into withholding evidence from the Salem PD about Gabi's involvement in Melanie's kidnapping (2012)
Recorded conversations between Will and lucas (February 2013)
Blackmailed Will into giving up the rights to his daughter (March 2013)
Nick initially came to Salem to help out with the case of Steve and Kayla Johnson, who were poisoned while at Salem University Hospital. He quickly found himself falling for Chelsea Brady (then known as Benson), and decided to stick around Salem. Chelsea didn't seem to have any romantic interest in him, and the two became reluctant friends. Just when it seemed Chelsea was falling for him, she learned that he was using the online identity Lonely Splicer to get to know her and pushed him out of her life. Because of her rejection, Nick had a one-night-stand with Billie Reed, Chelsea's mother! Ironically, just as Chelsea was ready to forgive him, she learned that he had slept with her mother and was furious. Eventually, the two were able to get back on track, and finally made love.
Nick and Chelsea continued their relationship despite set backs - Chelsea's flirtatious friendship with Jett Carver and Nick's marriage to China Lee. While suffering the after effects of a bomb explosion, Nick unknowingly married the con woman China Lee in Vegas. Nick became the step-father two her two kids, Artemuis and Demarquette, when China Lee went to jail. Nick grew close to the kids and soon learned that they were the sons of a wealthy foreign dignitary. Nick eventually saw that the boys were returned to their father.
Nick took a job at the Salem University Hospital working with DNA testing. While there, he was blackmailed by Kate Roberts to send back false paternity reports making it appear that EJ was the father of both of Sami's twins. Nick eventually felt so guilty that he ran the real test. When the hospital found out that he had purposely corrupted the first test, he lost his job at the hospital.
Nick's relationship with Chelsea ended in the spring of 2008. She had developed feelings for Dr. Daniel Jonas and told Nick that she was ready to move on. Nick wished her well and began focusing on his new career.
Nick took a new job as an Associate Professor at Salem U and began working on a grant proposal for an alternative energy source. He worked as an apprentice role under the Dean of the physics department, Trent Robbins. While working on the grant, he caught Max Brady taking an odd interest in his work. Max ripped pages out of Nick's notebook and corrected Nick's work. When Nick finally did receive the grant, he felt that Max was due most of the credit. Nick urged Max to develop his knack for physics through college courses. But, Max refused because he did not want to risk more interaction with Dean Trent Robbins - who was Max's biological father. Determined to help Max find out more about his biological family, Nick stole Trent's cell phone and gave it to Max. Max learned that he had a biological half-sister named Melanie and went to France to find her.
When Max left for France, Nick stayed behind to smooth things over with Trent. But, Nick soon recognized Melanie's picture as a famous video blogger "Premier Party Girl." Nick left for France to tell Max where to find Melanie. But, Nick ran into Melanie first. Between her feisty attitude and his street smarts, sparks flew between Nick and Melanie. While in France, Nick learned that Melanie's father was pimping her out to pay off a gambling debt. Nick followed Melanie to a party where one of her father's associates was trying to pressure her into sex. Nick was shot in the shoulder trying to rescue Melanie. Despite being injured, Nick recovered and Melanie was saved.
Nick and Melanie returned to Salem. Nick confronted Trent and told him to stay away from Melanie. A few days later, Trent ended up dead and Melanie was one of the main suspects. Nick fiercely defended Melanie against attacks from the police and the general public. Distraught over the happenings of the past weeks, Nick drank wile intoxicated and was arrested for a DUI. Despite Maggie, Hope, and Chelsea's warnings, Nick insisted that everything was okay. Only things were getting worse.
Nick had not stopped taking the prescription pain pills from his gun shot wound and showed signs of full blown addiction. Additionally, Melanie had turned her interests towards other men. She decided that she was going to leave Salem. Suddenly she began receiving threatening notes and phone calls, fingering her for Trent's murder. Nick convinced Melanie to move in with him so that he could take care of her. But, Nick was the one sending Melanie notes and leaving the messages in order to keep Melanie close to him. Then, Nick convinced Melanie that she was the one who actually killed her father. But the truth was that Nick was the one who really killed Trent. Nick had been playing mind games with Melanie to keep her near him. He convinced Melanie to flee Salem with him and get married so they couldn't be forced to testify against each other.
Nick's plan soon unraveled. The night before they left Salem, Melanie and Nick checked into a motel room. Melanie noticed the pills and deduced that Nick was the real killer. Melanie tried to escape, but Nick would not let her. Back at Maggie's house, Bo, Hope, Maggie, Chelsea, and Max put the pieces together and learned that Nick killed Trent and kidnapped Melanie. Bo, Hope, Philip, and Stephanie arrived at the hotel just in time to save Melanie and arrest Nick.
Nick was immediately taken into custody. While in jail, Nick finished his alternative fuel project. To make amends for what he had done to Melanie, he signed over his rights for the project to her, making Melanie the sole owner of the project. Melanie sold the project to the highest bidder, Titan. Despite Philip's efforts to convince Nick otherwise, Nick remained convinced that Melanie should have control over the whole project.
Nick's sentencing came on January 14, 2009. Judge Fitzpatrick presided over the hearing. EJ represented Nick on behalf of Mickey's law firm. Maggie testified to the person that Nick was before the pills. And, Melanie asked that Nick be shown mercy. The judge agreed with Maggie and Melanie. Nick was sentenced to 2-4 years with an eligibility of parole after 18 months. After saying goodbye to Max, Stephanie, Melanie, and Chelsea, Nick was sent to a correctional facility to serve out his sentence.
In August 2012, Nick came up for parole. Apprehensive at first, Melanie eventually testified that she would not stand in Nick's way of getting parole. Nick was released, but was told that he must stay in Salem as a condition of his parole and live with a family member. He moved in with Maggie and Caroline, whom he had written to in prison, offered him a job at the Pub. Nick started his life over.
He quickly met and fell for Gabi Hernandez, who also worked at the Brady Pub. Gabi and Nick started dating, making Chad even more mad, as Nick had previously kidnapped and stalked Melanie. One night, Chad saw Nick with Melanie's scarf and assumed he'd hurt Melanie again, so Chad assaulted Nick. Gabi broke it up and took Nick to the hospital.
Gabi had confided some of her misdeeds to Nick, so in an attempt to keep Chad from harassing her further, Nick made a deal with Chad- Nick wouldn't go to the police about Chad's assault, if Chad wouldn't go to the police about Gabi's involvement in Melanie's kidnapping. Nick thought that Gabi was in the clear and looked forward to a happy future with her.
But, Nick was different this time around. He was much more guarded and unforgiving since his time in prison. When Gabi suggested double dating with Will and Sonny, Nick told Gabi that he believed that Will and Sonny were living a biblically sinful lifestyle. While he did not wish them harm, he did not want to associate with them. Gabi did not object.
One day, when Gabi fainted one day at work, Nick rushed her to the hospital. Gabi found out that she was three months pregnant. Knowing that the baby couldn't be his, a furious Nick assumed that Gabi had slept with Chad. But, when Will confessed to being the father, Nick's anger turned to concern.
Nick presented Gabi with a proposal -- marry him and let everyone think that he is the father of the baby. Gabi agreed and the two of them convinced Will that this was the best move for everyone. As soon as Will agreed, Gabi and Nick went forward with their wedding plans, with Sami stepping in as their wedding planner.
But on the day of their wedding, Chad exposed Gabi's secret -- that Nick was not the father of Gabi's baby. Will, reluctantly, admitted that he was the father. Sami was furious with Gabi. Rafe was angry with Will. And Nick was worried that his plan to keep gay Will out of the baby's life was now in jeopardy. So, Nick hatched a plan.
He had overheard Lucas scream at Will, "I went to jail for you!" Nick began investigating why Lucas had been in prison. Nick also planted a transmitting and recording device on Will, then sent a text to Lucas prompting the two to have a conversation where Nick found out that Will was the one who shot E.J. in 2007 and the police still had evidence of it in their evidence room.
Nick had papers drawn up for Will to sign that would release all parental rights to Gabi's baby and just waited for the right time. That time came when Gabi started having labor pains while talking to Sami. Gabi and the baby were fine, and despite Kayla saying that dehydration contributed to her labor pains, Nick used Sami's temper as an excuse to set his plan into motion.
Nick confronted Will with the deal -- if Will signs away his paternal rights, Nick will stay quiet about Will shooting E.J. Nick also pointed out that turning in Will would mean incriminating Lucas, Roman, Hope, and more in the cover-up. Sonny, E.J., Sami, and Lucas all tried to convince Will not to sign the papers. Sami even offered to sign a document that would forbid her from coming near the baby. But Nick would not agree. Despite protests from Sami, Lucas, E.J., and Sonny, Will reluctantly signed the papers. Nick went to Gabi and asked her to marry him. The two were married two days later in the Horton living room.
Nick admitted that his real problem was that he didn't think Will should be a father because Will was gay. Nick also stated that the baby would be better off it Will and his whole family would stay away. Will was crushed.
Thinking that he was finally getting everything that he wanted, Nick set about planning his happy life with Gabi and her baby. However, Nick's former cell mate, Vargas, was released on March 15, 2013. Vargas and Nick had made a deal in prison and Vargas was ready to collect on that deal.