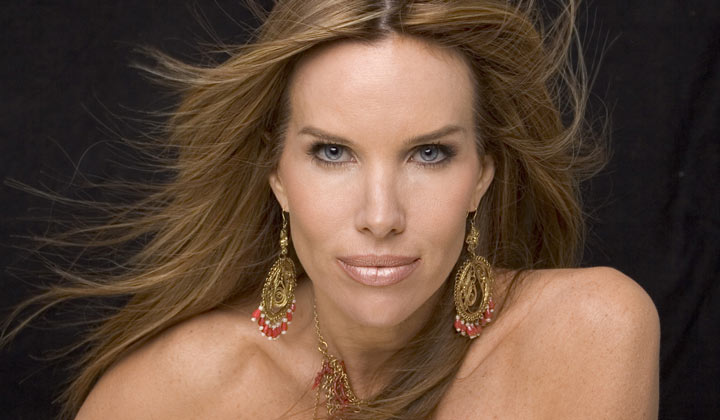 Morgan DeWitt
February 15, 2000 to May 11, 2001; March 4, 2005 to April 2005
Fashion designer
Former head designer at Forrester
Former teen model Undisclosed location (presumably Los Angeles) Single (assumed) None (assumed) Natalie DeWitt (mother) Unnamed child (abortion; with Ridge; 1980's)
Unnamed child (son; stillborn; with Ridge; 2001)
Ridge Forrester Sr.
Dr. Tim Reid
Tried to kill Clarke Garrison.
Kidnapped Steffy Forrester.
Kidnapped Taylor Hamilton Forrester.
Tried to kill Taylor Hamilton Forrester.
Tried to kill Stephanie Forrester.
Morgan was an up-and-coming model in her teens when she met Ridge Forrester, a designer several years older than her. The two fell in love and conceived a baby, which Stephanie convinced the teen Morgan to abort. Though Morgan dropped out of the modeling world and became a designer, she never forgot Ridge or their baby. After Brooke hired Morgan in an attempt to punish the Forresters, Ridge was shocked to see his former lover back in the family business. Morgan seemed to have recovered from their one-time affair but she had never been able to get over the abortion and blamed Stephanie for everything that had gone wrong in her life.
Morgan soon became friends with Ridge's wife Taylor, but kept the secret that she had an abortion years ago. She finally admitted the truth to Ridge who was shocked to realize that his mother had arranged an abortion. After deciding to get herself artificially inseminated, Morgan realized she didn't want just any baby and changed her mind. She wanted Ridge's baby. Ridge and Taylor weren't keen on the idea. When Taylor was out of town, Morgan convinced Ridge that Taylor had approved the sperm donation 'the old fashioned way' and got Ridge to sleep with her. Ridge obliged but was furious with Morgan when he learned the truth.
To keep Ridge from wanting parental rights, Morgan showed him a fake pregnancy test but confessed to Clarke that she was pregnant with Ridge's baby. She managed to keep it hidden from Ridge for a while, but once Stephanie got involved Morgan was forced to admit the truth. She told Ridge there was no way she was going to give up the child and promised to keep quiet about who the baby's real father was with an artificial insemination story. Despite minor complications and Ridge's insistence that Morgan have an abortion, her pregnancy continued nicely. Clarke Garrison was prepared to be the father figure for the child but Morgan eventually realized she was still in love with Ridge and decided to pull out all the stops to break up his marriage and make him hers.
Wen she realized Clarke was a very real threat to her plans, she released a python from it's cage at the fashion show, hoping it would kill Clarke. When the python didn't do the job she intended to do it herself while Clark was in the hospital. Ridge came clean to Taylor about sleeping with Morgan, and Clarke took responsibility for the snake getting out. When Taylor turned her back on Ridge and Morgan, Morgan confronted Taylor, begging her to understand why she did it. Taylor walked away but Morgan grabbed her. When Taylor shook her off, Morgan went over the banister and landed on the floor below. As a result, Morgan lost the baby boy she was carrying.
Even Stephanie tried to comfort Morgan over the loss of her child but there was no consoling her as she blamed everyone around her for the death of the baby she never got to hold. After Morgan confronted Taylor, the Forresters decided they needed to get Morgan out of Los Angeles as quickly as possible. Morgan boarded the plane, but was set on revenge. Taylor and Ridge went to St. Thomas to put their marriage and family back together. While there, daughter Steffy was pronounced dead after a presumed shark attack but Morgan had kidnapped Steffy and taken the little girl as her own, calling her Stacey. Morgan then began working at Forrester creations as part of Brooke's plan to get revenge on Ridge and Eric.
Morgan had barely moved Stacey into her home when the new nanny got suspicious, and Morgan got rid of her. Psychiatrist Tim Reid, who had known Morgan as a teen, was in town. When Taylor showed up at Morgan's home, wondering why Morgan had moved so close to her and Ridge, and discovered Steffy, Morgan took Taylor captive and chained her up in the basement. After telling Tim her version of events (that Taylor purposefully pushed her to kill the unborn child and Stacey was not her biological child but was taken to pay a debt her parents owed Morgan) and making love with him on the couch, Morgan revealed her secret to him. Initially Tim wanted to free Taylor, but he and Morgan compromised on taking Taylor up to the living room and keeping her there with a ten-foot chain.
Morgan was found out when Ridge found a drawing that Steffy had made in her purse and decided to investigate. He drove his car through the front of the house to save Taylor and talked Morgan out of shooting her. Morgan and Tim went on the run. When Morgan heard about a party the Forresters were throwing for the children, she convinced Tim she should go for closure. Morgan ended up in the pool after a fight with Stephanie, but made her way to the main house where she confronted Stephanie and planned to get rid of her once and for all. Morgan was subdued and taken to jail.
After nearly four years in prison, Morgan was released and returned to Los Angeles. She ran into Ridge at Café Russe and realized that something was wrong with him. He couldn't remember anything, so Morgan took him to Italy, pretending that they were lovers. She soon told him all about their past together, not mentioning what had happened when they had come back into each other's' lives years later. She even hired a woman to play Brooke, to convince Ridge that things were over between him and Brooke. She was exposed by Amber who told Ridge the truth. Ridge was more than willing to see Morgan go away but her mother convinced Ridge and Amber that Morgan was sick. Morgan went off to the hospital for a long stay and Ridge returned home to his family.