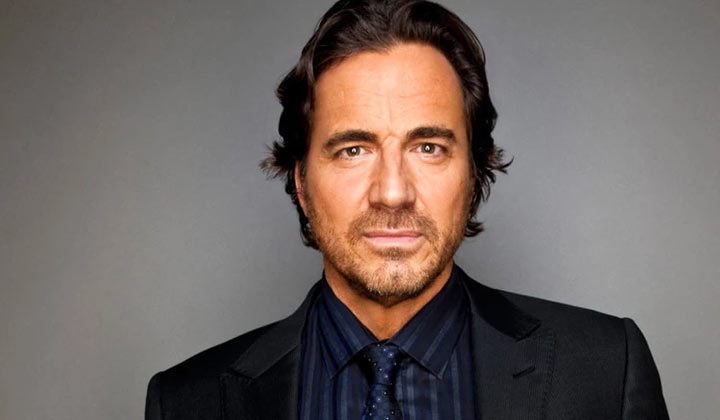 Ridge Forrester Sr.
1992 [temporary recast]
December 13, 2013 to present
Birthday: January 28
Said to be 30 in 1987 CEO of Forrester Creations
Designer at Forrester Creations
Owns 20% of Forrester Creations; controls Thomas Forrester's 5% by proxy
Former co-vice president of Forrester Creations
Formerly designed for Forrester Originals
Former owner and CEO of Spectra Fashions, renamed Logan Designs
Formerly an executive as Marone Industries The Forrester Mansion (369 Willow Hill Rd., Beverly Hills, CA)
Formerly a loft in Venice, CA
Formerly Paris
Formerly the Logan Mansion (200 N. Beston Place)
Formerly a mansion at 3197 Holden Drive, Beverly Hills, CA
Formerly a beach house in Malibu, CA
Formerly the Forrester Mansion Married to
Caroline Spencer
as of
September 14, 2015
Caroline Spencer
[Married: 1990; terminated by death: 1990]
Taylor Hamilton Hayes
[Married: 1992; divorced: 1995; first time]
Brooke Logan
[Married: 1994; declared invalid: 1995; first time]
Brooke Logan
[Married: 1998; annulled: 1998; second time]
Taylor Hamilton Hayes
[Married: 1998; thought to be dissolved by her death: 2002; renewed vows: 2005; annulled: 2006; second time]
Brooke Logan
[Married: 2003; annulled, technically invalid: 2004; third time]
Brooke Logan
[Married: 2004; declared invalid: 2005; fourth time]
Brooke Logan
[Married: 2009; declared invalid: 2009; fifth time]
Brooke Logan
[Married: 2009; divorced: 2011; sixth time]
Brooke Logan
[Married: 2012; not legalized: 2012; seventh time]
Stephanie Douglas
(mother; deceased)
Massimo Marone IV
(father)
Ann Douglas
(grandmother; deceased)
John Douglas (grandfather; deceased)
Pamela Douglas
(aunt)
Oscar Marone
(cousin)
Thorne Forrester
(half-brother)
Kristen Forrester
(half-sister)
Felicia Forrester
(half-sister)
Angela Forrester
(half-sister; deceased)
Dominick Marone
(half-brother)
Diana Carter
(half-sister)
Alexandria Forrester
(half-niece; deceased)
Zende Forrester Dominguez
(half-nephew; via adoption)
Dominick Damiano
(half-nephew)
Nicole Marone (half-niece; deceased)
Jack Hamilton Marone
(half-nephew)
Douglas Forrester (nephew) Unnamed child (abortion; with Morgan; circa late 1970s)
Unnamed child (miscarriage; with Brooke; 1989)
Unnamed child (miscarriage; with Brooke; 1997)
Thomas Hamilton Forrester
(son; with Taylor)
Stephanie "Steffy" Forrester
(twin daughter; with Taylor)
Phoebe Forrester
(twin daughter; with Taylor; deceased)
Unnamed child (son; stillborn; with Morgan)
Ridge "R.J." Forrester Jr.
(son; with Brooke)
Alex Simpson
Heather
Rhonda
Lauren Fenmore
Morgan DeWitt (relationship in late 1970s, unintentional adultery in 2001)
Donna Logan
(flirtation)
Ashley Abbott
Taylor Hamilton Hayes
(two aborted weddings: 2009, 2011)
Katie Logan
(broken engagement)
Caroline Spencer
Made love to his brother's wife, Caroline, as a prank [1988]
Made love to Brooke Logan twice though she was married to Eric [1991]
Participated in a scheme to dupe Brooke out of the BeLieF patent [1993]
Pushed Brooke into a pool, knocking her unconscious [1993]
Arrested and jailed for shooting Grant Chambers [1997]
Tricked Brooke into admitting feelings to sabotage her relationship with Thorne [2000]
Unintentionally cheated on Taylor with Morgan [2001]
Punched Nick Marone [2004]
Assaulted Amber Moore [2005]
Set Thomas up to fail fashion challenge [2005]
Unintentionally raped Brooke [2006]
Punched Rick Forrester [2007]
Obstructed justice by hiding Shane McGrath's body and framing Nick for Shane's death [2007]
Took Eric Forrester off of life support without permission [2008]
Accidentally pushed Rick off the roof at Forrester [2008]
Punched Oliver Jones [2010]
Punched Liam Cooper [2010]
Punched Bill Spencer, Jr. [2011, 2014]
Punched Thorne Forrester [2011]
Punched Justin Barber [2014]
Tried to dump Bill Spencer out of a helicopter [2014]
Kissed a married Caroline Spencer while engaged to Katie Logan [2014]
Shot in the head by his brother, Thorne Forrester [1988]
Beaten up by Blake Hayes [1992]
Blinded in explosion at the Forrester lab [1995]
Severed artery in neck by falling into sword in Massimo's office [2001]
Lacerated left hand during fight with Deacon Sharpe [2002]
Kidnapped by Sheila Carter and presumed dead after falling into furnace [2003]
Almost froze while trapped in a mineshaft by Amber Moore [2005]
Hit his head and suffered concussion resulting in loss of memory [2005]
Suffered stress-related heart attack [2006]
Punched and choked by Rick Forrester on Forrester roof [2008]
Almost fell from Forrester roof during second scuffle with Rick Forrester [2009]
Cut himself smashing a Spencer award and smeared blood on his face [2010]
Underwent a vasectomy [circa 2012-2013]
Suffered a concussion, memory loss, and brain damage after falling out of a helicopter into the Persian Gulf [2014]
Temporarily lost his ability to design as a result of his helicopter accident [2014]
Shot at by Rick Forrester [2015]
Attacked by Rick Forrester [2015]
Punched by his son, Thomas Forrester [2015]
Diagnosed as having low/no sperm count [2015-2016]
Ridge Forrester is the eldest son of Eric and Stephanie Forrester, who founded design house Forrester Creations. Ridge was a playboy until he met Caroline Spencer and asked her to marry him. Ridge balked when Caroline's father, Bill Spencer, Sr., threatened to go to Caroline with photos of Ridge's final fling with model Alex Simpson, but Ridge was left standing at the altar after Caroline saw the pictures. When Caroline started spending time with his brother, Thorne Forrester, Ridge dated Brooke Logan, though he wrote Caroline an unanswered letter begging for another chance.
Impish Ridge snuck into bed with a drunken Caroline and made love to her though she thought he was her husband, Thorne; Ridge paid for his prank when a heavily-medicated Thorne shot Ridge in the head. Neither Ridge nor Thorne remembered their altercation, believing Stephanie's claim she'd been shooting at a prowler. Ridge proposed to Brooke, standing by her when she miscarried their baby, but Ridge was thrown when Caroline exposed Brooke for hiding Ridge's letter. After Ridge learned that Stephanie was covering for Thorne, Ridge worked with his family to keep Thorne from remembering the shooting; once the truth came out, Ridge reconciled with Caroline, who divorced Thorne.
Ridge learned from Brooke that Caroline had been keeping a devastating secret: Caroline was dying of leukemia. After Caroline passed away in Ridge's arms, Ridge found comfort from Caroline's doctor, Taylor Hayes. Ridge dated Taylor and told her not to marry Brooke's brother, Storm Logan. Ridge's proposal to Taylor fell on deaf ears because Taylor felt Ridge was only trying to make himself unavailable to Brooke, who had since married Eric. Ridge celebrated Brooke's discovery of wrinkle-free formula BeLieF by making love to her on the lab floor, unaware there were hidden cameras filming them.
Ridge made love to Brooke again after she received a letter saying Eric wanted a divorce; Ridge didn't know that Stephanie forged the letter in an attempt to win Eric back for herself. When Brooke agreed to live with Eric for two more months, Ridge drew closer to the conflicted Taylor, who ran away to St. Thomas. Ridge followed Taylor and married her, finding an adversary in Taylor's possessive ex-husband, Blake Hayes, who had Ridge beaten up. Ridge then met Caroline's long-lost identical twin sister, Karen Spencer, who had been brought to town by Blake to lure Ridge away from Taylor. Ridge and Taylor's marriage survived, but Ridge was thrown when Brooke announced she was pregnant and unsure whether Ridge or Eric was the father.
With Taylor acting as midwife over the phone, Ridge delivered Brooke's baby, Bridget. A paternity test named Ridge as Bridget's father, and Ridge tried to soothe Taylor, who was annoyed by Brooke's constant presence. Ridge and his family wanted to sweet-talk Brooke into signing over control of the BeLieF formula, but the scheme backfired; Ridge watched helplessly as Brooke gained 51% of Forrester Creations and took over the company with the help of her lawyer, Connor Davis. Jealous of Connor, Ridge spent time with Brooke, hoping he'd convince her to return control of Forrester; Ridge playfully pushed Brooke into the pool, accidentally knocking her unconscious.
Ridge took exception when psychiatrist Taylor counseled her former mentor, James Warwick, and went to Scotland to help James confront his father. Ridge saved Taylor and James from freezing to death when the Forrester cabin in Big Bear was destroyed in an earthquake. Ridge reconciled with Taylor before she took a business trip to the Middle East, but tearfully buried another wife when Taylor's plane crashed.
Ridge disapproved of Brooke dating James and insisted that Brooke marry Ridge instead. After a lavish ceremony on the beach, Ridge and Brooke sailed away on a honeymoon, where they were entertained by Prince Omar Rashid of Morocco at his palace. Once home, Ridge was blinded in an accident in the Forrester lab and cared for by a hospital volunteer; when Ridge's sight returned, he was dumbfounded to learn the volunteer was Taylor, who had been rescued by Omar and forced to watch Ridge with Brooke at the palace. But Ridge felt betrayed when Omar declared Taylor his wife; Taylor's existence deemed Ridge's marriage to Brooke invalid. After considering resuming his marriage to Taylor, Ridge decided to stay with Brooke, asking Taylor for a divorce.
Ridge's faith in Brooke was shaken when a letter turned up claiming Brooke had fixed Bridget's paternity test; no one knew the test had really been tampered with by the nefarious Sheila Carter, Eric's then-wife. After Eric was confirmed as Bridget's father, Brooke disappeared, so Ridge launched an international search that ended when he found Brooke wandering the streets of Barbados suffering from "brief reactive psychosis." Later, Ridge was jealous when he spied Brooke sharing a smooch with new friend Grant Chambers and countered by proposing to Taylor during a fashion show.
Ridge raced to stop Brooke's wedding to Grant but was too late, bristling when Brooke gave Grant a position of power at Forrester. Ridge went to jail when he was accused of shooting Grant, taking the fall to protect the real culprit: Brooke's teenage son, Rick Forrester, who had pulled the trigger while in a fugue state. Ridge was paroled after he explained about Rick and Grant was moved to ask the court for leniency.
Ridge believed Taylor was carrying Thorne's child until Ridge discovered that Brooke, Taylor, and Thorne had all lied about Taylor's son being Ridge's. Though Ridge shunned both Brooke and Taylor for a time, Ridge eventually annulled his marriage to Brooke and reunited with Taylor, who named their son Thomas after their romantic getaway, St. Thomas. Ridge and Taylor endured the interest of Taylor's hypnotherapist co-worker, Pierce Peterson, and Pierce's assistant, Bailey, who tried to hypnotize Taylor into desiring Pierce. But Ridge nearly lost Taylor to tuberculosis because she refused treatment while pregnant with their twins, Steffy and Phoebe Forrester.
Ridge was unsettled by the presence of his ex-girlfriend, Morgan DeWitt, who befriended him and Taylor. Knowing Morgan wanted a baby, Ridge thought he had tacit e-mail permission from Taylor to inseminate Morgan; Ridge later learned that the unstable Morgan wanted revenge on Stephanie for forcing her to abort Ridge's baby years before. After Morgan fell down the stairs during a confrontation with Taylor and miscarried Ridge's child, Ridge and Taylor returned to St. Thomas to repair their marriage and were devastated when Steffy was washed overboard and killed in a shark attack. Ridge couldn't understand when Taylor left him, but eventually figured out that Morgan had kidnapped both Taylor and Steffy and rammed his car through Morgan's house to rescue them.
Ridge shared his family's opposition to Brooke's relationship with Thorne, so, with Thorne in earshot, Ridge tricked Brooke into admitting she would always love Ridge. Relieved when the amorous Brooke finally moved to Paris, Ridge followed when Brooke fell from the Eiffel Tower and learned that Brooke had been manipulated into leaving Los Angeles by Stephanie's former lover, Massimo Marone. Ridge confronted Massimo and fell onto Massimo's decorative sword, losing enough blood that Ridge needed a transfusion.
Having been fired by Brooke for constantly challenging Rick, Ridge went to work for Massimo at Marone Industries, where Ridge bought rival fashion house Spectra Fashions and primed it to compete against Forrester. Ridge also clashed with Taylor over her decision to help Rick's drug addict wife, Amber Moore. But Ridge found out that Amber was being framed by Sheila, who wanted Rick for her daughter, Erica Lovejoy, and Eric for herself. Ridge cradled Taylor as she died from Sheila's gunshot, and kept seeing Taylor's face in grief counselor Tricia Quick.
Ridge lacerated his hand in a fight with Bridget's bad boy husband, Deacon Sharpe, but Ridge was able to design again after Eric challenged Ridge to a fashion showdown in Italy. When Ridge grew close to Brooke again, Ridge was unprepared for the news that Massimo, not Eric, was Ridge's biological father, which had been discovered during Ridge's blood transfusion. Ridge scoffed when Massimo tried to push him toward his now not-sister Bridget; Ridge kissed Bridget as an experiment and was unnerved by their romantic connection. Ridge put Brooke in charge of Spectra and renamed it Logan Designs, marrying Brooke in the jungles of South America.
Ridge was kidnapped from his hotel room by Sheila, who wanted to extort money from Massimo for their baby, Diana Carter. Ridge fell into a furnace during a showdown with Sheila but turned up alive, shocked to learn that, in her grief, Brooke had made love to Ridge's half-brother, Nick Marone, and didn't know if Nick or Ridge was the father. After Ridge and Brooke got an annulment, Ridge stopped Brooke's wedding to Nick and set in motion a chain of events that led to Nick and Massimo being arrested by the FBI for shady business dealings. Though Nick was initially named the father of Brooke's baby, a new test declared Ridge had sired the boy, who was named Ridge Jr. (R.J.)
Ridge battled Thorne for power at Forrester, ultimately causing Thorne to defect to the restored Spectra Fashions, while Ridge fought against Thomas' attraction to Amber. After becoming trapped in a mineshaft with Bridget and nearly freezing to death, Ridge learned that Amber had tried to capitalize on Ridge's one-time feelings for Bridget to ruin his relationship with Brooke. Ridge fell off a bar stool and hit his head, impairing his memory; Ridge came to believe he was the sweetheart of Morgan, who returned and spirited Ridge away to Italy hoping for another chance to have his baby. Ridge got his memory back after Amber found him with Morgan in Venice and reported his whereabouts to Brooke.
Ridge was convinced he'd seen the dead Taylor and dug up Taylor's grave, finding a wax dummy in her coffin. Ridge couldn't believe it when Taylor appeared and revealed she had been healed by Prince Omar and held at his Moroccan palace. Ridge decided to stay with Brooke even though Taylor wanted him back, though he reconsidered when Stephanie had a heart attack, honoring his mother's last wish by renewing his vows to Taylor at Stephanie's bedside. Ridge shunned Stephanie after learning she'd faked her ailment to push him toward Taylor but remained married to Taylor regardless.
Ridge disapproved when Thomas married Gabriela Moreno to keep her from being deported, dissolving the union by making it a condition of a fashion showdown with Thomas. But Ridge was disgusted when Taylor, who had been jealous of Ridge working with Brooke, admitted that she had not only kissed Hector Ramirez but that she had slept with James Warwick long ago when they thought they were dying of exposure in the wreckage of the Big Bear earthquake. Ridge felt Taylor was a hypocrite for judging Brooke's morals while keeping her own questionable secret and pursued Brooke, even bringing Brooke's father, Stephen Logan, to town to mend fences with her.
The persistent Ridge made love to Brooke but was remorseful upon hearing he had unintentionally raped Brooke due to her being hopped up on antianxiety medication. When Brooke turned her back on Ridge, he collapsed from a heart attack, and Stephanie uncharacteristically worked to reunite the couple. Though Ridge was temporarily fired by Brooke, he kissed her during a Forrester fashion show and flirted with Brooke's sister, Donna Logan, to get a reaction from Brooke. When Nick took control of Forrester Creations, Ridge helped launch Forrester Originals and proposed to Brooke.
Ridge lost Brooke when he punched Rick for getting involved with his daughter, Phoebe; afterwards, Ridge briefly dated Genoa City transplant Ashley Abbott. But when the troubled Shane McGrath committed suicide in front of Ridge, who still had a police record for shooting Grant, Ridge hid Shane's body with Stephanie's help. Ridge followed Stephanie's order to flee the country, but returned to confess when Stephanie framed Nick for Shane's death. Ridge did jail time and was freed by the unlikely Rick, who came forward to admit he had been the one to shoot Grant. Ridge thanked Rick, who snarked that he didn't actually remember pulling the trigger but wanted to clear Ridge for Phoebe.
After Brooke was raped by Andy Johnson, Ridge and Andy's confrontation ended with Andy being electrocuted. Ridge reunited with Brooke but reacted badly when Brooke became obsessed with baby Jack Marone, her biological child with Nick whom Taylor had carried. Later, while Eric lay comatose in a hospital bed with little hope for improvement, Ridge pulled the plug on his father, who survived.
On the roof of Forrester, Ridge got into a scuffle with Rick, who was dating Taylor and angry about Taylor's lingering feelings for Ridge; Ridge fell victim to Rick using his resultant paralysis against him with Brooke. Ridge was devastated when Phoebe died in a car accident confronting Rick over romancing both Phoebe's mother and sister; this time Ridge nearly went over when he and Rick again fought on the roof, but Ridge was saved by Rick. Ridge recorded Rick admitting he was only seducing Steffy to get back at him for hurting Brooke, then ended Rick and Steffy's dalliance by taking the recording to Steffy.
A clerical error rendered Ridge's recent remarriage to Brooke invalid. Ridge accepted an antianxiety pill from Taylor, but sneaked a few more, making love to Taylor under their influence. Ridge nearly wed Taylor until Brooke exposed Steffy and Thomas for faking text messages saying Brooke wanted nothing to do with Ridge. Admitting he'd always love both Brooke and Taylor, Ridge married Brooke and made peace with Rick.
When Bill Spencer, Jr. took over Forrester Creations, Ridge created the ugly Dare line with his family to sabotage Bill, then smashed a Spencer award and smeared blood on his face in protest. Ridge understood when Brooke admitted accidentally making love to Oliver Jones, the boyfriend of her daughter, Hope Logan, at a party where everyone wore identical costumes and masks. But Ridge chafed when Thomas kissed Brooke on the runway during a showing. After Brooke and Thomas were rescued from a plane crash at sea, Ridge left Brooke for Taylor when Thomas announced he and Brooke had sex on a deserted island. However, Stephanie admitted she had gotten Thomas to lie in exchange for her 25% share of Forrester, and Ridge went right back to Brooke.
Ridge kept busy refuting the claim he had fathered Hope's new beau, Liam Cooper, punching Bill for cheating on his wife with Steffy, neutralizing Thorne's power play at Forrester, and playing parent when Eric considered an affair with Nick's mother, Jackie Marone, over Stephanie's refusal to be intimate. Ridge refereed between Brooke and Taylor, whose daughters, Hope and Steffy, were competing for Liam. In Italy for Hope and Liam's wedding, Ridge proposed to Brooke, laughing over their multiple ceremonies; Ridge married Brooke at the Forrester mansion with the full support of Stephanie.
Angry that Brooke and Deacon had been texting regarding their love child, Hope, Ridge ditched Brooke in Europe and stayed behind in Paris, honoring Stephanie's command not to come home when she was dying of lung cancer. A year later, Ridge returned to L.A. determined to marry Brooke until he found out she'd had an affair with Bill, who was married to Brooke's sister, Katie Logan. Though Ridge and Katie connected, Ridge nearly married Brooke, but Katie stopped the ceremony by fainting on purpose and professing her love to Ridge.
Ridge proposed to Katie, resisting when Eric made Ridge and Brooke co-vice presidents of Forrester in an effort to push them back together. Ridge saw a photo of Bill in bed with his ex-lover, Quinn Fuller, and raced to the Middle East to keep Brooke from marrying Bill; the ensuing altercation ended with Ridge falling out of a helicopter into the Persian Gulf. Ridge surfaced days later with an impaired memory, though he was still determined to marry Katie. When Ridge found out Bill had ordered his pilot to dump him in the ocean, Ridge commandeered Bill's chopper and likewise tried to eject him.
Because of his brain damage, Ridge found he could only design by guiding the hand of young Caroline Spencer, the namesake niece of his long-dead wife. Despite his engagement to Katie, and Caroline's marriage to Rick, Ridge fantasized about Caroline and kissed her after they admitted their attraction. But when Eric was about to step down as CEO and name Ridge his replacement, Rick's ex-girlfriend, Maya Avant, announced she had seen Ridge and Caroline kissing, causing Eric to put Rick in the CEO chair instead.
Ridge and Caroline drew closer, and as they kissed, Rick burst in and shot at them. Frustrated that Eric wouldn't remove Rick from power, Ridge contemplated Liam's takeover plan, which involved Ridge, Steffy, Thomas, and Bill combining shares. Once Steffy finally agreed not to make a reunion with Liam a condition, Ridge took the amassed 62.5% share in the company and replaced Rick as CEO. Ridge helped Caroline to walk again after her ankles were broken in a car accident.
Cognizant of the public supporting the transgender Maya, Ridge created the California Freedom line, which Thorne's daughter, Aly Forrester, who had a history of mental illness stemming from the violent childhood death of her mother, vehemently opposed. When Aly died during a confrontation with Steffy, Ridge ran afoul of Thorne by suggesting that they hadn't taken Aly's illness seriously enough.
Ridge wasn't on the same page with Caroline when she announced she wanted children, so Ridge briefly broke up with Caroline, soon agreeing to have kids and marrying her on the bluffs of Malibu. But when Caroline turned up pregnant, Ridge was forced to admit he'd had a vasectomy while living in Paris and was horrified to learn that Thomas had slept with Caroline while she was incapacitated from antianxiety pills and too much wine. Ridge declared he and Caroline would raise Thomas' baby and became increasingly hostile toward Thomas, finally acquiescing when Caroline suggested not talking about the child's paternity to keep Thomas and other nosy Forrester employees from learning the truth.
Ridge came home from a long business trip and incited Rick's ire by taking down Rick's treasured portrait of Maya and replacing it with Stephanie's. After Rick moved out, Ridge decided to move Caroline into the mansion, pleased by the idea of their child being raised where he grew up. Ridge was also pleased to learn that Caroline was having a boy. Soon Ridge participated in the water birth of Caroline's son, whom Ridge named Douglas in honor of Stephanie's maiden name.
Later, Ridge ran into Dr. Wolin, his fertility specialist, who noted Ridge's zero sperm count and insisted that Ridge couldn't be the father of Caroline's baby. Ridge demanded silence from Wolin, who agreed to keep quiet if Ridge paid him $100,000. Ridge balked; later, when Wolin was killed by an oncoming truck, the horrified Ridge felt his secret was safe until Katie came to him admitting she'd spoken to Wolin about Douglas' paternity. Ridge told Katie he and Caroline had used a sperm donor to throw Katie off the scent, but when Katie needled Caroline, Ridge felt he had no choice but to tell Thomas that Douglas was really Thomas' son.
Ridge panicked when Thomas took off with Douglas, but relaxed after Caroline convinced Thomas to continue pretending he was only Douglas' brother. Ridge worried that Eric would remove him as CEO if Eric got wind of Thomas having fathered Douglas, so Ridge offered to make Thomas CEO one day if Thomas would go to Shanghai for training. Ridge felt the noose tightening when Thomas stayed in town and Bill threatened to splash Douglas' paternity across his media platforms, having found out from Katie; Ridge dodged that bullet when Caroline talked Bill down, with Ridge placating Brooke by giving Rick more responsibility at Forrester so Rick wouldn't leave town.
Soon, both Thomas and Caroline insisted they could no longer keep Douglas' paternity a secret, so Ridge relented, admitting he'd been punishing Thomas for his indiscretion with Caroline. Ridge put Douglas in Thomas' arms and overheard Thomas telling Caroline he wanted them to be a family; Ridge confided in Brooke and came to her defense when Bill wanted to continue his affair with her.