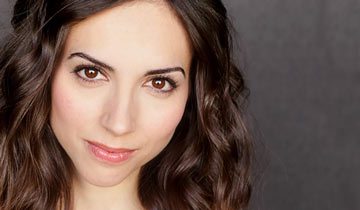 Eden Riegel
Share this story
July 27, 2000
to
February 24, 2005
;
May 19, 2005
to
May 26, 2005
;
December 16, 2005
to
January 10, 2006
;
May 24, 2006
to
June 14, 2006
;
October 12, 2006
to
April 26, 2007
;
August 14, 2007
;
December 26, 2007
to
December 28, 2007
;
October 17, 2008
to
February 24, 2009
;
April 24, 2009
to
April 29, 2009
;
January 5, 2010
; April 2013 to Present
Born and raised outside of Washington, D.C., Riegel landed her first major acting role in Les Miserables as Young Cosette. She then went on to tour with the show, traveling to 26 U.S. cities before appearing on Broadway, where she played Cosette for an additional two years.

While in New York City, Eden made her mark as a working actress on- and off-Broadway, including an appearance in the Will Rogers Follies. Soon after her stint on Broadway, she began to branch out into television and film, when she was cast in the recurring role of Meghan Cooper on New York Undercover and also guest-starred on Law & Order. Many may also remember Riegel from the film American Pie, where she played Sarah, an innocent high school sophomore experiencing the loud and lewd antics of teenage boys. She appeared on ABC's All My Children from 2000 to 2010, playing Bianca Montgomery, the lesbian daughter of diva Erica Kane.

In addition to acting, education has always been a top priority for Eden, who is currently on leave from Harvard University, where she is studying political and social theory. Prior to joining AMC in 2000, Riegel had an opportunity to explore her political interests by serving as an intern at the White House.
Monster of the House
Mona
2011
Iron Man
Nanami Ota
2010
Castle
Rachel Goldstein
2010
Iris Expanding
Morning Talk Show Host
2010
ACME Saturday Night
Guest host
2010
The Young and the Restless
Heather Stevens
April 20, 2010
to
November 4, 2011
All My Children
Bianca Montgomery
July 27, 2000
to
February 24, 2005
;
May 19, 2005
to
May 26, 2005
;
December 16, 2005
to
January 10, 2006
;
May 24, 2006
to
June 14, 2006
;
October 12, 2006
to
April 26, 2007
;
August 14, 2007
;
December 26, 2007
to
December 28, 2007
;
October 17, 2008
to
February 24, 2009
;
April 24, 2009
to
April 29, 2009
;
January 5, 2010
; April 2013 to Present
Stitch!
Yuna
2008-2010
Imaginary Bitches
Eden
2008-2009
Bleach (voice: English version)
Rurichiyo Kasumioji
2008-2009
Cooking to Get Lucky
2008
One Life To Live
Bianca Montgomery
November 16, 2004
to
November 19, 2004
;
February 21, 2005
Hi no tori
Chihiro/Robita (voice: English version)
2004
American Dreams
Protester
2004
New York: Undercover
Megan Cooper
1995
Law & Order
Natalie
1997
New York Undercover
Megan Cooper
1995-1997
As the World Turns
Heather Year One
Lilith
2009
Semmelweis
Elisabeth
2001
Henry Hill
Nicole Hill
1999
American Pie
Sarah
1999
The Prince of Egypt
Young Miriam
1998
Duo: The True Story of a Gifted Child with Down Syndrome (short)
Joan
1996
The Frog King
Princess
1994
Home Alone 2: Lost in New York
Choir Member
1992 Les Miserables
Young Cosette
Will Rogers Follies
Daytime Emmys Winner, Outstanding Younger Actress (2005)
Daytime Emmys Nomination, Outstanding Younger Actress (2001, 2002, 2004, 2005)
Daytime Emmys Nomination, New Approaches - Daytime Entertainment (Performer,
Imaginary Bitches
; 2009)
Daytime Emmys Pre-Nomination, Outstanding Younger Actress (2003, 2004, 2005, 2007) Eden served as an intern at the White House in 1999 --- but she swears she served nowhere near President Clinton! PLACE OF BIRTH: New York, New York
DATE OF BIRTH: January 1, 1981
MARITAL STATUS: Married; Andrew Miller [Sep 30, 2007 to Present]
News Archive
: A look at All Susan Lucci's kid -- real and fictional. [Jul 3, 2000]
News Archive
:
Les Mis
alum to take over role of AMC's Bianca. [Jul 3, 2000]
News Archive
: AMC's Bianca to "come out" as a lesbian. [Oct 23, 2000]
News Archive
: Riegel to accept award for AMC storyline. [Mar 2, 2001]
News Archive
: soapcentral.com to partner with GLAAD on homosexuality survey. [Mar 26, 2001]
News Archive
: AMC will air daytime's first lesbian kiss. [Apr 7, 2003]
News Archive
: A Reigel run to come to an end on AMC. [Jan 26, 2005]
News Archive
: Eden Riegel earns first Daytime Emmy win. [May 20, 2005]
News Archive
: Bianca to pay another visit to Pine Valley. [Apr 10, 2006]
News Archive
: Riegel, Carlson to exit AMC together. [Mar 31, 2007]
News Archive
: Riegel, friends team up in new online series. [Jun 23, 2008]
News Archive
: Eden Riegel returning to AMC -- but not alone. [Sep 18, 2008]
News Archive
:
Imaginary Bitches
heads to DVD this fall. [Oct 24, 2008]
News Archive
: Bianca set to bolt from Pine Valley, but Reese will stay. [Feb 21, 2009]
News Archive
: Reigel returns, but will Rianca get their happy ending? [Mar 23, 2009]
News Archive
: Head writer blames Riegel for failure of "Rianca" storyline. [Apr 20, 2009]
News Archive
: Riegel run in half-marathon to raise funds for HIV/AIDS organization. [May 8, 2009]
News Archive
:
Imaginary Bitches
nominated for an Emmy. [May 14, 2009]
News Archive
: Riegel says she won't be returning to an LA-based AMC. [Nov 2, 2009]
News Archive
: Y&R signs AMC Emmy winner Eden Riegel as Heather recast. [Mar 4, 2010]
News Archive
: Source: Riegel no longer wanted to play Bianca, AMC to recast. [Mar 5, 2010]
News Archive
: All My Children recasts Bianca Montgomery. [May 13, 2010]
News Archive
: Riegel, husband expecting first child in May 2011. [Nov 3, 2010]
News Archive
: Eden Riegel learns of Y&R firing via Twitter. [Sep 13, 2011]
News Archive
: Eden Riegel to guest star on AMC revival. [Feb 22, 2013]
News Archive
: Eden Riegel on AMC's end: What a colossal shame! [Nov 12, 2013]
News Archive
: EXCLUSIVE: Eden Riegel joins cast of Club 5150 [May 7, 2015]
News Archive
: AMC's Bianca Montgomery voted into top 20 most important LGBTQ TV characters [Jun 23, 2017]