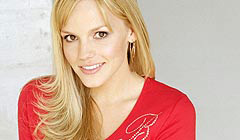 Alexa Havins
Originally from Chandler, Arizona, Alexa's entertainment debut began at the age of three when she discovered dancing. By five, she was already performing with a professional jazz troupe. But it wasn't until she was discovered by acclaimed acting coach, Jean Fowler, that the All-American girl turned her talents into a career. Following the advice of her mentor, Fowler, who also trained actresses Jennie Garth (
Beverly Hills, 90210
) and Amy Davidson (
8 Simple Rules For Dating My Teenage Daughter
), Alexa moved to New York City to study at the prestigious Circle in the Square Theatre School. But it wasn't long until she returned to the west coast. Within months of arriving in Los Angeles, Alexa secured lead roles in four feature films and booked numerous memorable TV guest-starring spots including
Reno 911
and Lifetime Television's
Secret Lives
among several others. Her acting portfolio also includes a supporting role in the film
Crow: Wicked Prayer
, sharing the screen with Dennis Hopper, Tara Reid and Edward Furlong.
Extremely down-to-earth and focused, Alexa's hardworking efforts relocated her to New York City with an ABC contract, playing the bad girl we all love to hate, Babe Chandler on All My Children.
Alexa enjoys spending free time with her family and friends, taking hip-hop dance classes, and being the secret weapon of her agency's softball team. Torchwood: Miracle Day
Esther Drummond
2011
Grey's Anatomy
Danielle
2011
CSI: NY
Jessica Thompson
2011
CSI: Miami
Kim Hewitt
2009
Law & Order: Criminal Intent
Elaine Beuliss
2009
Cold Case
Joannie Pogue '67
2009
Turbo Dates
Sarah
2009
One Life to Live
Babe Chandler
December 1, 2003
to
February 21, 2005
All My Children
Babe Chandler
October 13, 2003
to
October 8, 2007
;
September 20 and 21, 2011
Reno 911!
Gothic Chick
October 20, 2003
Secret Lives
Georgia Duarte
August 14, 2003 When in Rome
Lacy
2010
Desert Fox
Daisy
2009
Old Dogs
Hot Waitress #2
2009
How to Seduce Difficult Women
Maureen
2009
Hancock
Hot Fan
2008
27 Dresses
Boat Bride
2008
Brooklyn Rules
Blonde
2007
Fat Girls
Tina
2006
Joshua
Trish Unger
2006
First Kiss
Samantha
2005
Bank Brothers
Store Owner
2004
Joe Killionaire
2004
August 14, 2003 Daytime Emmys Nomination, Outstanding Younger Actress (2005)
Daytime Emmys Pre-Nomination, Outstanding Supporting Actress (2007)
Daytime Emmys Pre-Nomination, Outstanding Younger Actress (2004, 2005) PLACE OF BIRTH: Artesia, New Mexico
DATE OF BIRTH: November 16, 1980
HAIR: Blonde
EYES: Blue
MARITAL STATUS: Married,
Justin Bruening
[Jun 5, 2005]
CHILDREN:
Lexington Grace
[Aug 10, 2010 at 1:43 pm; Weighed 7 lbs., 7 oz., and was 20 inches long]
News Archive
: Bruening will exit as AMC's Jamie, Havins to follow. [Jul 23, 2007]
News Archive
: AMC confirms that Havins will leave AMC; Babe recast. [Sep 3, 2007]
News Archive
: Bruening, Havins welcome their first child. [Aug 11, 2010]
News Archive
: Bruening, Havins headed back to Pine Valley. [Jul 19, 2011]