AMC Recaps: The week of June 17, 1996 on All My Children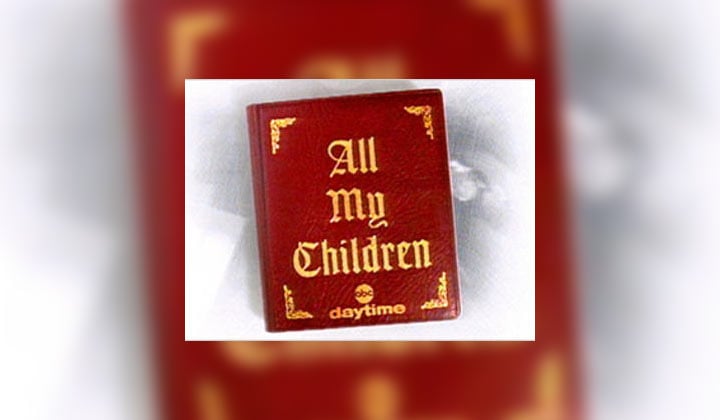 Monday, June 17, 1996

Joe paid an announced visit to Wildwind to discuss the adoption fiasco with Edmund and Maria. Maria quickly flew off the handle and started telling Joe to back off because he cannot be unbiased in the matter since Sam is his great grand-child. Well Maria must have felt totally foolish when Joe told them that he was on their side in the matter. Edmund and Maria were relieved and Maria immediately took to apologizing for snapping at Joe.
While poking around his computer, Edmund was alerted by an entry on his computer from Kelsey. Upon investigation he learned that the file was Kelsey's journal and debated with brother Dimitri the ethical values of reading the private file.
Maria checked in on Sam and after leaving for only a few minutes returned to find that Kelsey snuck into Wildwind and snatched Sam out of his crib. She stood there, holding Sam, and waiting for Maria to return.
Rosa helped Anita sneak away from Casa Santos for her date at the lake with Bobby. Bobby had set the mood for a evening of romance complete with the silver candelabras he "borrowed" from his grandfather. Anita gushed that this was the evening she always wanted and after passionately kissing her boyfriend, she asked Bobby to make love to her.
Stuart snuck into the prom to snap some pictures of Scott, but he was caught in the act by chaperone Gloria. Glo started reading him the riot act and said that she would take the photos and urged Stuart to go back home. After hearing that Gloria would be his shutterbug, Stuart agreed to leave, but when Laura caught sight of him things almost erupted. Stuart posed as Adam and said that he was just dropping by to see how things were going.
Kevin was crowned King of the Prom and was cheered by Michael and his friends.
After finally completing his work for the evening, Mateo rushed off to find his missing girlfriend Hayley. His search was sped along by learning that she was last scene with Brian in the courtyard. Mateo saw an intimate moment between Hayley and Brian, but kept calm, cool, and collected. The candle of romance flickered in the warm night air as Hayley told Brian how he was her first love and how she loved him dearly. Brian's confidence must have hit an all-time high and he felt it was time to finally tell Hayley why he was really in town. He told her that he has always loved her and came back to town so he could get back together with her.
Tuesday, June 18, 1996

Hector and Isabella returned from their night out earlier than anticipated and they caught Rosa off guard. Rosa tried to cover for her missing sister by saying she was everything from sick to at the library, but Hector managed to yank the truth out of her. Armed with the news that his Anita was off with the disgraceful Bobby Warner, Hector set out to find the young couple
Bobby was surprised by Anita's request, but Anita apparently had everything all laid out. She reached into her purse and displayed a condom that she had bought so the necessary measures would be available for when she and Bobby finally got together. Surprisingly out of character, Bobby said that he could not make love to Anita---but nit because he didn't want to. Bobby explained that he wants their first time to be special and having to sneak around isn't the way he wants things to be. Anita asked Bobby to make love to her, but he refused and told her that he wanted her first time to be special.
An enraged Hector stormed to the beach and found Anita with Bobby. Hector found Bobby draped over his daughter with his shirt unbuttoned---then he spotted a condom and dragged Anita away, fearing the worst.
Later, Hector told a sobbing Anita that he was shipping her off to Mexico to live with relatives and that in the fall she'd be going to a convent!
Kelsey may have trespassed to get into Sam's nursery, but she said she had justification for being their. As she smirked, she waved a court order in Maria's face. The order allows Kelsey visitation with her baby. Maria called the cavalry (in the form of Edmund and Dimitri) to help her get Kelsey booted from the castle. Edmund tried to make Kelsey see that she was acting irrational, but Kelsey remained undaunted. Later, Edmund told Maria that they were in for a fight and then had the idea of using the negative entries in Kelsey's computer files as ammunition against her.
Hayley was stunned by Brian's announcement. She told him that the time they spent as boyfriend and girlfriend seemed like eons ago and that she has been married twice then. While she said she did care for Brian back then, she was now very much in love with Matt. At the point, Mateo appeared out of nowhere and managed to dance the Last Dance with Hayley. While they danced, Hayley made a point of kissing Matt so Brian could get the hint that she was happy with him. Later Hayley told Matt that Brian had said he wanted to get back together with her. Matt said that he thinks Hayley should go out a few times with Brian to make sure that she doesn't have any feelings for him.
Wednesday, June 19, 1996

Hayley struggled with her lingering feelings for Brian and told Gloria that she is faced with a difficult decision. She said that she feels Mateo is too good for her and that she always rips the heart out of the good guys---like Charlie. But when asked if Brian was a good guy or one of the evil guys like former hubbies Will and Alec, Hayley told Gloria that Brian is good too.
While Brian and Myrtle lunched at the Valley Inn, Brian told Myrt that he wanted to get back together with Hayley. Myrtle reminded her former boarding house guest that it has been many years since Brian was in Pine Valley and that he didn't even keep in touch with Hayley while he was away in California. At that point, Adam slinked his way into the conversation and told Brian that if he wants Hayley he has to be prepared to fight for her.
Jack stopped at Wildwind for Sam's christening, but as she had done the day before to Joe, Maria totally misjudged why Jack was there. Maria flipped out and accused Jack of being there only to take her baby away. Again Maria came off looking more than slightly off-kilter as Jack told Edmund and Maria that he would represent them in court if needed. At the end of the religious celebration, Edmund and Maria were stunned when they were served with subpoenas stating that Kelsey was planning to take them to court to restore her parental rights and reclaim Sam.
Noah reluctantly delivered a note from Bobby to Anita, and the two of them were able to steal a few moments alone together. Anita told Bobby that Hector was going to send her away and Bobby asked her to run away with him so they could get married in Elk Green, the small town just across state lines where you can get quickie marriages.
When Julia learned of Kelsey's intentions to take back Sam and how she made a spectacle at the wedding reception, she dashed off to the Martin house to have a face to face chat with Miss Jefferson.
Kelsey already had a visitor in the form of Opal. Kelsey continued to say and do all the right things to keep Opal on her side. Kelsey even went as far as to compare her giving Sam up to Edmund and Maria to Opal's loss of her daughter Jenny in a freak accident. As the two talked, Julia arrived.
Opal more or less got tossed out of the house and Julia got down to business. She warned Kelsey not to hurt Edmund and Maria because if she did, she would come after her. love life.
Thursday, June 20, 1996

Jamie placed a call home from summer camp asking to come home. When he arrived back at Brooke's, he told Brooke and Tad that he wouldn't stay at "lonely" Tad's anymore. Tad then opened up to Brooke about his pain over losing Dixie. Brooke tried to reassure Tad and tell him to stop being so hard on himself, but Tad could only say he'd try.
Liza gave Brian the news he'd been waiting for---he got the producer job at WRCW. But Brian was less than moved as he told her that he cannot take the job unless Hayley agrees to get back together with him. Liza sympathized with Brian when he talked to her about first loves and must have been reflecting on her decision to come back to Pine Valley for her first love, Tad.
Hayley and Mateo clashed about her lingering feelings for Brian. Hayley assured Matt that she was in love with him, but Matt said that it seemed more like she was running away from Brian rather than running to him. Miffed and annoyed, Hayley went to the television station where she eventually ran into Brian. She surprised him by saying that she was going on a date....with him.
Jack informed Maria and Edmund that Kelsey's journal was inadmissible in court because there is no proof that Kelsey is the one who created the computer log. If, however, she admitted the log was hers or if they got a handwritten note of the same nature, it might be a better boost for them in court.
Bobby proposed to Anita, and she accepted. Hector almost caught Bobby and Anita together in the Wildwind chapel, but Bobby hid just in time. Hector talked with Anita, and showed some unexpected compassion. He said that Anita needs guidance, but that he does still love her. Hector seemed totally surprised when Anita told him that she still prays to God and said that at least she still does have some respect for her religion. Hector gave Anita a few more minutes alone which she used to discuss how she would elope with Bobby.
Kelsey was over at Cortlandt Manor to pay Kevin a visit, but she must have quickly regretted the visit when Kevin tried to dissuade his friend from seeking custody of Sam. Kevin reminded Kelsey that she hasn't finished school and doesn't even have a way of supporting a baby. As Kevin searched for a video tape, Kelsey had to duct in a closet so she wouldn't be seen by Palmer. You could almost see the dollar signs ring up in her eyes where she overheard Palmer talking to his attorney and mentioning that Bobby will receive over a million dollars if he is married by the age of 25. Kelsey slipped out of the closet and made a call to Belinda to tell her that a blip just appeared on her "daddy radar."
Friday, June 21, 1996

Scott was furious with Stuart when helearned that Stuart had spied on him at the prom. Scott, Stuart, Michael, Laura and Gloria marked the Day of Compassion by remembering Cindy. Laura and Scott shared memories of the mothers they had lost. Scott and Stuart reconciled at Cindy's grave, and Scott told Stuart that he loved him.
Taking the hint from his new wife, Noah sought out Bobby to try to get some details out of him as to what he knows on the Kelsey-Baby front. Bobby admitted to Noah that he was Sam's biological father. Noah agreed to help Bobby tell Anita before she found out the truth on her own.
Jack was optimistic about Edmund and Maria's case against Kelsey because he learned that Kelsey hit the booze a little too hard one night at a party in Chicago and ended up pregnancy by a guy she didn't know. Of course no one, except Julia, Noah, Bobby, and Kelsey, knows the truth about this.
A heartbroken Anita tried to get through to Kelsey, but she stuck to her reasons for wanting Sam back. Anita just couldn't get through to her close friend and retreated back to Wildwind where she had to tell Maria and Edmund that she could not get Kelsey to budge off her position.
Brian and Hayley had their first date in about half a decade and all seemed to pick up where they left off. Especially when at the conclusion of the date Brian asked Halo to spend the night with him.
After learning that Jack was preparing his entire defense based on the theory that Kelsey did not know who the father of her child was, Julia decided that it would be best if she told Edmund that she knows that Bobby is Sam's father.
2018 DAYTIME EMMYS: SOAP CENTRAL'S COMPREHENSIVE COVERAGE